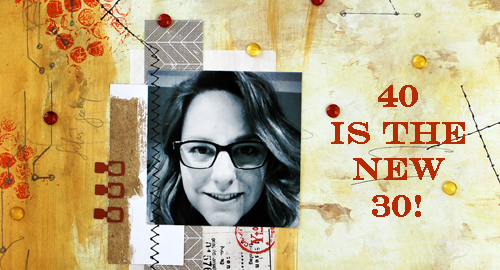 Today I am turning 40 and I am looking forward celebrating my birthday with some of my best friends here in Hamburg and my sweet friend Julie Fei Fan Balzer who is here visiting me.
A couple of weeks I had asked you which questions you always wanted to ask me and I collected those and some of the questions I got via email all the time for my F.A.Q site- and here you go -some things some of you wanted to know about me…why not post that on my birthday- LOL.
Q: Where do you live?
A: Right now in Hamburg, Germany…but I am transitioning soon to New Jersey City in the U.S.  You can see some posts about my Strolls around the neighborhood in Hamburg here:
Q: What inspires your art work ? Is it the products ? or a combination of things ?
A: I think it is indeed both. Sometimes when I get new art supplies and try them out it, it totally inspires me to some art work I would have never done. some supplies just make me want to use them over and over again and I get excited – but there are also many other things that inspire me. Often it is a stroll through my neighbor hood, there is so much that inspires me here. But also listening to a song, or reading a book. I love when I stumble over a quote or line in a book/song and it makes me think and this is often then the starting point for my work. Most of my work is very emotional as guided by the emotions and the thoughts I have while creating in my mind.
Q: Does your creative mojo ever get blocked? What do you do to unblock it?
A: It does! And now the answer is really a weird one. Sometimes it helps to just keep going…with a little "WHATEVER " attitude and that sometimes turns out to be the best work ever…probably because I let go. But sometimes this fails too or I just feel like I cannot even do "WHATEVER" and then I just go and let it be. I do something totally different. Go out, do something I wanted to do for a long time , clean, meet friends…and when I come home mojo is usually back
Q: How do you get started with a new product and figure out all the ways to use it?
A: I analyze it a lot before I open it. I read all I can find about it, make the necessary connections to products that are the same or similar and then start testing the things that do work with the similar products first. After realizing what the unique features of that products might be, I start experimenting new techniques and check those. It is a long process but I enjoy it and makes me feel I really know the product. If I like it and feel it is a good fit to my work- I use it and I teach with it too.
Q: I would love to know how what for most of us is a hobby became a profession for you. You have mentioned that you previously worked in the legal profession. Please share how you became a professional mixed media artist.
A:Yes indeed I studied law and worked as a paralegal for 17 years. I loved my job – but in 2004 I stumbled across scrapbooking and very soon over Mixed Media Art where my heart is. In 2006 I was asked to teach my first workshops in Berlin, Germany and I have come a long way since then. It wasn't a light-hearted or fast decision and a lot of work over many years went into this. Over the years my obsession with Mixed Media Art and my teaching opportunities grew so much, that I spent almost all my vacation days traveling to different workshop venues. So in 2011 I decided to take the plunge and become a Professional Artist. I let my readers know back then in this post: Life Changes…And Change is good.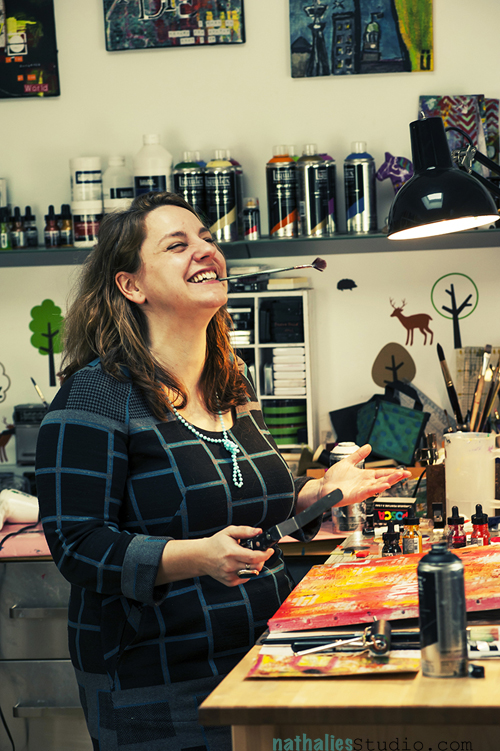 Q: Do you have any regrets quiting your job as a paralegal and becoming a full time artist?
A: No! But read more about this: Was it worth quitting a well-paid job? Or …Insanity
Q: What were some challenges and/or unforeseen changes you faced making the jump from hobbyist scrapper/artist to pro?
A: There were two major challenges for me. One was fear – you can read all about it here: Thoughts: The key to chance is to let go of fear. The other hardest struggle for me in the beginning was that from having a very structured day and times in the law office going to a way on deciding how to organize self employment. In the beginning often times I would have a hard time starting in the morning – then work till after midnight. Now I start early in the morning and still work till midnight- LOL- so hopefully soon this gets even better .
Q: Are you teaching workshops?
A: Yes I do
In-Person Workshops
I teach in-person classes around the world on a variety of topics.


Online Workshops 
My Über*Media series is dedicated to techniques with different media. I also teach project-based online workshops.
Q: Can I subscribe to your blog?
A: Yes, absolutely. If you want an email when I post (usually every second day) you can subscribe by signing up on the right in the sidebar "Get the n*Studio Blogposts via Email" That way you never miss a post at all. Another option is to sign up through a rss reader for example Follow my blog with Bloglovin
Q: Where do I find things on your website?
A: Check out my site tour here.
Q: Where can I buy your stencils?
A: You can buy all my stencils either directly at Stencil Girl Products or at the stores which I listed extra here under My Products. I also show some projects I created with the stencils  there. So check it out :)
Q: What are your favorite supplies to work with?
A: There are a lot. For more detailed insights with my thoughts about My Favorite Mixed Media Essentials read here. The series is still to be updated. But here is a visual list of the supplies that I use all the time

Q: How do you choose the colors that go together the best in your work?
A: I wrote a series of posts about colors and my relationship to them- called Colors are Your Friends which explains a lot how I choose colors and why for my work.
Q: How do you organize your studio?
A: ahhh tough question…there are several attempts – and probably it will be all different once I moved- but meanwhile I leave you with one of my last organization posts when I bought a letterpress cabinet.
Have a gorgeous sunny day!
Nat