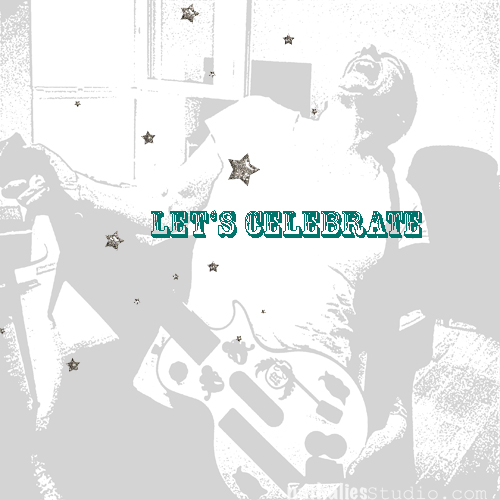 In exactly one week we will be arriving at our new home in the U.S. The n*Studio will be packed in the shipping container in the next days and I will be offline mostly. But don't worry..I have scheduled some fun posts and there will be also a blog-hop coming up with another nice giveaway next week. And then just cross fingers that the phone company hooks us up quickly again in our new place .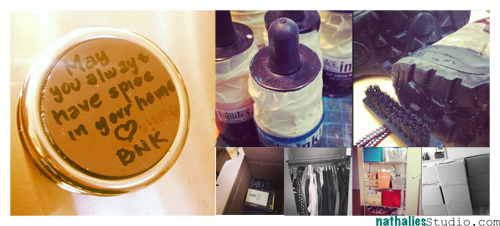 Lot's of work lays already behind us – from cleaning out pantries, giving away and selling things that won't fit into the container or are not allowed to be shipped to the U.S. or cannot work in the U.S., to cleaning bikes and shoes as no dirt allowed to be brought in, to lot's of paperwork, getting the apartment here in shape and find a new renter. Our To-Do List got way smaller but this coming week will be totally insane, making sure the movers pack everything and properly, the labeling for customs , the cat getting a little ride to the vet for the health certificate,
the good bye party tonight and other farewells, packing 6 suitcases  and a cat…well…LOL…let's stop here …you get the picture and if not..follow me on instagram you will probably get some there ;)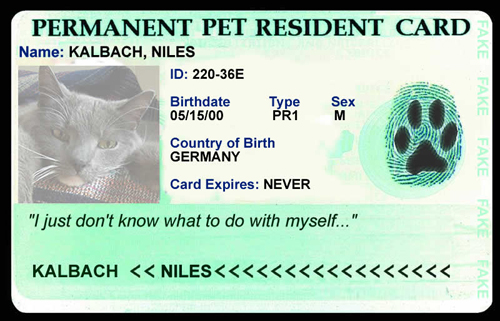 While we are sad to leave Hamburg and our family and friends here- we are VERY HAPPY and excited to move to Jersey City and our family and friends there. One of you said in one of the comments that she cannot at all understand why we move to the U.S. Well..you know when you have a multi-national marriage – one of you always has to leave the country and be further away from their loved ones…and after 15 years I think it is my task now and I am very content and well with it  and I cannot wait to work further on some really fun n*Studio projects there (wait and see) :) Home is where your heart is and my heart goes now to the U.S. plus…the world is so much smaller now…I see my family and friends already again in December and I tell you, if only half of the people come to visit us in the U.S. that said they would, we pretty much do not even feel we moved ;) …so that is not too bad ;)
So………………..let's celebrate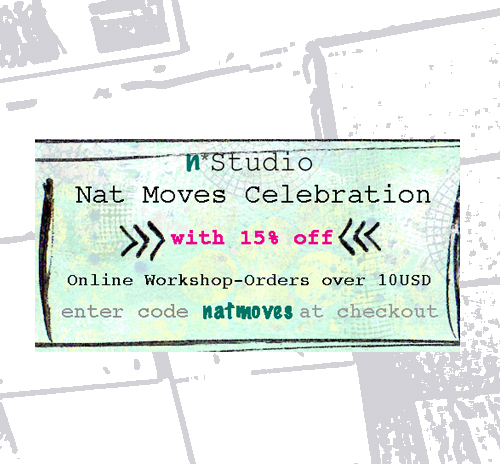 Offer valid till September 16, 2013 11.59 pm CET. Coupon code must be entered exactly as shown at checkout and is case-sensitive. Final discounts will be displayed within the cart.
To take advantage of this rebate on online-workshop orders with a total over 10USD , here's what you have to do:
Click on "Online Workshops" in the menu for "Workshops" or on the main Workshops page.
Find the workshops you want to purchase and add them to the cart.
Click on "Cart" when you want to check out.
Enter the code "natmoves" and click "Apply Coupon" to get 15% off on all orders total over 10USD
Thank You for celebrating with me !
Have a wonderful and creative day !
Nat