As hinted before I am going to write a bit about my progress in re-organizing my studio.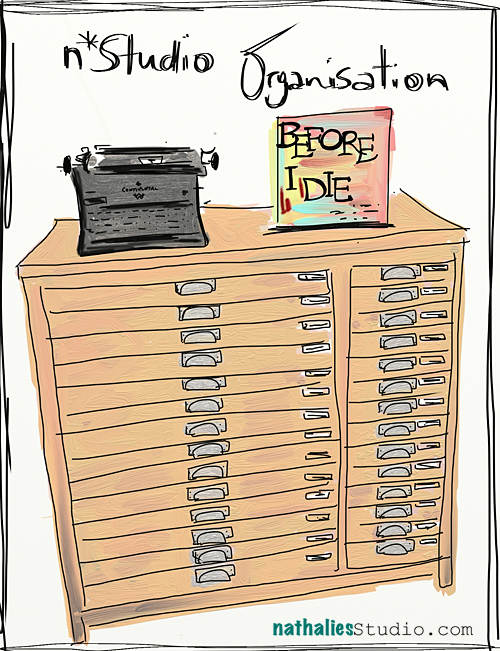 It is kind of weird:  I studied law and I always worked very structured and clean at the law office. I was known for going through unorganized areas of offices and telling bosses, colleagues and trainees that there should be never never ever a pile of files with unclear content or without to-do-steps. Very german-like telling them they could die in a car accident and I would not know what the heck is going on (believe it or not they still liked me- LOL – or at least that is what I think- hehehehe)
Anyway- my studio…total different thing. My studio is a MESS. Not in dirty mess…in "I can't find the right place mess!". My friend Julie tried to reorganize me eh the studio a bit going in her organization way when she visited me a while ago- but the thing was…it didn't really work for me. It worked better and it was a good start but it wasn't MY perfect organization. Time to tackle this again…because let's face it…it is my work space an average about 10 hours a day- so…
Let me tell you how I found the perfect storage first…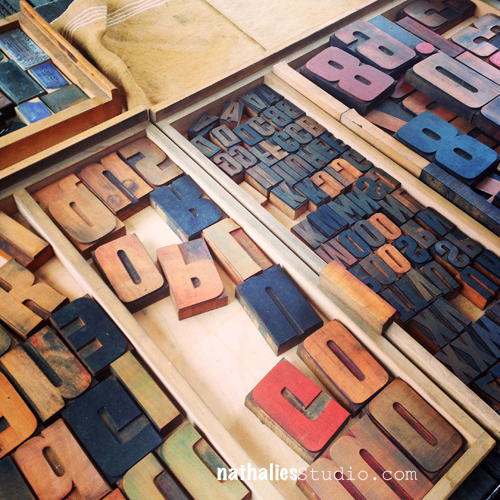 When I went to the flea-market a couple of weeks, I found these letterpress blocks which I in itself eyed closely and bought a couple lots of. They were beautifully placed in this array of drawers. I somehow had this urge to ask the nice seller "so…those drawers, what are you doing with those?" To which he replied, that they actually belonged to a cabinet, he didn't bring to the flea-market but plans to sell too once he sold all the letterpress blocks.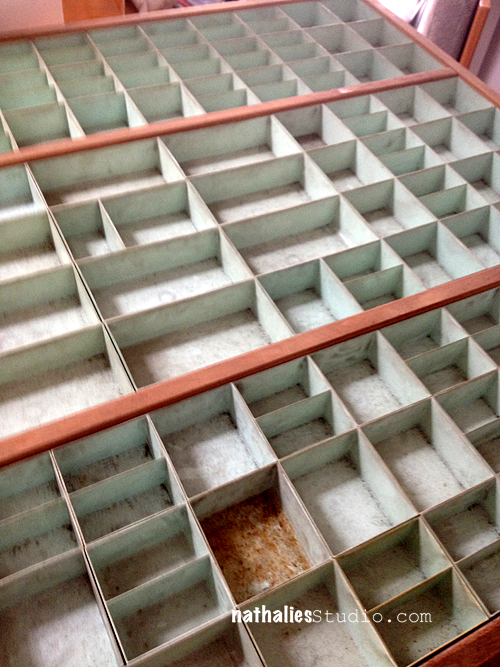 I asked what he wanted for it…and he named a prize that was really low. In fact the price made me think that the cabinet probably looked pretty bad. Despite the fact the price was low, I decided against further inquires, because even the low price was still something I had to chew on about. Imagine me for a whole week thinking to myself how stupid I am, what an opportunity I missed out on and dreaming and researching about letterpress cabinets. My husband the usual very mindful person actually gave me the push "You should buy it- let's go to the flea market next saturday and see if he is there and try to get it". And so it was.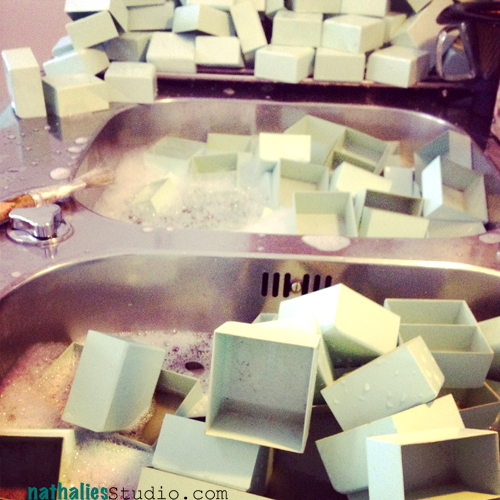 I was a lucky ducky…that is all I can say- the cabinet belonged to an old tool school teacher who loved this cabinet from the 20s/30s and took good care of it. He taught kids how to print letterpress posters and when he retired had to move to an elderly home he had to sell everything. Knowing this background story makes this even more treasurable (is that a word?) for me and I wish he could know that his beloved cabinet got a home where someone equally loves and treasures this cabinet. I also was super lucky that the cabinet fit perfectly into the ONLY possible spot in my room- between a pole and a wall and with still being able to open the drawers which are quite deep without ruining a doorway (also known as "entering the American Zone" or my husband's studio)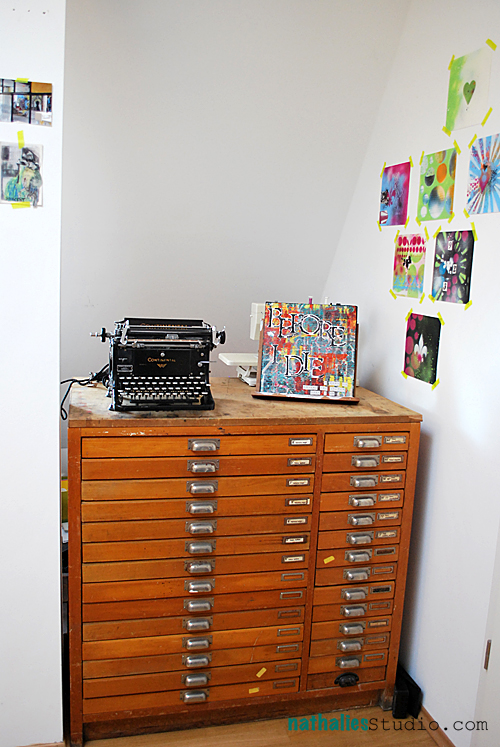 Let's finally get to the organization part…I probably lost half of you already…but ok…you know I can't contain my excitement for this. I wish those cabinets would be still built – yes! Because they are AWEsome- this cabinet is mall and look at all those drawers and they are thin and deep. Perfect for storing stamps: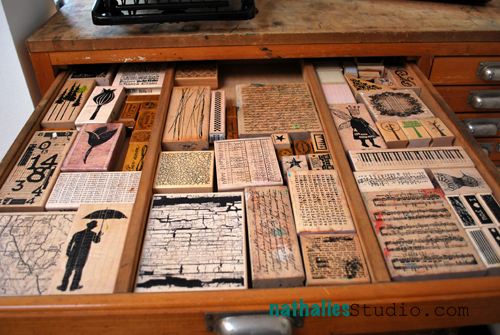 Perfect with all those tiny containers which were for the metal book setting letters. I filled several drawers with found objects and embellishments. Being able to finally see them…it is like an inspiration drawer…open…spark…take…create!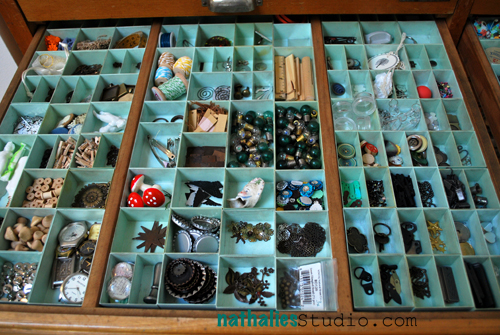 Tapes …they lived in a box- some of them untangling, making it hard to control them (I might have control issues- LOL)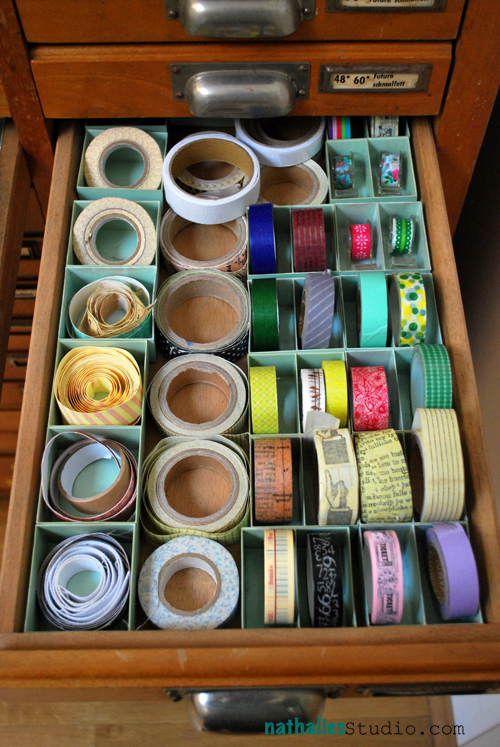 Oh wait…there was chipboard and canvas elements…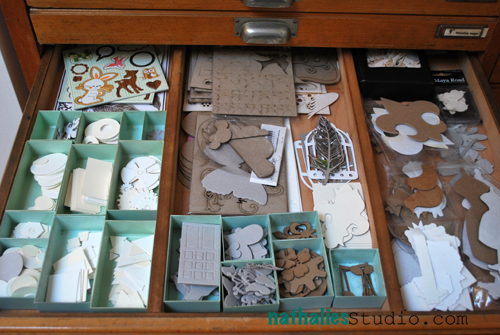 Letterpress, stamp- and lino-carving tools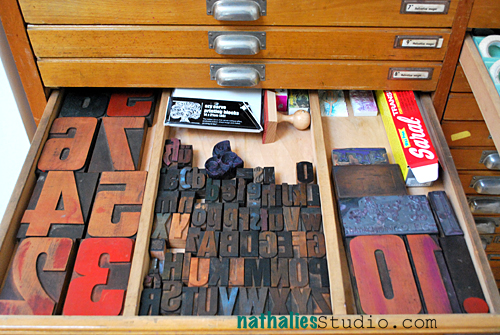 I do not use a lot of ribbon, but what I knew I would use some time was dangling from a hanger…hated it (I know it is a strong word- but yes…true)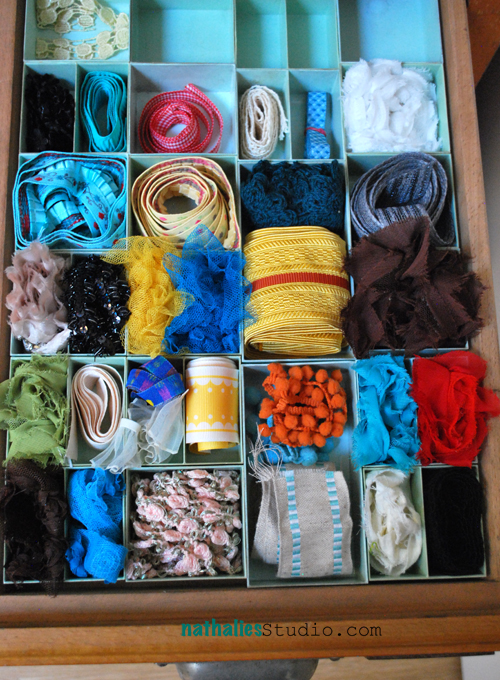 some of my Prima-Educator stuff…not perfect- but better when I had it before in boxes – I am still thinking about this.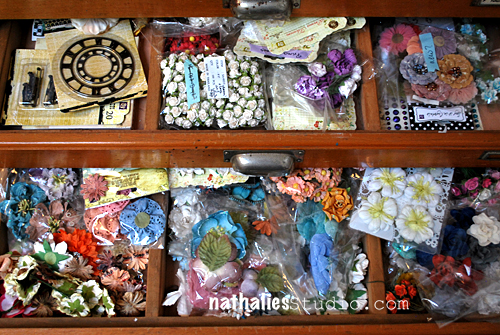 the die cut tools – perfect… I was surprised to find some of them- ahem ;)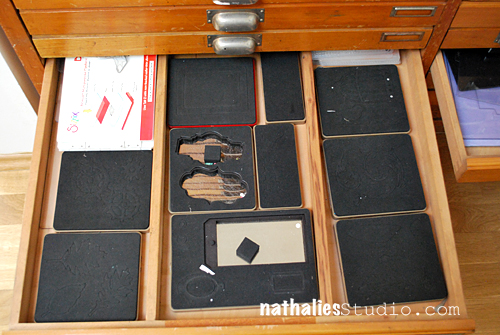 And as to not leave you with the false thought of a perfectly looking and wonderfully organized super duper power artist studio…here is the rest of my studio. Pretty much looks worse when before- hahahaha – because I started to pull stuff there out of the drawers and had to put it somewhere in between. It is now about organizing the paints and tools I use all the time. I will keep you updated in another post…hopefully soon ;)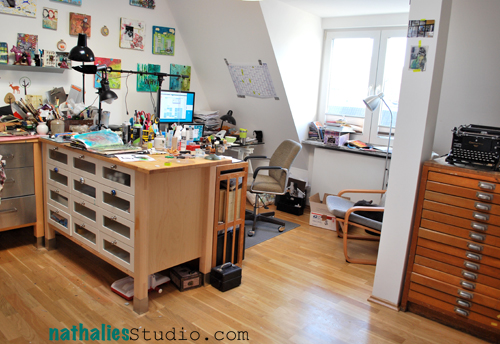 BTW – I left the labels of the letterpress on the cabinet because I somehow think it adds to the charm of it…but maybe it might be better to label it with what is in there- LOL.
What do you think I should do – leave the labeling as is?
Have a gorgeous day
Nat
Related Posts: