Did you catch the last episode of ArtCollab with Sarah and I? We chatted about how much we, even as teachers, value the chance to go Back to School now and again. You can watch the recording below and then read on about our next episode coming up on October 5th. Registration link is down below.
Here is an overview of the episode:
In this episode of ArtCollab we go Back to School! We discuss how as teachers, it is just as important to take classes too. There are many benefits to stepping into the shoes of a student including inspiration, self care, feeding your curiosity, playing with new materials, opening your eyes to different techniques, and applying new ideas to your work beyond the classroom. The experience can make you a better teacher in the end by allowing you to feel the perspective of a student and the challenge of learning something new.
In addition to recent classes we have taken and other learning opportunities we've embarked upon, we also each share a mini lesson in this episode. Sarah presents her techniques for hand carving letters from start to finish and Nat shares an exercise focusing on color theory to demonstrate how colors are relative. Lastly we talk about other artists and makers, some working in wildly different fields and media, who have proved to be excellent sources for learning and inspiration.
Upcoming Episode:
Join us for Episode 8: Get Your Ink On – Tuesday, October 5th at 12noon EDT (NYC time)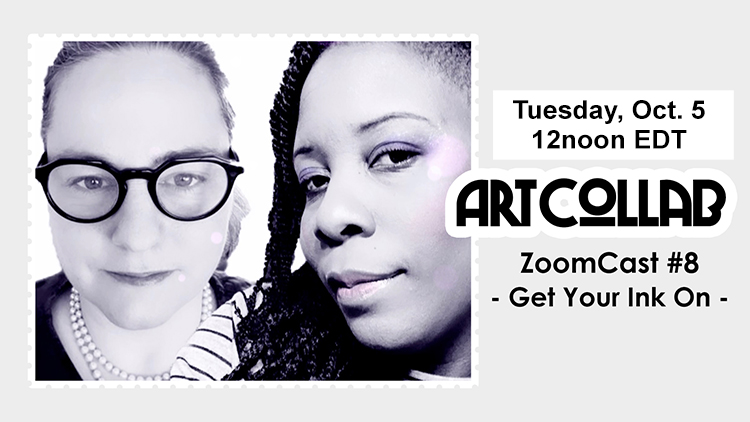 October is a popular month for creative challenges and many seem to be focused on the art of printmaking (think Inktober and Printober). We thought it might be fun for ArtCollab Episode 8 to do a little show and tell and share our personal favorite basic printing techniques. Nat will share some ways to use a Gelli Plate for printmaking and Sarah will demonstrate how to use an ArtFoamies StampBuddy to produce multicolored, layered prints. Join the ZoomCast for some inspiring tips and tricks that you can apply to your own artmaking and participate in the chat discussion and the Q&A to have your questions answered live.