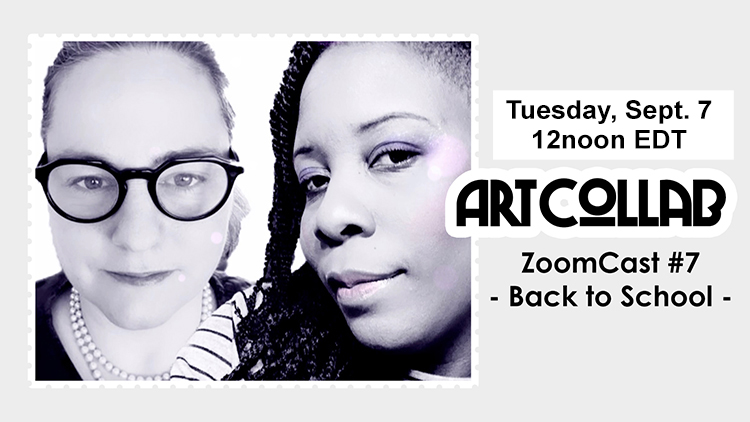 The next LIVE ArtCollab zoomcast is this Tuesday, September 7th at 12noon ET (NYC time) and Sarah Matthews and I are going Back to School! Register to attend HERE.
It's that time of year to leave summer behind and get a bit more focused, maybe even with some learning! So here is what Sarah and I have planned for this episode of ArtCollab:
ArtCollab Episode 7: As teachers, Sarah and Nat usually find themselves at the front of the class but sometimes stepping back and taking on the role of student can be incredibly beneficial and inspiring. In fact, artists can always learn something new from other artists and engaging in these role reversals is a great way to try a different medium, sharpen skills, approach ideas from a new angle, and maybe even get the inside scoop on tips and tricks from other practicing artists. Taking classes and attending educational events such as artist retreats are also perfect opportunities to forge new friendships and partnerships in creativity. In addition to this discussion, Sarah and Nat will also teach each other a mini lesson in this episode and attendees can enjoy watching and engaging with them as they play both teacher and student.
We hope you join us to watch, learn, and maybe even participate in the discussion through the chat and Q&A!

ArtCollab is a monthly zoomcast with artists Sarah Matthews and Nathalie Kalbach (and occasionally other special guests too). Each episode Sarah and Nat get together, collaborate on all sorts of unique artsy projects, share their process and offer updates and sneak peeks along the way, and of course they chat about all stuff art-related and topics that go way beyond that too. ArtCollab is a real life look into the process of creating, collaborating, and the ins and outs of living an artistic life that is touched by others.
Join in for an entertaining and inspiring interlude into the world of two artists who are working together in conversation and practice.
LIVE ArtCollab zoomcasts happen every first Tuesday of the month.
Sign up for my newsletter HERE so you do not miss the next episode!