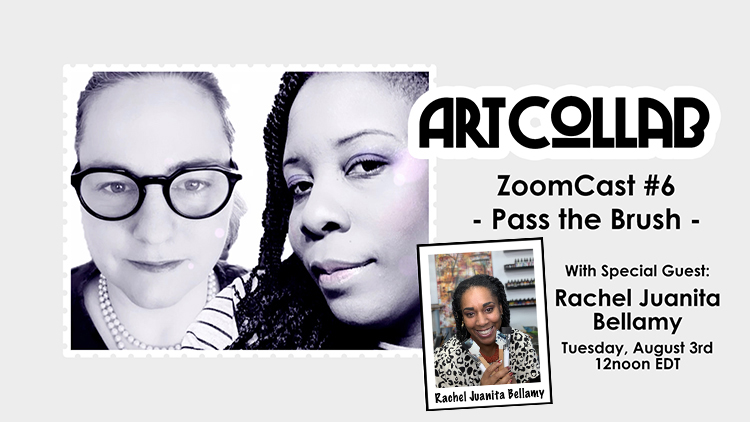 The next episode of ArtCollab is Tuesday August 3rd and this time Sarah and I are speaking with our special guest Rachel Juanita Bellamy! Register here to attend the ZoomCast.
Here is what we have planned:
Episode 6: Pass the Brush
In this episode Sarah and Nat are meeting with Pass the Brush organizer Rachel Juanita Bellamy. In 2020 the Pass the Brush event paired up Sarah and Nat and it prompted them to get to know each other better. Pretty soon they had forged a lovely new friendship and jumped into several creative projects together (including these ArtCollab zoomcasts). They will chat with Rachel about the benefits of artistic collaboration, the importance of elevating others, what has changed since the Pass the Brush event last year, and what challenges remain. Tune in to join us and contribute to the conversation with Questions and in the Chat.

ArtCollab is a monthly zoomcast with artists Sarah Matthews and Nathalie Kalbach (and occasionally other special guests too).
Each episode Sarah and Nat get together, collaborate on all sorts of unique artsy projects, share their process and offer updates and sneak peeks along the way, and of course they chat about all stuff art-related and topics that go way beyond that too.
ArtCollab is a real life look into the process of creating, collaborating, and the ins and outs of living an artistic life that is touched by others.
Join in for an entertaining and inspiring interlude into the world of two artists who are working together in conversation and practice.
New zoomcasts will be live and happen every first Tuesday of the month.
Sign up for my newsletter HERE so you do not miss the next episode!