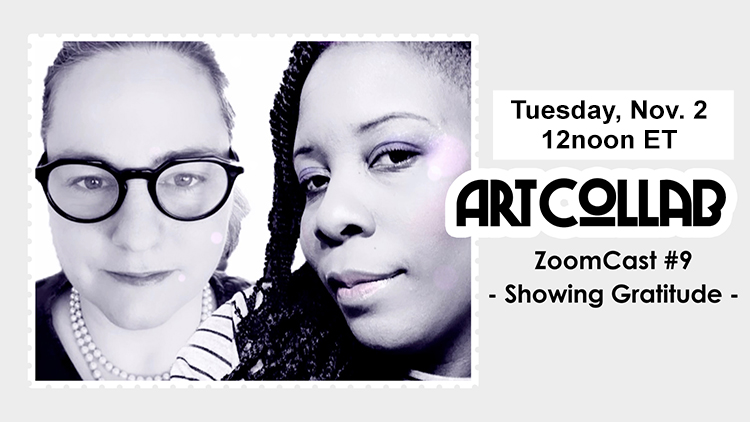 The next LIVE ArtCollab zoomcast is Tuesday, November 2nd at 12noon ET (NYC time) and Sarah Matthews and I will be talking about some of the people in our lives who have helped us get to where we are today, and saying a big Thank You! Register to attend HERE.
Here is a little overview of what we have planned and you can be sure that the conversation will take us to other places as well – it always does :)
Sometimes you have people in your life who have been a big part of the journey that you are on today. Maybe they mentored you somewhere near the beginning when your sense of direction wasn't yet clear. Perhaps they were there along the way, helping you to make important choices and to see the possibilities. Maybe they got you back on track when you swerved and faltered. We want to acknowledge these people in our lives and talk about the incredible impact they have had in making us who we are today. Nobody is on this journey alone and it is time that we spend a little time Showing Gratitude.

What is ArtCollab?
ArtCollab is a monthly zoomcast with artists Sarah Matthews and Nathalie Kalbach (and occasionally other special guests too). Each episode Sarah and Nat get together, collaborate on all sorts of unique artsy projects, share their process and offer updates and sneak peeks along the way, and of course they chat about all stuff art-related and topics that go way beyond that too. ArtCollab is a real life look into the process of creating, collaborating, and the ins and outs of living an artistic life that is touched by others.
Join in for an entertaining and inspiring interlude into the world of two artists who are working together in conversation and practice.
LIVE ArtCollab zoomcasts happen the first Tuesday of the month.
Sign up for my newsletter HERE so you do not miss the next episode!