The creative and sweet Revlie is guest blogging here today to show her awesome new post cards that are now available in her Etsy store! She sent me a set and I really love them and already sent some out for some special persons :)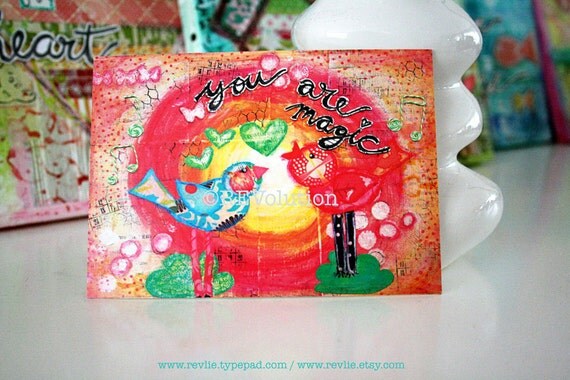 Revlie sent me an extra set to give away, so leave a comment here and let me know: "Do you write postcards and if so, to whom?" 
I will draw a winner on Friday :)
hello gorgeous souls,
Revlie from REVving it up here to show you my 8 gorgeous unique postcards, created from my own design canvasses. just for you to enjoy :)
these (14,8 x 10,7 cm / 5,8 x 4,2 inch) postcards are printed on 285 gsm plywood board. the finish is matt dispersion varnish.
too pretty to send out? order two sets! one for you to keep, frame & enjoy, one set to send out to your lovely friends.
they are 8 postcards for 10 euro's -> go check them out in my Etsyshop. what are you waiting for? make yourself happy!
life is good. let's send your loved ones a postcard!
rev