If you are a newsletter subscriber of mine, you know that I start my monthly newsletters with some thoughts. Thoughts on creativity, making art, and being an artist – along with some other info about what is going on around here. Last month I shared the following. I hope you enjoy and you can sign up for my newsletter HERE for more of these :)
———————————————————————————————
Have you ever looked at some of your photos – maybe from a trip to a foreign place – and wondered who the other, random people in that photo might be? The people who passed by, maybe photobombed your image, walked behind your subject? 
 
In October 2013, right after I moved from Germany to the US, I took the Path to NYC and strolled around Washington Square Park and took this photo: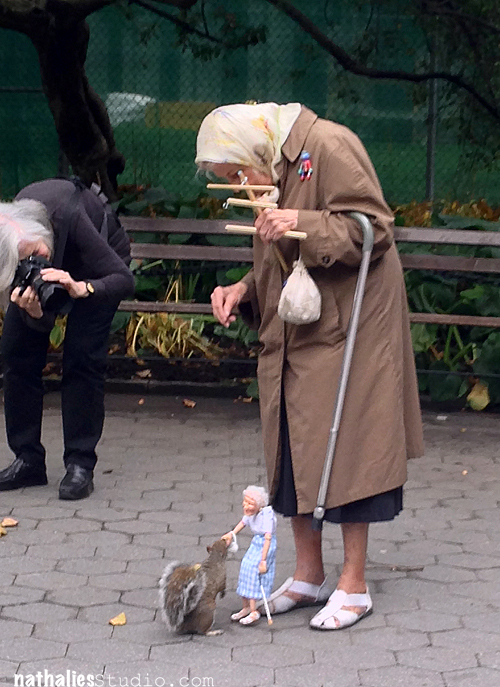 It was just the most charming scene: an elderly woman, with a puppet that looked just like her, feeding a squirrel.
I remember the woman on the left taking the photos and how we both were just so delighted in this moment. I posted the photo on my blog and the photo went viral. I cannot tell you how many times I have seen the photo on the internet in the 7 years that have passed. Then a year later I received a message from Ricky Syers. He is the maker of the marionette and he told me about Doris Diether, the woman he based it off who is seen in the photo holding it. Doris, he told me, is a community activist in the city and the longest serving community board member in Manhattan, with over 50 years of service. He asked me if it would be ok if he used the photo on his website. I took a lot of pleasure in knowing who the puppet maker and the elderly lady in the photo were and I loved following Ricky and seeing his renown grow.
In and of itself this is a wonderful story to consider when you see this photo (which is still floating around the internet) but… don't you wonder by now if there is another story? Yes, there is.
A couple of weeks ago I received an email from a woman saying she happened to come across this photo online and it took her breath away: she recognized the woman on the left in the picture taking a photo. We had a very lovely email exchange and it turned out that this was her mother-in-law Hilla Becher – the well-known photographer from Germany who passed away in 2015. Hearing the name, I realized I knew the photos of Hilla Becher – her water tower series especially came to mind.
I shared the story of Doris and Ricky with her family. I told her how delighted Hilla was taking the photos that day. The daughter-in-law told me, "Sometimes people confuse the seriousness of her subject with her personally. In life she was incredibly curious and joyful. … [I] had to smile when we saw your photo because it was so like her to go in like that."
I love thinking that Hilla and I crossed paths and that we not only shared the enchantment in this scene but also a love for industrial buildings. Maybe her work has influenced my love for those scenes too, since I grew up in an area with many of those structures in and around the city of Düsseldorf.

And that is how the stories of all the people in this photo came full circle. I cannot describe the joy this photo brings me – not only remembering a wonderful day exploring my new surroundings, stumbling upon this bewitching scene, but also how this tiny moment in time – this time capsule – created over the years has brought so much delight to all the people involved. It has been remarkable to have it all come together. I suppose the only way this could become even more full circle would be if the photo Hilla Becher had taken in that very same moment would surface :)