I want to take a moment today and just wish all of you a very Happy Thanksgiving! I know I have tons to be thankful for and one thing that I always think about this time of year is all my readers :) Thank you for tuning in each day and hopefully you are enjoying what I share and learning and finding lots of creative inspiration. Thank you!!!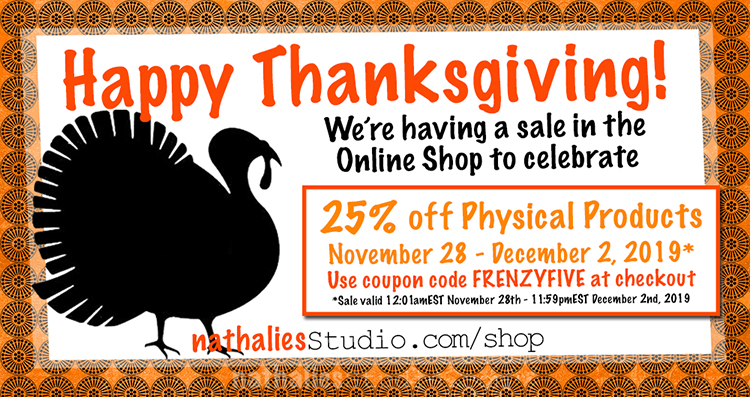 For those of you who are beginning your shopping today or maybe just need a little break from eating (haha), I am starting my BIG sale today. You can save 25% off all physical products in my online shop now through Cyber Monday, December 2nd.
Rubber stamps, stencils, foam stamps, original artwork, mugs, giclee prints, destash and much more is all 25% off – just use the coupon code FRENZYFIVE when you check out. Even sale items are eligible so yup those Fan-tastic rubber stamp sets are in it while supplies last. Woohoo!
And for those of you who like to wait until Friday to shop – no worries. This sale goes through 11:59pm EST on December 2, so you can return to your Thanksgiving festivities and please enjoy!!!