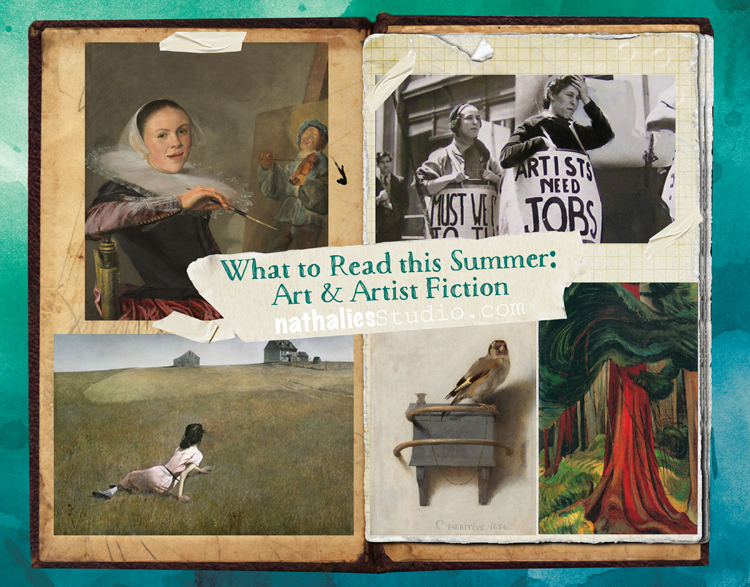 In my book Artful Adventures in Mixed Media is a chapter called "Letting Books and Movies Speak to You" and while I def. recommend my book as a summer read ;) , I thought I would list some others. I love to read – besides painting, reading is my all time favorite thing to do. Sometimes I pick up fiction books about artists or with an art theme and they do often inspire me whether by the story itself and/or by digging deeper into the art and the time period of a certain artist. A lot of the research inspires me later in my artwork in one way or the other. Here are five books I enjoyed in the past couple months (in no particular order):
The Forest Lover by Susan Vreeland
This book was recommended to my by one of my students and it is a novel about the life of painter Emily Carr. Emily Carr was a Canadian painter who lived from 1871-1945. Emily Carr became known for her paintings and sketches about totemic carvings of the First Nations people of British Columbia and the rain forests of Vancouver Island. She took many trips with her canoe to reach remote aboriginal villages, very unusual for a woman in that time. The book gives a great insight of her life – the struggles of being a female modern artist, the landscape of her trips and the history of how Natives were forbidden to live their culture, beliefs, and speak their language. It is thought provoking and a great read!
Taking place in New York City in the 1940s and in the 2010s this book tells the story of Alizee Benoit, a fictional artist character, who was employed through the WPA Artist Program as a Muralist. The program (which is real) was created as a relief measure to employ artists and artisans to create murals, easel paintings, sculpture, graphic art, posters, photography, theatre scenic design, and arts and crafts. Many later famous artists were part of this program and one could argue that they wouldn't have been famous if it wasn't for this program that let them do art and earn their living while they developed. Alizee vanishes one day and "no one knows what happened to her. Not her Jewish family living in German-occupied France. Not her artistic patron and political compatriot, Eleanor Roosevelt. Not her close-knit group of friends, including Mark Rothko, Jackson Pollock, and Lee Krasner." I enjoyed the fictional story of how being around those artists could have been, but it also made me research into the history of how the U.S. dealt with jewish refugees during WWII and the WPA program.
The Last Painting of Sara de Vos by Dominic Smith
This story is again about a fictional artist called Sara de Vos who lives in Amsterdam and becomes the first woman to be admitted as a master painter to the city's Guild of St. Luke in 1631. The story also plays in the 50s in NYC and in the 2000s in Sydney. I liked how this book took my to a different time period and of course I was curios to find out if there were indeed women in the painters guild in 1631. This lead me to discover painter Judith Leyster who lived from 1609-1660 – some of you might have seen one of her paintings in my book. If you like historic fiction, this is a great book including an art theme.
A Piece of the World by Christina Baker Kline

Christina is the subject of Andrew Wyeth's famous painting "Christina's World" and the novel tells her story. Her sickness, where she lived and how Wyeth become part of her and her brother's live and painted her. It actually made me see the painting in a different way and I feel it touches me now more even though the feelings and thoughts of Christina in the book are pure fiction.
Not a book about an artist but about a painting  The Goldfinch by Carel Fabritius which indeed exists. The story about what happens to the painting is fiction but it is more the story of Theodore Decker who, at the age of 13, survives a terrorist bombing at an art museum in which his beloved mother dies. Staggering out of the museum he takes The Goldfinch with him and the story encompasses the story of Theodore's live. I have to admit that I bought the book two years ago, started it and somehow totally hated it (yes- hated it) I put it down after 50 pages and thought "nope" – which rarely happens. But I gave it another chance this year and I do not know what rubbed me the wrong way back then but this time I loved it. The story is amazing and it is a great summer read about gangsters, teenagers, the art black market and more. If you are a late bloomer on this one like I am…read it ;)
---
I hope you enjoyed reading list. Do you have a fiction book about art / artists you would recommend for me to read?