A couple weeks ago, I was asked if I would like to write an article about the Featuring Magazine which content is ArtJournaling, Mixed Media and More. I do have to admit I am always a bit scared of such requests, because I try to only write about things that I truly like and I also only use things that I love, so when someone asks me to write a review about something I have never had in my hand, I fear of what to do if I do not like it…because basically …I couldn't lie. Well – I was intrigued to say yes after seeing the cover because it spoke to me and my style.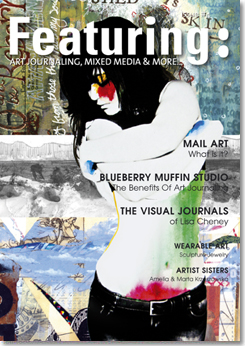 Pretty happy to say that when I received the latest issue I wasn't disappointed :) First off all I was very impressed by the quality of this magazine based in the Netherlands. The format, the paper, the editing, the photos – very professional and appealing. What I love most is that there is no bric-a-brac on the pages…it is just the text and the artwork leading to the artwork having an even bigger impact. I love it!
I loved the featured artists, and I had never heard of most of the people in this issue and it was awesome to learn about so many talented people. For example reading Sandra van Doorn's Poetry an her illustrations going along with it – was a super special treatment. I loved everything about it and it made me just happy reading and looking ! But there were many more and I have a long list of people I will have to check out on their websites.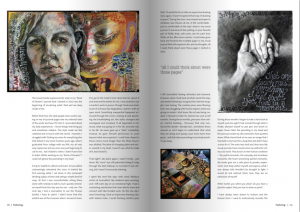 The articles and interviews are extremely well written – you want to take your time with this magazine and it will take some time to get through it as there is so much inspiration in the words and in the artwork, that each on of it has to sit a little bit, before you can continue. And then you are sad when you have been through the whole magazine.
It is  not cheap – which no magazine of quality is, and since I have worked for many years with a team on a magazine I know how much work is behind such a magazine. Actually for that quality it is even pretty decently priced! This is not a how-to-magazine – but for me it is right up my alley as I had the feeling I could take out so many different things from only one issue – inspiration from the artwork, the articles, learning about new people, even new ways of artwork and the stories of other likeminded creative people. I cannot wait for the next issue …and I guess….by asking me to write a review they got me hooked on the magazine ;)
Have a fantastic day :)
huge hugs
Nat