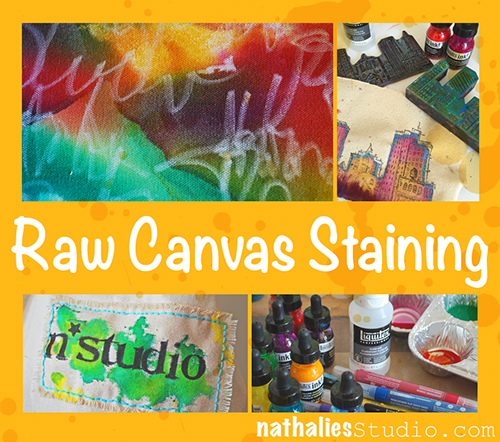 A couple weeks ago my friend Kim and I met for a play date and did some fun stuff with Raw Canvas Staining and Painting.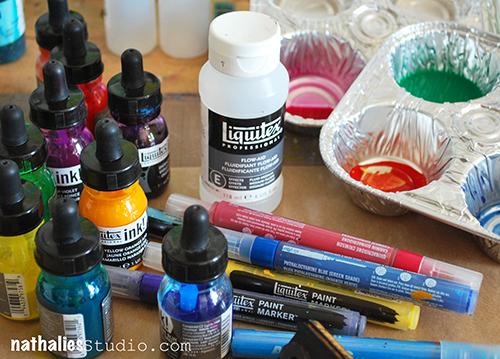 We broke out my supplies including Flow Aid, which you need to be able to break the water tension of raw canvas and has also many amazing side effects that are cool to know so you can control things better, some inks, markers and stamps. Kim made this fun stocking first …it for sure will brighten up a very dark winter day.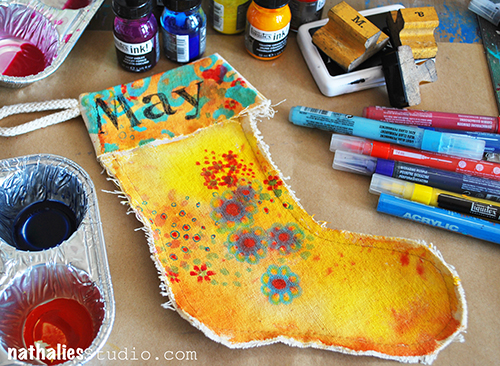 I tested using the foam stamp of my Urban Scribble stamp with Flow Aid and Ink and then stamped on top with the Rubber stamp part or the set.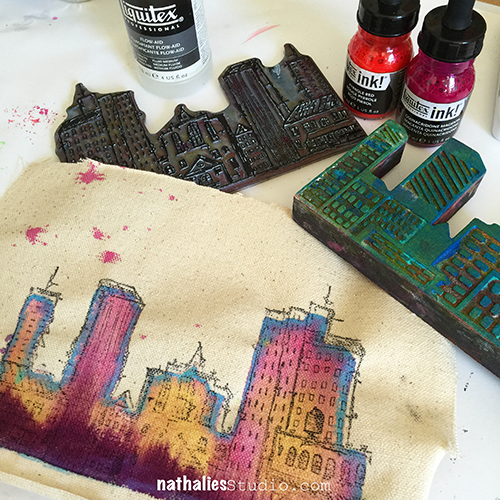 I loved the outcome and went on to do the same thing on an raw canvas apron.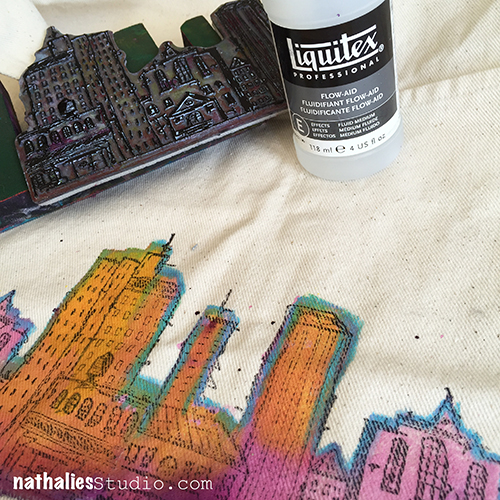 I love that the colors are see through and how nicely defined it is. It is not the same as just stamping with paint onto your canvas- it is really just staining and it keeps the fabric soft and nice.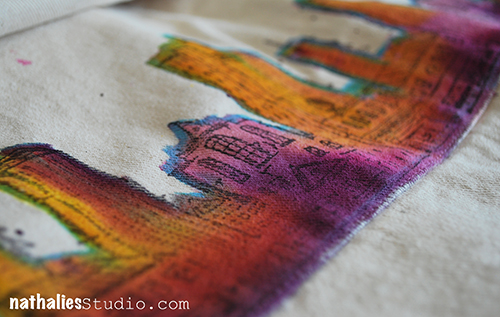 I also treated a little rectangle of raw canvas with some colors and used stamps and markers on top. I just love the look of color and the raw canvas texture – it makes it pop wonderfully. For myself I realized I like when there is a lot of raw canvas still showing.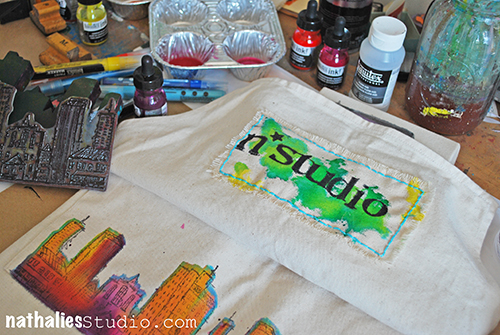 After I frayed the edges I sewed the triangle with embroidery thread onto the top of the apron.
Meanwhile Kim continued playing and experimenting with the Batik Stencil, and markers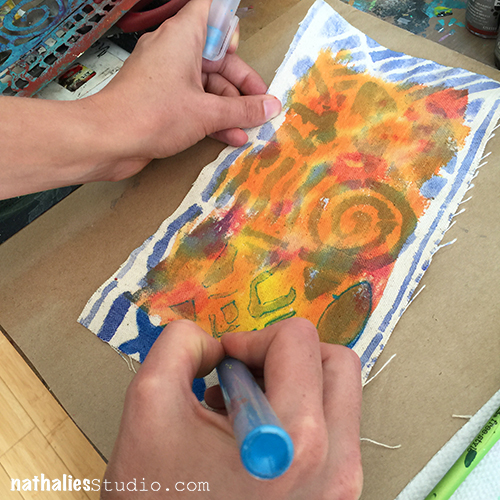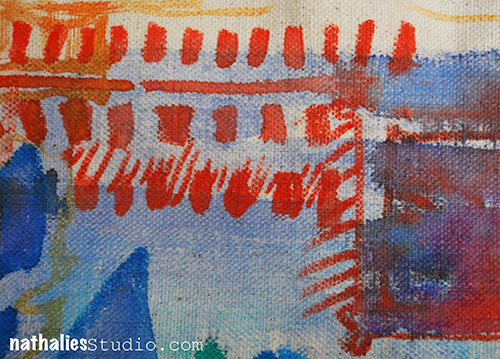 and played with the Bird stamp set on a little canvas string bag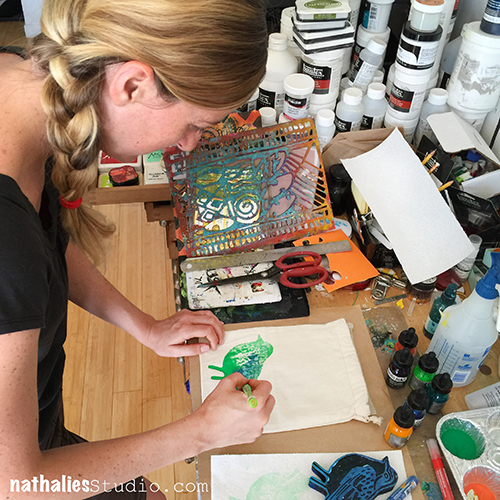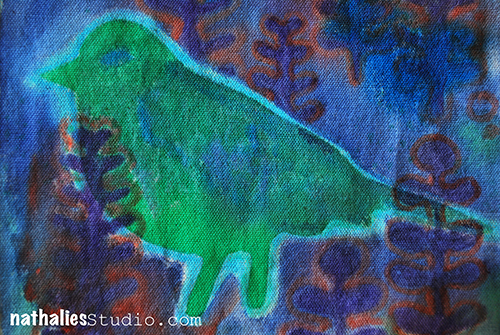 Here is a stretched canvas which I did a while ago – I love how vibrant the colors stay and the depth and layering you can achieve.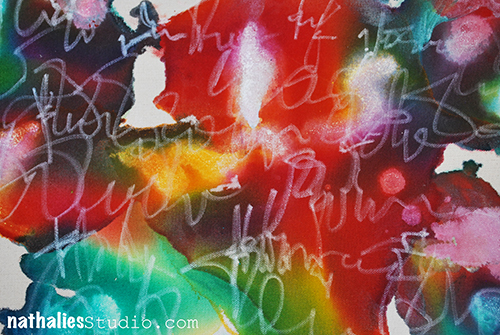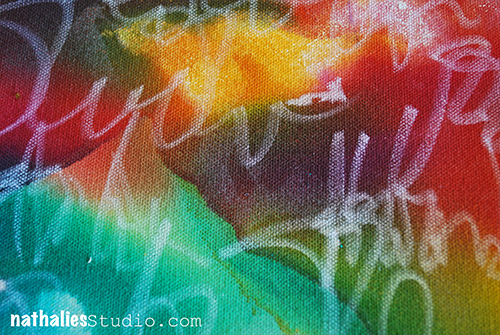 And here is my sweet smiling friend Kim modeling my new apron.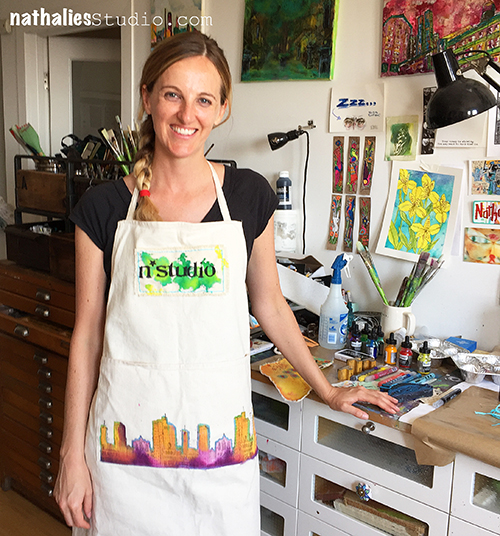 It was loads of fun to play in the studio with a friend and really just for fun. I need to have a play date more often! If you are interested in Raw Canvas Staining check out my really extensive Raw Canvas Staining DVD or download the Video with heaps of techniques, tips and tricks – it is addicting .
Here are some links of what we used- some of them are affiliate links.
What fun thing did you do lately with a friend?