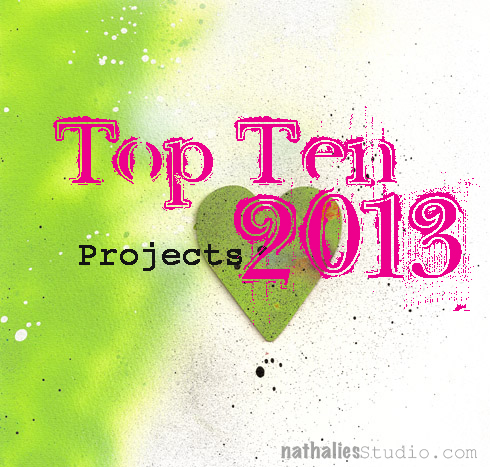 It has become a tradition for me to wind down the year on my blog by posting some Top Ten Lists before the year ends. It makes me go back and look at what I have done and accomplished and it also makes me dwell in memories. Too often we forget about the things we did and accomplished throughout the year- often just bashing ourselves for not fulfilling all the wonderful new year's resolutions from last year.  Maybe this makes you wanna do it too – if so – share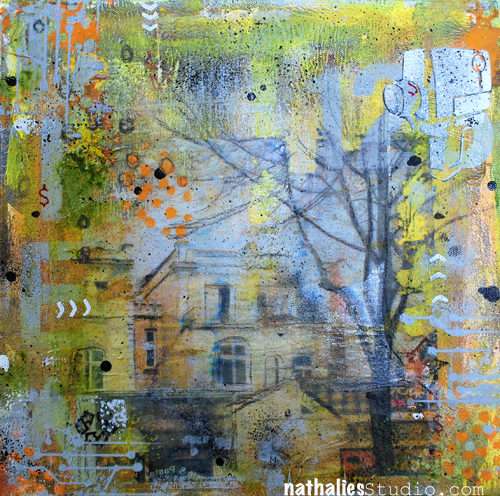 This was one of the canvases I created for my first exhibition that happened this year – and it was the first of a couple canvases I sold. I miss this piece but I am happy it is in good hands. It shows a part of a street I lived for many years- the beautiful house now torn down and vanished.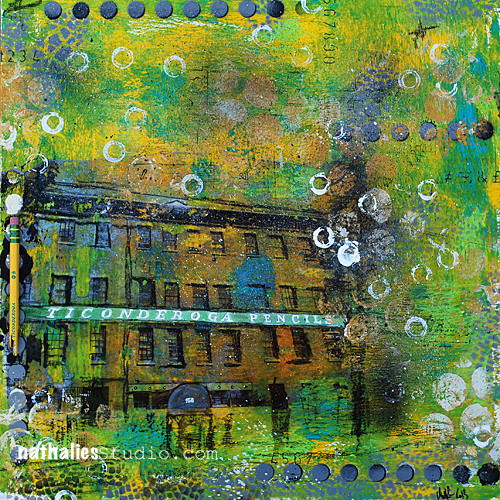 This is the first canvas I created in our new home – an old pencil factory . I love the history of the place we moved to and this canvas makes me happy.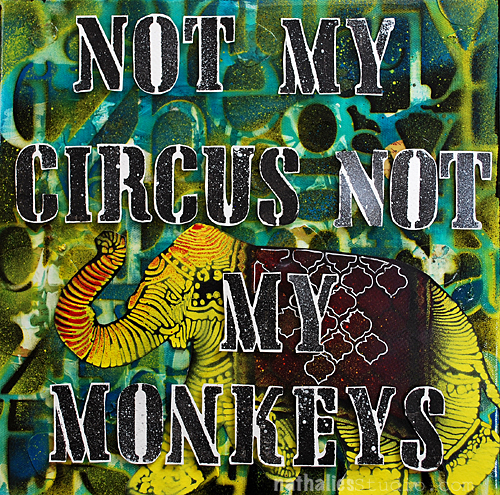 I love the depth of this canvas- which had a wonderful glass effect – and love the saying :) The fact that my Elephant Stencil for StencilGirl Products is on there too – is making me even more happy. Not in my possession anymore- it is also a sold treasure.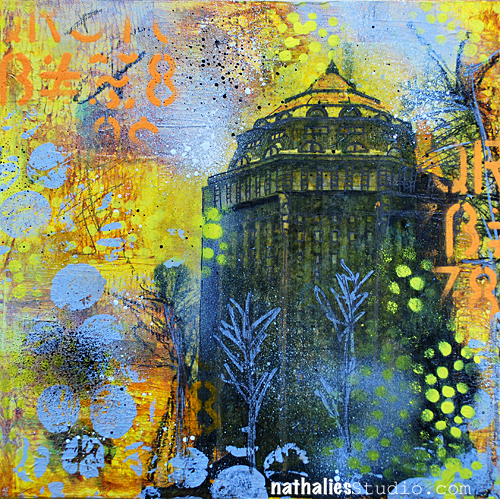 Another sold treasure…I realize it hurts a bit that my most fave canvases are actually gone…oh well- LOL. This shows the water tower in my old neighborhood in Hamburg. It is now a hotel and it was so awesome to stay in the top of the tower a couple weeks ago when we visited family and friends in Germany. ( we always wanted to do that- but you just do not stay in a hotel where you live ;) )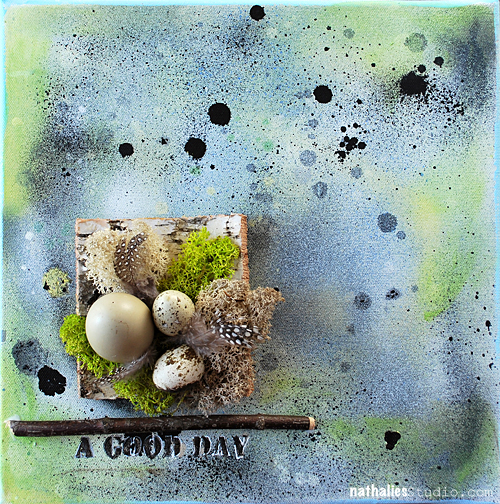 This  Canvas was different for me but I loved it so much. Unfortunately I couldn't bring it over the pond in the move- it would have not survived -so I gave it to one of my best friends, knowing she loved it.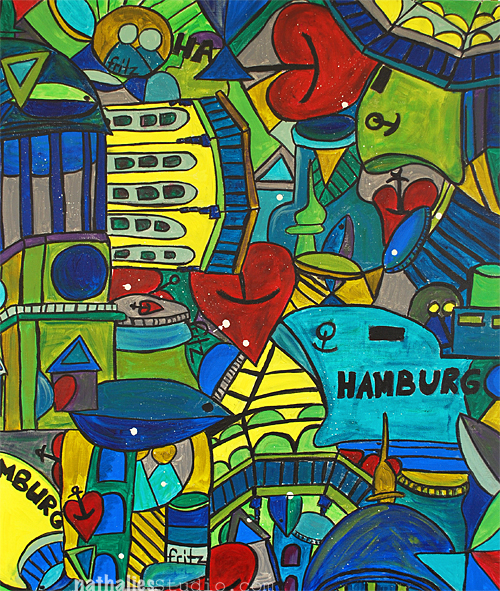 This 70x80cm (27.5×31.5 inches) hangs now in our new home in J.C. over the one side of the fireplace.It is a great color drop in our apartment.  It is the biggest surface I have worked on so far and I enjoyed the process so much. I also learned a lot about mixing colors.
Another Canvas that got sold – I love the colors in this and it has a lot of texture. It also has a lot of hidden meaning – and I am happy it hangs now in my old law office – it is a good piece for that office.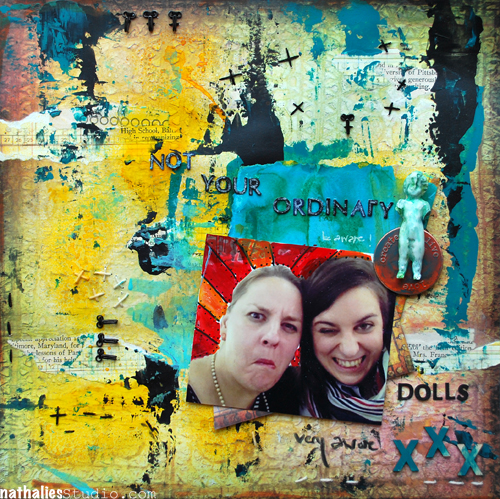 I did not do that many Scrapbooking Layouts in 2014 – mainly canvases followed by art journal pages. This layout of the very few I made, must be my fave as I love the texture and the grunginess and well…the goofy picture of Anna and me- LOL.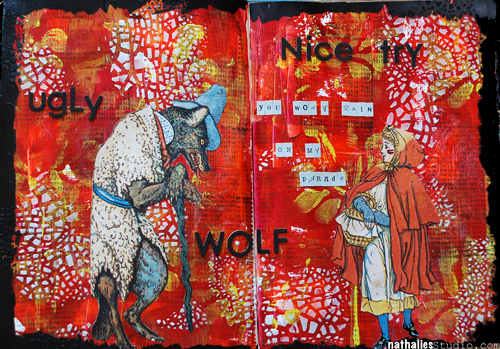 This artjournal page was so much fun to do and I love how everything comes together. I used my Crackle Stencil for StencilGirl Products with it and that was so cool.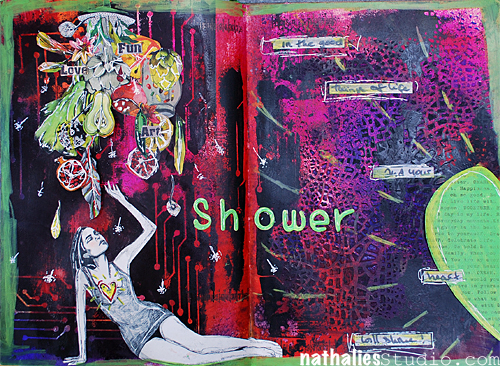 Another art journal page – I love the color combination and I do heart this.
It is interesting for me to see that I apparently did mostly canvases and art journaling- while in 2012 I did all kinds of projects. I also find my voice coming out more in my work – and I think part of it has to do with the fact that I could use my own product designs in my work more often. Color wise I think, I got a bit more bold- I stepped away from my usual teal but red, yellow and orange are VERY prominent again. I would also say on top of the already textured work I loved and did- I added an effort on creating more layers and dimension. It was pretty cool to look through my work and then compare what I liked most from what I did 2013 – it is a good way to realize changes and patterns.
Which of my posted projects do you like the best?
Huge hugs
Nat