Hosting my live webinar series Spill your heART each month has been a blast so far and I love seeing so many of you tuning in too! There is more to come, read on to register for the next one and for info on watching archived episodes.
Did you catch the latest episode with life coach and dear friend of mine Karen Auld? If not, be sure to watch the recording below. And you can always find those recordings and info about upcoming Spill your heART webinars here in the Community section of my website.
Check out Spill your heART #2 on the topic of Beginner's Mind:
Recording of Episode 2: Beginner's Mind – (Friday, March 26, 2021) – Nat Kalbach and Success Coach Karen Auld discuss a concept from Zen Buddhism, Shoshin, the Beginner's Mind. Learn how to adopt a beginner's mindset to unleash more creativity and fun in your art journey. Whether you make art for a living or just for fun, come explore how your thinking might be affecting your art.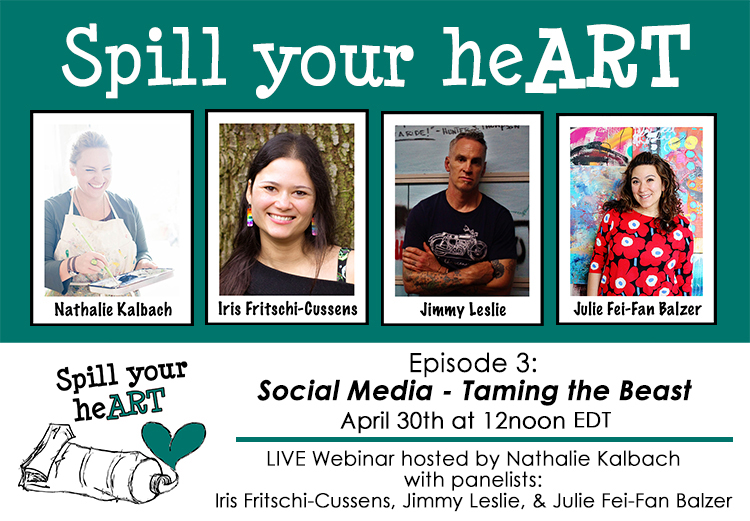 Register for the next one HERE
Episode 3 is on Friday April 30th at 12noon EDT (NYC time)!!!
Social Media – Taming the Beast: Join artists Julie Fei-Fan Balzer, Iris Fritschi-Cussens, Jimmy Leslie and me as we discuss the ups and downs, ins and outs, and the good, bad, and ugly of using social media as artists. We'll talk about balancing privacy and sharing, potential benefits and downsides, and how participating can change your practice. Metrics, negative comments, and thoughts on how to get started will also be touched on. Let's hear some professional perspective on taming the social media beast!
Register HERE to attend – See you on April 30th!!!