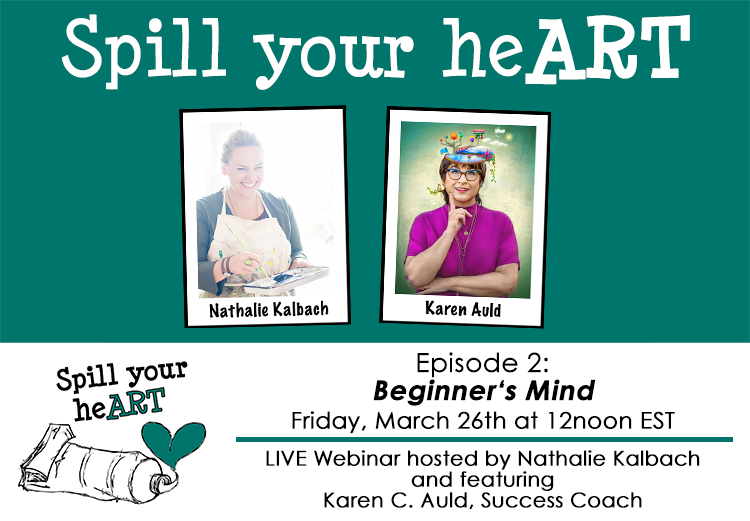 Join us Friday March 26th at 12noon EST for the next LIVE Webinar episode of Spill your heART! Register here to attend.
Spill your heART – Once a month, you can join me and a panel of professionals to hear them sharing their personal stories and experiences in the arts. From past-life professions to finding time for art to discovering your creative style, each month we'll be covering topics to motivate and inspire you to create and do what moves you.
Episode 2: Beginner's Mind – Join Nat and Karen as they discuss a concept from Zen Buddhism, Shoshin, the Beginner's Mind. Learn how to adopt a beginner's mindset to unleash more creativity and fun in your art journey. Whether you make art for a living or just for fun, come explore how your thinking might be affecting your art. Join in HERE.

Here is a little more about our special guest panelist:
Karen C. Auld is a coach, consultant, writer and inspirational speaker. She is the WAIT Loss coach, specializing in BUT reductions. As a corporate consultant, coach, and catalyst her mission is to help people get rid of their big BUTS and live their vision of excellence. Karen teaches mindset and goal setting classes for entrepreneurs at colleges and via small business development centers. Karen provides both individual and group coaching services to her clients and is a Certified Success Coach via Dr. Robert Holden. As a consultant she works with Fortune 500 corporations in the areas of management systems and environmental compliance.
Connect with Karen here: karenauld.com | Facebook | Instagram | LinkedIn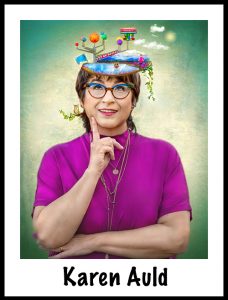 We hope you join us for this event – don't forget to register early to secure you place in the webinar. Register here today.