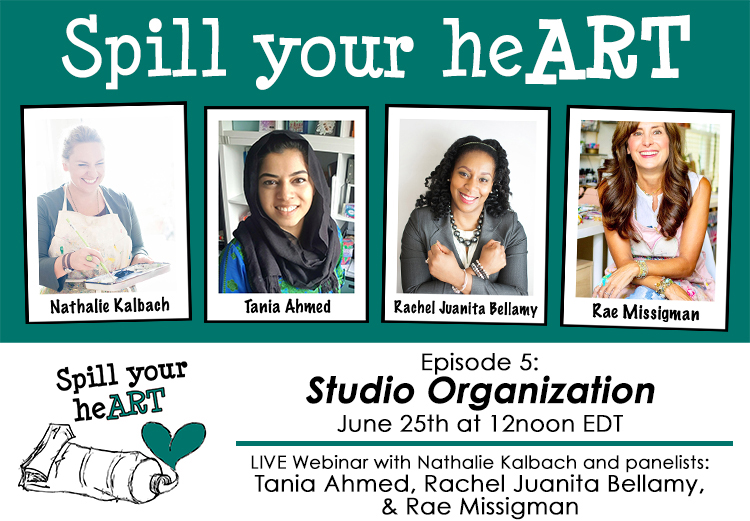 Join us tomorrow, Friday June 25th at 12noon EST for the next LIVE Webinar episode of Spill your heART! Register here to attend. This time we will be discussing Studio Organization with 3 guest panelists: Tania Ahmed, Rachel Juanita Bellamy, and Rae Missigman.
Spill your heART – Once a month, you can join me and a panel of professionals to hear them sharing their personal stories and experiences in the arts. From past-life professions to finding time for art to discovering your creative style, each month we'll be covering topics to motivate and inspire you to create and do what moves you.
Episode 5: Studio Organization – Let's talk about Studio Organization! This is a topic that came up again and again in a recent survey I posted to my readers, so in this Spill your heART episode we'll be tackling the issues you mentioned most. Join my panelists Tania Ahmed, Rae Missigman, and Rachel Juanita Bellamy as we address the problems of studio organization, supply overload, and what to do when you've got stuff all over the place. We'll discuss general organization including the pros and cons of keeping supplies visible and creating sections, and we'll debate whether a tidy studio is a good studio or a messy one is the real deal. Big space / small space, shared space / dedicated space, in your home / offsite – it all informs how you organize and create.
See you tomorrow! Register HERE to attend.

Stay in the loop: Sign up to our newsletter HERE so you do not miss the next episode!