The Community tab on my website is your portal to Webinars and Zoomcasts – past, present, and future!
Catch up on all past episodes of Spill your heART HERE and don't miss any of the insight and fun from our professional panelists.
Check out all my ArtCollab adventures with Sarah Matthews HERE, sign up for the next episode and watch previous episodes too :)
---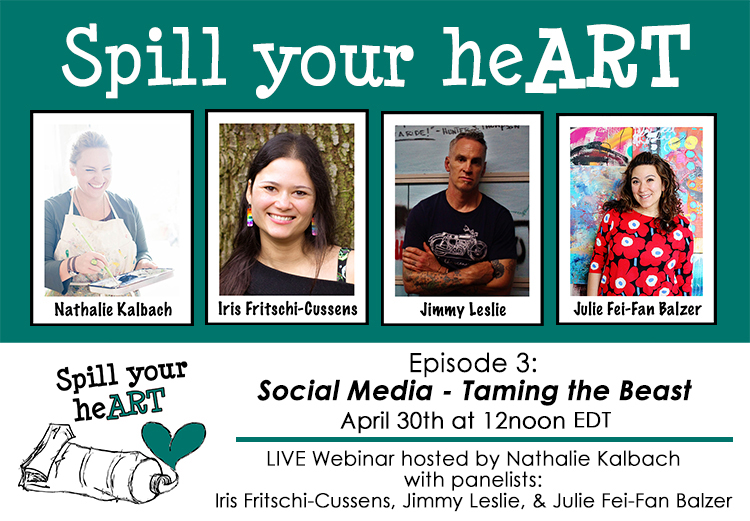 Join us tomorrow, Friday April 30th at 12noon EDT (NYC time) for the next LIVE Webinar episode of Spill your heART! Register here to attend. I'm super excited about this one as I think we all have different perspectives on Social Media and I know it will be very helpful to share more on this topic.
Episode 2: Social Media – Taming the Beast – Join artists Nat Kalbach, Julie Fei-Fan Balzer, Iris Fritschi-Cussens, and Jimmy Leslie as they discuss the ups and downs, ins and outs, and the good, bad, and ugly of using social media as artists. We'll talk about balancing privacy and sharing, potential benefits and downsides, and how participating can change your practice. Metrics, negative comments, and thoughts on how to get started will also be touched on. Let's hear some professional perspective on taming the social media beast!

Spill your heART – Once a month, you can join me and a panel of professionals to hear them sharing their personal stories and experiences in the arts. From past-life professions to finding time for art to discovering your creative style, each month we'll be covering topics to motivate and inspire you to create and do what moves you.
You can catch up on past episodes HERE in the Community section of my website :)