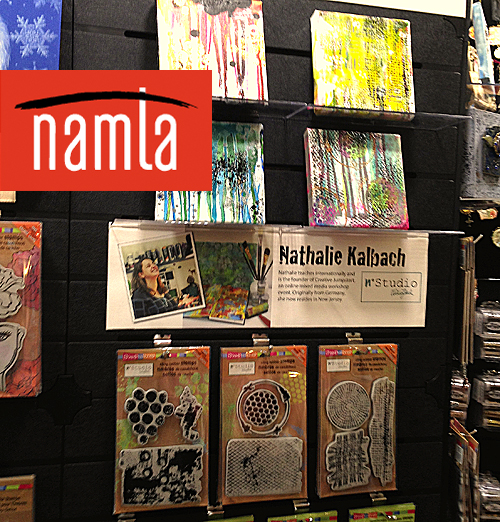 I am back from my fun little trip to Pittsburgh for the NAMTA Art Materials World 2014. I took a little Banana Pillow aka Propeller Plane over and spend three nice days there. (the term Banana Pillow is a courtesy of the flight attendant :)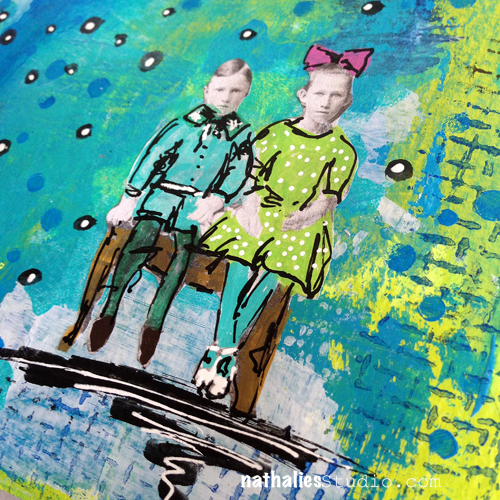 At this convention art and creative material is shown. It is a Trade Show, not open to the public or designers and CHA has joined them this year with a group of CHA exhibitors. Stampendous! was one of them :) I demoed with my Stampendous Stamps some art journaling techniques using also some of my StencilGirl Products Stencils and Liquitex Acrylic Media.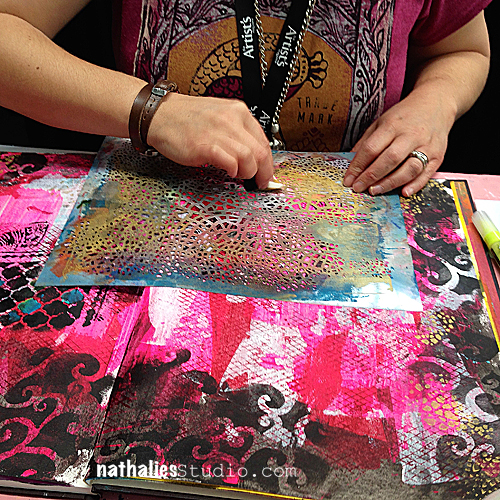 As you can tell I had a lot of fun – just give me some paints and I am a happy girl :) – …if I had no ears I would smile in a cirlce…(yes, J. I know I am squinting again ;) )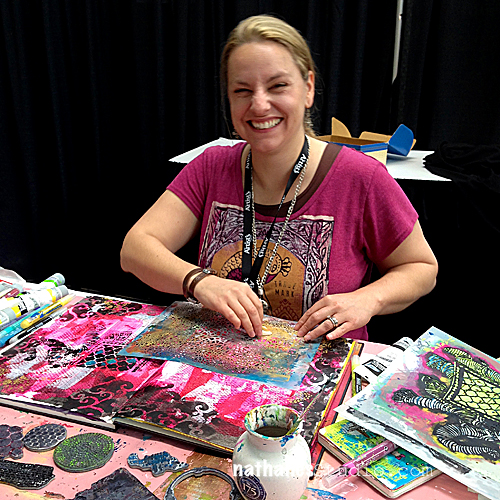 I walked around a lot and checked out some new and known to me art supplies. It was loads of fun. There are not many photos because you were asked to not take photos at the show…and …sometimes I remember I am a Kraut and obey rules…go figure ;) But here are some…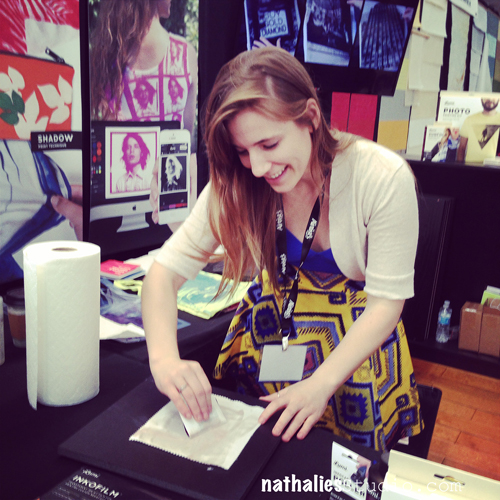 The wonderful people from Lumi were at the show- you  might remember I took a workshop with them at CHA and I am still planning on a blog post and creating some projects with this cool sun printing material. But as you might have caught the word SUN…that was exactly the problem the last couple months. I was happy to see that Lumi now also has Snap packs – small packs- with their dye, which make it easy to apply too. I will post some stuff soon :)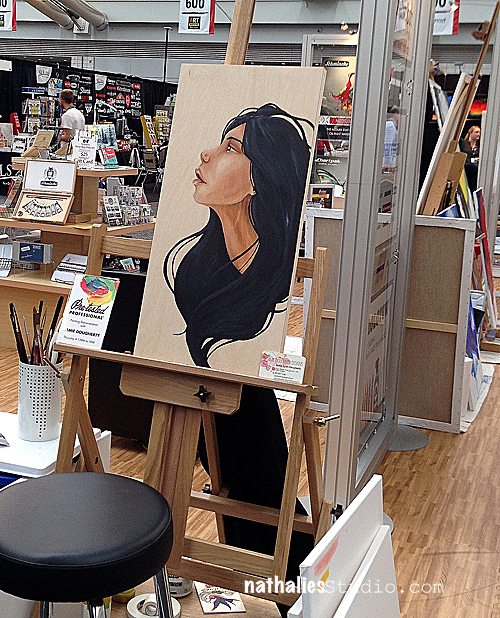 Seeing my friend Jamie Dougherty doing her magic with oil paints was pretty cool…plus hanging out with her every day and evening was über-cool :)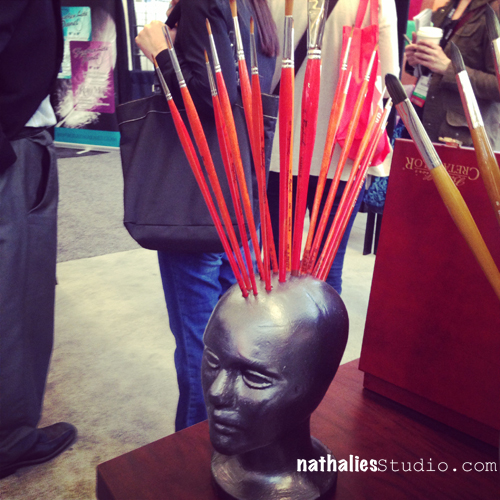 Ever wondered what to do with those styrofoam mannequin heads? Here you go…perfect brush solution ;)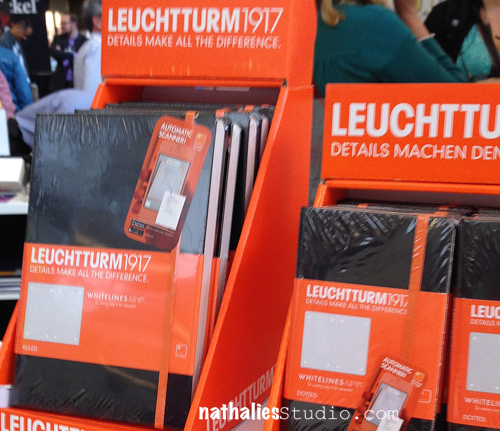 I am not only a nerd when it comes to art supplies, but also when it comes to notebooks. of course I had to stop at the Leuchtturm booth, since I know it well from Germany and have bought a lot of their notebooks. The more I was geeked out when I discovered their new Whitelines Link Notebooks. With the accompanying app, you can take a photo of your drawing, notes whatever on the page, it will take the photo, enhance it automatically and turn it into your choice of either a jpg, pdf for emailing, put it right into drop box or evernotes…BRILLIANT. I need it- no kidding !On my shopping list.
Other than that I would like to give a shout out to Genie Canvas. They came up with a collapsable canvas- so genius! I have been in situations…actually I am in the very moment- where the canvas that I created for a workshop is too big for my suitcase and for carry on and I have a real hard time with shipping etc. So I love love love this idea and I am sure there are others too.
Strathmore will come out with a new Printmaking Paper – I got a sample pack and will test it soon – Love the idea and it felt really good. It is very smooth and I can already imagine how well this will go :)
Grafix – not new to many of you…but kind of new for me – I have never seen them in Germany. I love a lot of their products, from Paper that lets you make your own rub ons, to Dura-Lar an acetate alternative- oh my….I cannot wait to try some of their products out for my art projects :)
PanPastel came out with some cool new stuff – cannot wait to try and share with you :)
This is my circle smiling face again – after meeting Meg – who I never saw before…and who apparently lives in the same apartment complex as I do…the world is small and I loved meeting her and had a lot of fun :) I met a lot of wonderful people – that was my fave about the show :)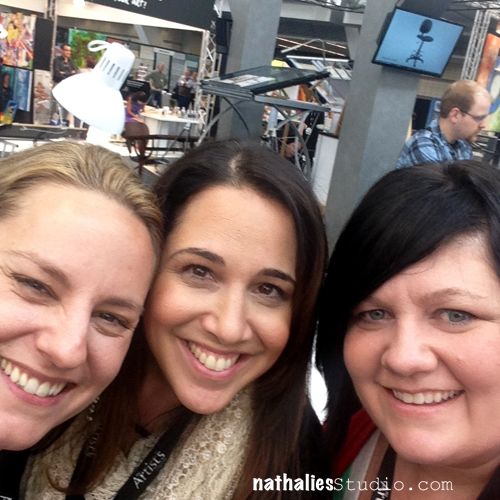 And here is our smiling circle- LOL- my girls that I spend a huge amount of time during and after the convention with – it was great- at CHA it is always such a buzz you never have time to really talk and spent time – Limor Webber and Jamie Dougherty – miss you girls already…crazy bunch ;)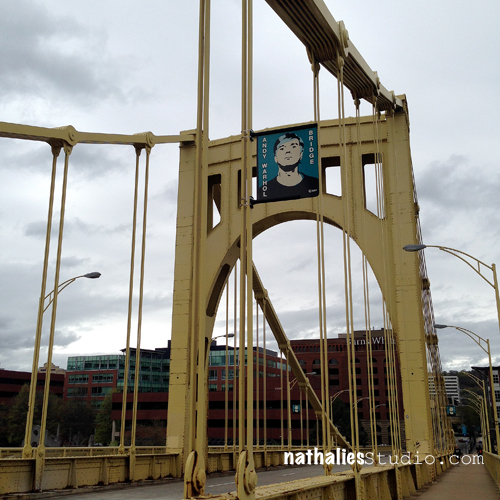 What else did I see from Pittsburgh? Not much..but I crossed the Andy Warhol Bridge to visit the Andy Warhol Museum – he was born in Pittsburgh, so they claim him ;) – and oh boy- you gotta go there when in Pittsburgh- wonderful collection- loved it.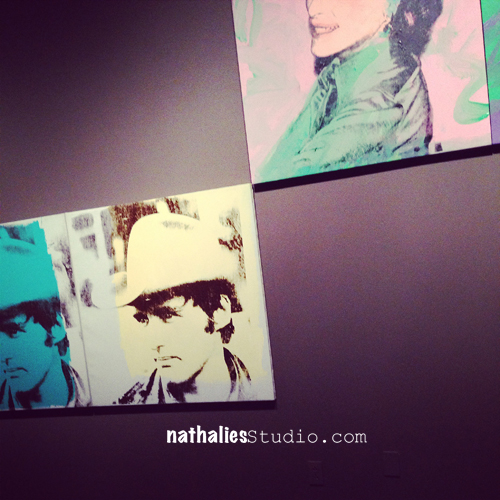 I took one photo…although it was forbidden…must have been my non-kraut heritage side ;) – and then I was a good girl again. I came out of this museum so inspired…I went straight into my hotel room, ordered room service and smashed my hotel room with paint and art journals ;)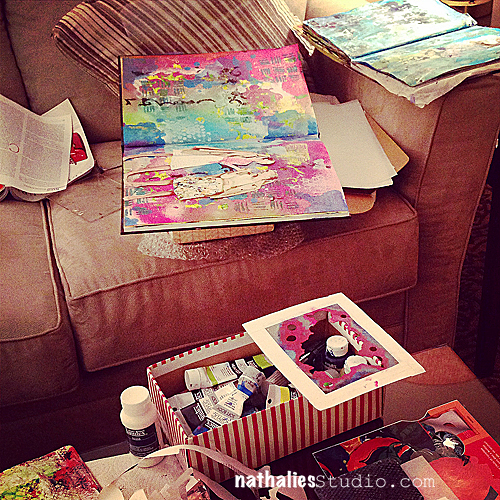 I had three days to clean up that mess…and I did…
Wishing you a gorgeous day
Nat