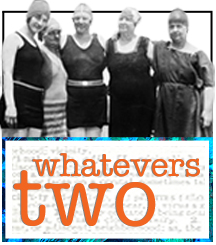 Nahhhh – it is not over….there are so many more Whatevers out there…they need a story…and seriously it was way too much fun! We so enjoyed each other's story and also the amazing stories of those of you who participated…see….
So welcome our friends Carmen Sanchez and Martha Richardson who will join us!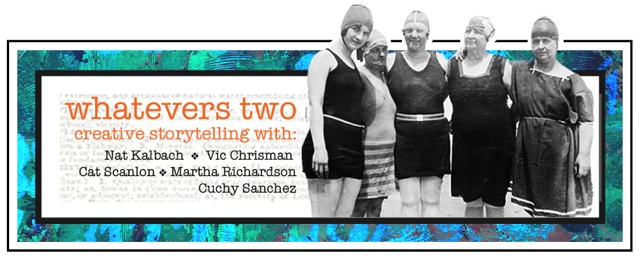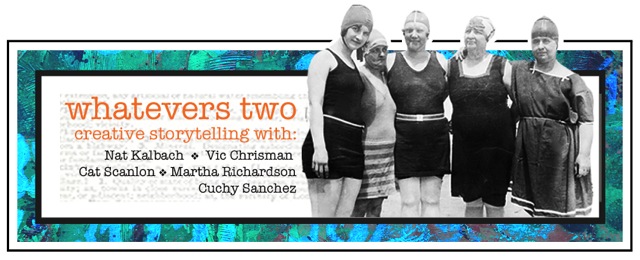 We will start with the first Whatever in Round 2 on July 15, 2013 – we hope you will join us then. And till then in case you don't know how the Whatevers work …here is short summary :)
The Whatevers – is a creative story telling project founded by Cat Scanlon, Vicki Chrisman and me in 2012.
Have you ever been to a flea market and then had this weird sensation of those faces from long ago times looking at you? Sometimes you find a little trace of the history on those photos, the name and city of the photographer, a scribbled note or year on the back of the photo…but that is it. There is no more ….Really…no more? They are forgotten as long as they have no name and no story…
Watch our intro video from 2012:
We are happy to have Carmen and Martha joining us.
What all five of us have in common (besides enjoying each others company and having a blast)  is the love for vintage photos, whether it be family treasures or sometimes found ones.
Here is how it works
Vicki, Cat, Cuchy (Carmen), Martha and I and I have made a one-year commitment to each other and picked twelve photos with Whatevers whom we will give a story.
Every month – if possible always on the 15th –  each of us will do a post with an individual story that goes along for us with the same photo.
If you want you can play along and we will have the photo for you to download and show us your version of The Whatevers. The photo will be posted at the end of our blogposts- not on Facebook!
There is no rules to the story itself- it can be funny, sad, uplifting, breathtaking- WHATEVER
There is no rules on the length or the form of the story– it can be a short sentence, an essay, a poem or a soap opera – WHATEVER
There is no rules on the artform you choose – it can be a scrapbook layout, an altered art project, an art journal page – WHATEVER
Here is a rule though: if you take the photo you have to link back to us and show us your story.
These pictures are from our personal stash and are for personal use for you only! If you want to use them for a publication whether a book or magazine in print or digital form please ask for permission!
If you want to participate we'll have a linky list for each Whatever Post.
You can also join our The Whatevers -Facebook Page
See you on July 15 with the first Whatever
Huge Hugs
Nat

Related articles