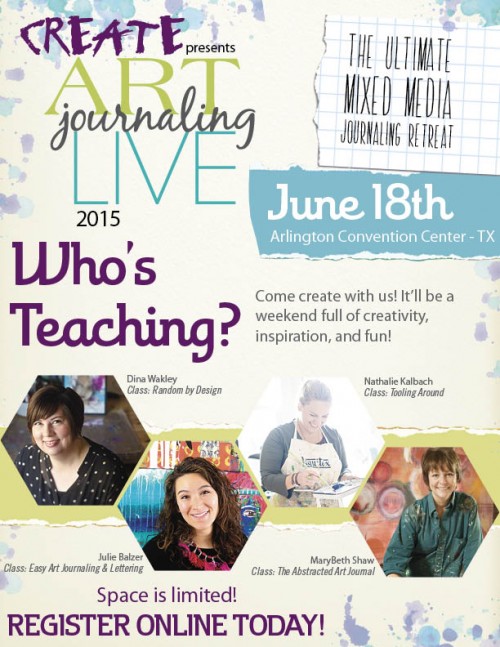 So stoked to teach along my friends Julie Fei-Fan Balzer, Dina Wakley and MaryBeth Shaw an Art Journaling LIVE class on June 18 in Arlington, Texas.
My part of the workshop is called "Tooling Around"
Let's tool around and make the most of your supplies! Use brayers, brushes, palette knives, stamps, and stencils and other inexpensive tools along with acrylic paints and media in different ways. Learn how to create unique and layered backgrounds in your art journal. Create dimension and texture by painting, scraping, stamping, stenciling and glazing. All techniques in this class can be used outside your art journal too—think mixed-media projects, canvases, and even paper crafting projects. The sky is the limit.
Learn how to:
• Get more use out of familiar and unfamiliar tools.
• Work with paints and mediums to create compelling pages.
• Use stamps in new ways to make layered backgrounds.
You can read all details about the workshop the four of us are teaching together and sign up here.
Special Note: when you purchase a ticket to Art Journaling LIVE you will also receive an ALL ACCESS PASS to the Great American Scrapbook Convention happening on-site throughout the weekend at the Arlington Convention Center.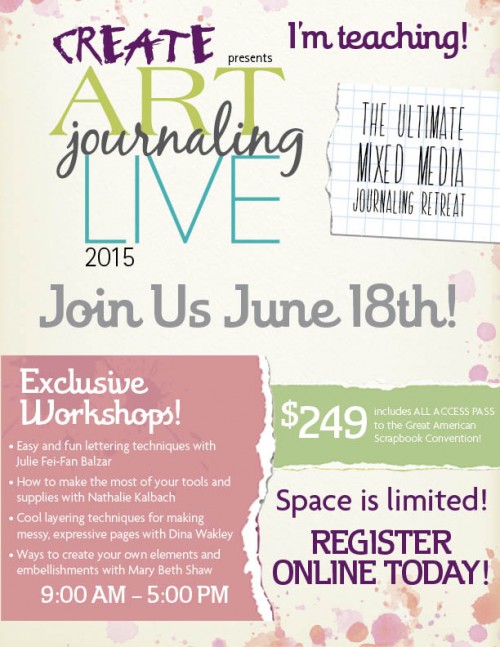 I hope you will join us- cannot wait to see you!