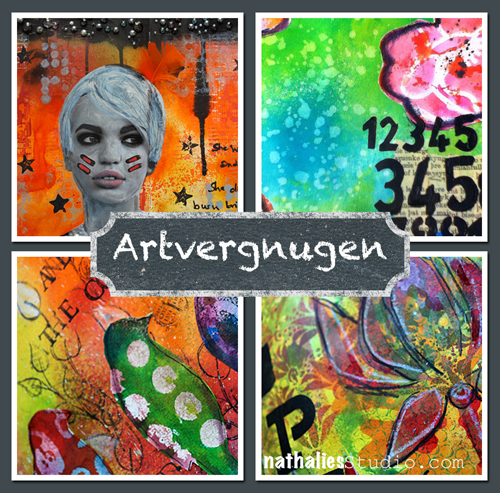 The new dates for Artvergnugen at The Ink Pad in New York City are up for March and April :
Session Three: Spray Ink Splash! – March 7th
Session Four: Stencil Madness! – April 25th
It starts the moment you sit down, an experience that is distinctly Art Journaling. A quick exhilaration, a sense of control, the art media's surprising responsiveness as if they were simply an extension of you.
There is a word for this creative experience: Artvergnugen ! Artvergnugen is what makes your journal a piece of art.
Join Nathalie once a month and play each time with a different art medium or supply. Learn techniques, tips and tricks to take your art journaling further and turn it into Artvergnugen.
You will have to bring basic supplies – list on The Ink Pad Website – while Nathalie will bring the art medium/supply of the month for you to share. Sign up for as many of the sessions you want but be quick – space is limited.
Have an amazing day
nat