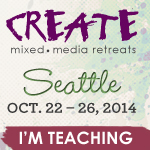 Only a couple more days till the CREATE Mixed Media Retreat in Seattle starts.
I am teaching four classes there:
ART JOURNAL CLASS: It's All About Layers – Friday, October 24 • 9am-4pm
only 4 seats left!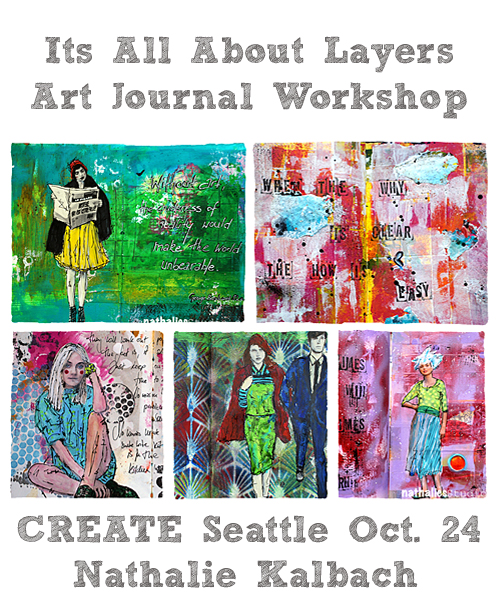 Create depth and dimension by adding several layers with different acrylic paint and other media to achieve intriguing art journal pages. Learn about different media and playfully explore how to express yourself in your art journal. It's all about the layers—so come and join me!
TECHNIQUE CLASS: Acrylics Demystified – Saturday, October 25 • 9am-4pm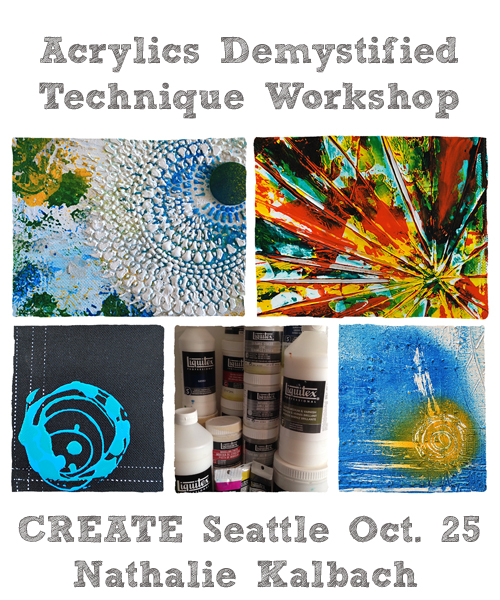 Explore all kinds of different Liquitex Acrylic Media – from Dumbledore to Merlin, from Acrylic Paints to Acrylic Inks, from String Gel to Pouring Medium, from Modeling Paste to Stucco and other fun stuff. Learn their magic– and put an end to mystery on how to use these amazing helpers in your Mixed Media and/or Art Journaling projects. Learn not only how to use Acrylic Media and when to use them but also put your own spell into 3 abstract canvases during the class. You will for sure have as much fun waving your new magic acrylic wand in the future as Nathalie!
CANVAS CLASS: Texture Galore Canvas – Saturday, October 25 • 6-9pm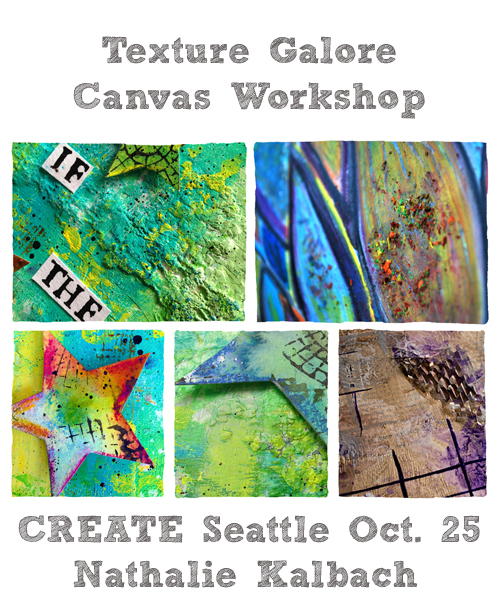 In this workshop you will create a stunning and unique canvas that will be a wonderful home decor item. Learn how to create dimension and texture with tissue paper, items of daily life, acrylic paint, lace, burlap, and gesso. Learn how to reveal the interesting and eye-catching texture with acrylic paints, art bars and acrylic inks and add some fun stamping techniques on top.
TECHNIQUE CLASS: Texture Heaven – Sunday, October 26 • 9am-12noon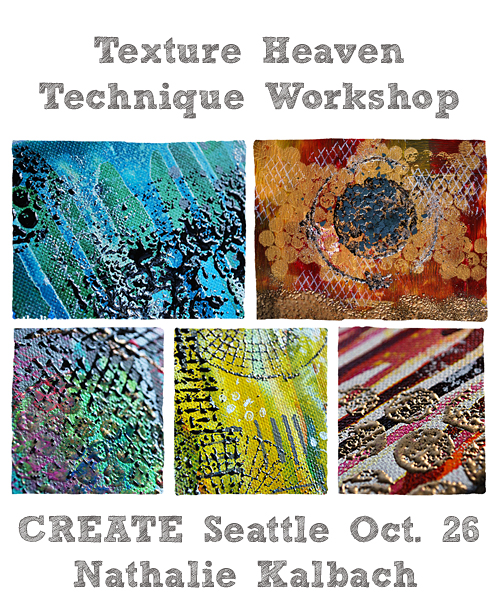 Create wonderful texture pages with mono printing, stenciling and stamping techniques, encrust them with different Embossing Media and bind them together in a beautiful tactile art journal.
There are many amazing classes at the CREATE Event in Seattle – check it out and sign up here! I hope I will see you there.
Have a great day!