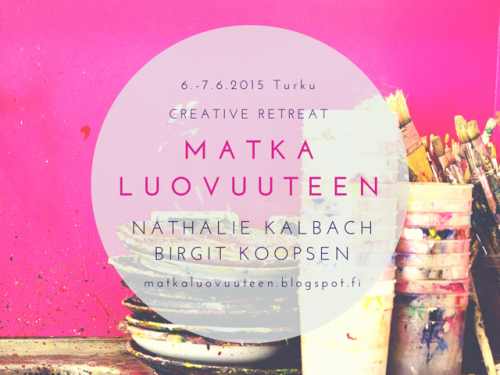 This is going to be so much fun! My friend Birgit Koopsen and I are teaching at a Creative Retreat in Turku, June 6-7, 2015 , which will be held on a Museums Cruise Ship. You can read all details here.
Here are the workshops that I will be teaching -the first workshop is one that I will co-teach with Birgit – we should have called it Double Trouble I guess ;) woot woot :)
Lauantai 6.6. – Saturday June 6
Lauantaina Nathalie ja Birgit vetävät yhdessä koko päivän kestävän kurssin:
On Saturday Nathalie and Birgit teach together in a one day long class:
Sunnuntai 7.6. – Sunday June 7
Artvergnugen – Art Journal Class with Nathalie Kalbach
It starts the moment you sit down, an experience that is distinctly Art Journaling. A quick exhilaration, a sense of control, the art media's surprising responsiveness as if they were simply an extension of you.
There is a word for this creative experience: Artvergnugen! Artvergnugen is what makes your journal a piece of art.
Join Nathalie for a half-day workshop and play with different art media and supplies. Learn techniques, tips and tricks to take your art journaling further and turn it into Artvergnugen.
————-
International students are welcome- Birgit and I will hold these classes in English…I am not sure I will ever manage to learn finish :)
You can sign up here – if you are on the fence, decide soon, I was just told, the event is almost fully booked.