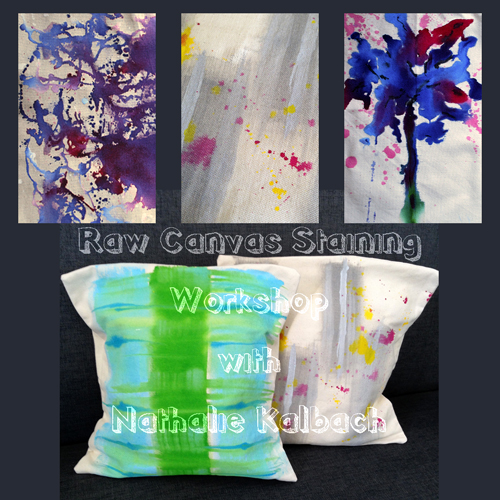 I am teaching this Raw Canvas Staining Class at The InkPad in New York City on May 16, 2015 – 10.30am – 5pm
The technique of painting on unprimed, raw canvas is most often associated with artists such as Morris Louis, Kenneth Noland and Helen Frankenthaler just to name a few.
Color-field artists poured, dripped, or brushed thinned paints onto the canvas that soaked through the surface and stained the fabric, creating a velvet-like appearance.
Join me in exploring fun techniques of staining and painting raw canvas and open a whole new creative world to apply these techniques on stretched canvases, pillow cases, bags and home decor items or even clothes.
——————–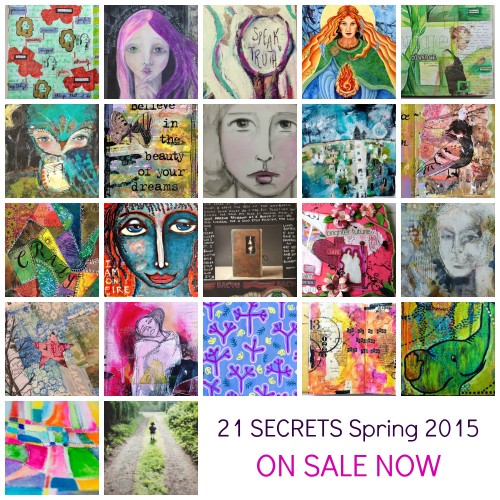 And a reminder that the 21 Secrets Art Journaling Workshop starts in April 2015. You can still sign up for this downloadable Workshop which is contains actually 21 workshops by 21 Artists . You will download an eBook which contains written text, loads of videos and photos. I am super thrilled that I was asked to participate.
What I teach? The Story Within a Story 
For me art journaling is visual story telling. It might not be a story that everyone can read but I can read it and that is all that counts. All my stories consist of many viewpoints and layers – thoughts, emotions and the story itself. I love to express the complexity of a story by building up layers and dimension through various techniques and texture.
In this workshop I would like to walk with you through my art journaling process. I will show you various layering techniques and I will tell you why and how I am doing what I am doing.
Join me in telling a creative story within a story.
How much does it cost?
Right now the PRESALE is happening !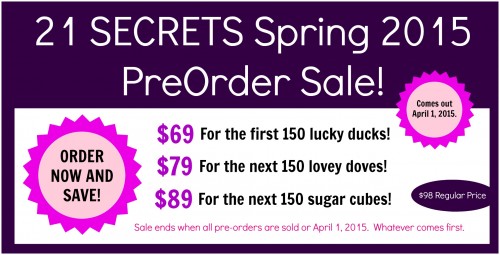 Note: The link that I am using to promote 21 SECRETS is an affiliate link and I will receive a small percentage of any student who registers through my link. If you want to register, and want to support me as an artist it would be wonderful if you would consider registering through my link .
Hope to see you either in person or online :)