CREATE New Jersey was so much fun! I had a great time teaching three days- here are some photos of my classes :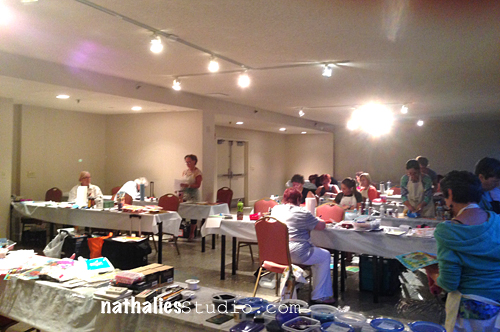 Had a great time with my 20 students in the Texture Heaven Art Journal Class, mono printing, stamping, embossing – playing
So many beautiful pages – and everyone was quite busy experimenting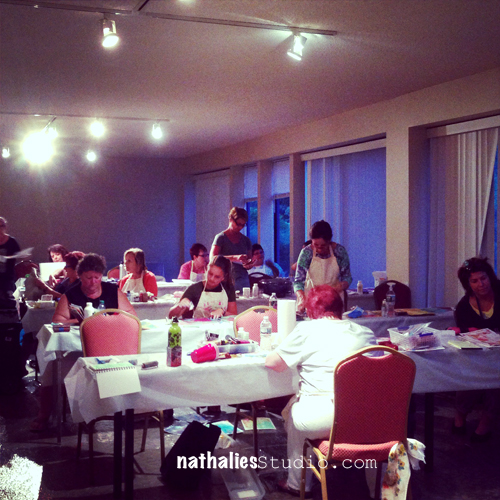 Loads of Acrylic Paint was used during all the classes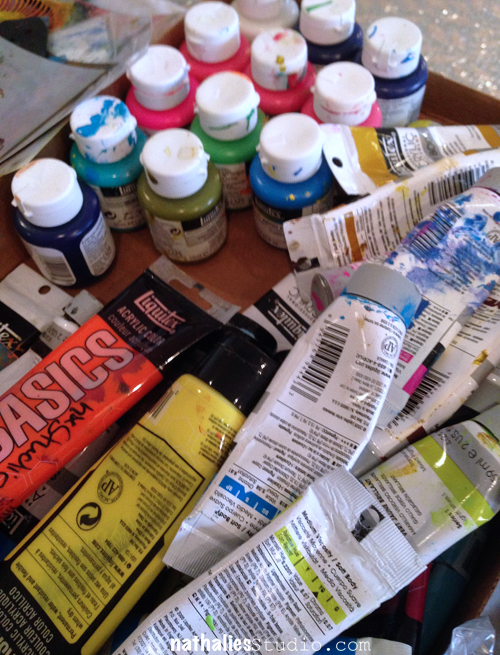 And of course every class had to opened with a funny face of mine ;) – here the "It's All About The Layers – Art Journaling Class"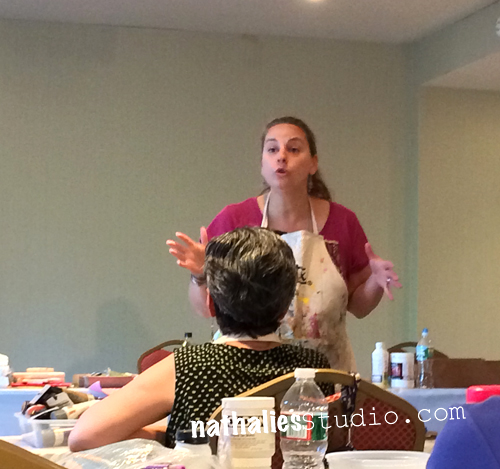 My sweet students were able to get over those faces and made beautiful art journal backgrounds and pages in this day long class…even with a broken a/c and 90 Degrees in the room …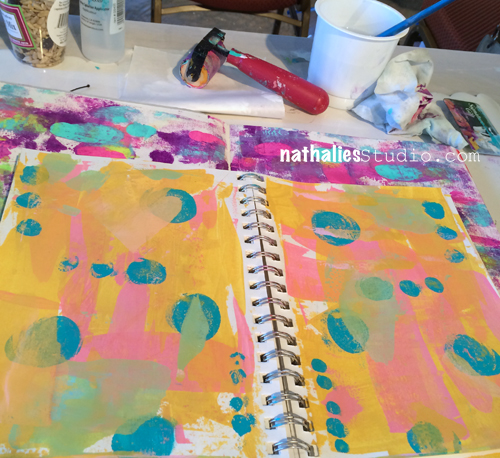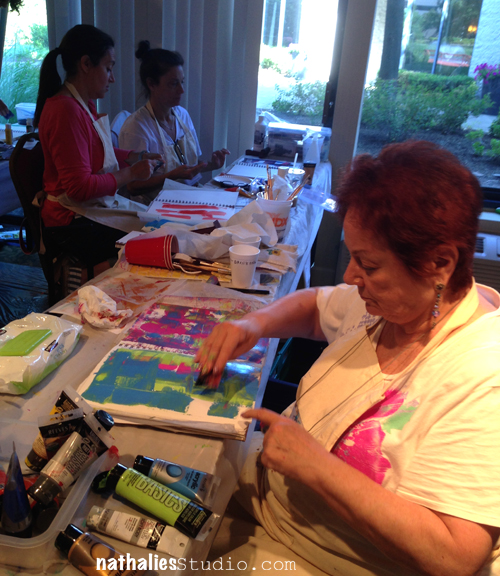 It was wonderful to get to know so many of my students during the three days and also see how they were connected, some made friends during the class, some have been friends for many years (college room mates, being in the same guild) or mother and daughter, siblings together on a fun creative outing :)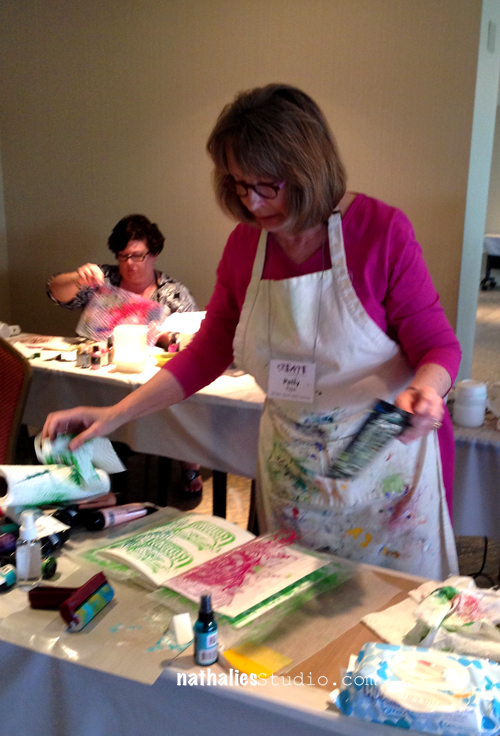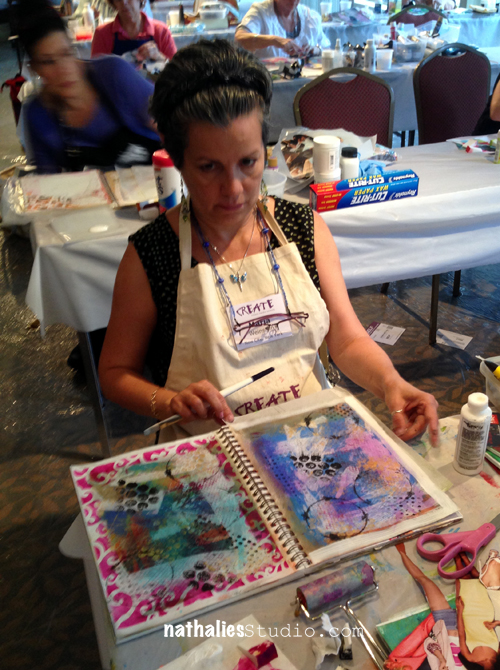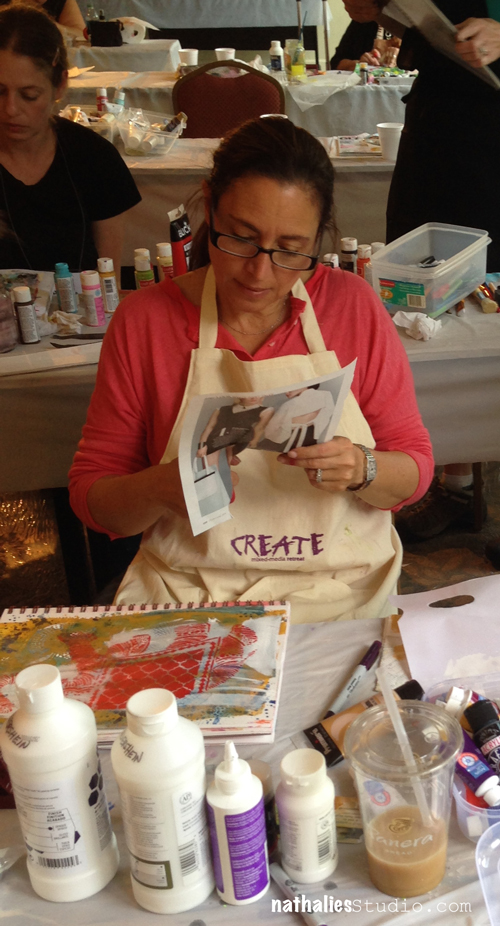 And it was wonderful to see my stamps and stencils used by my super talented students.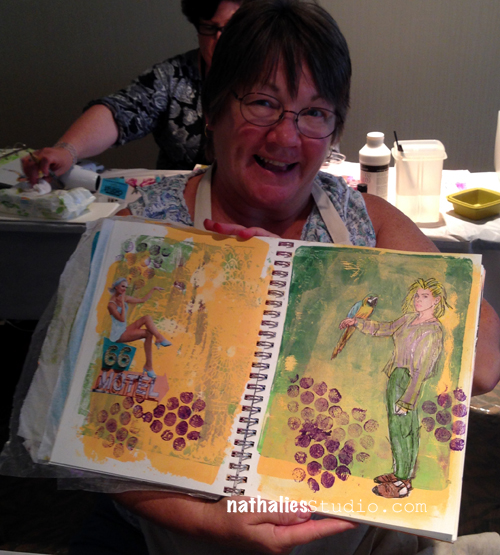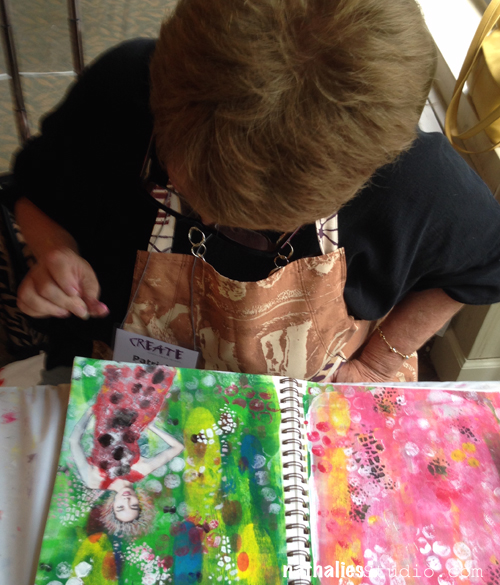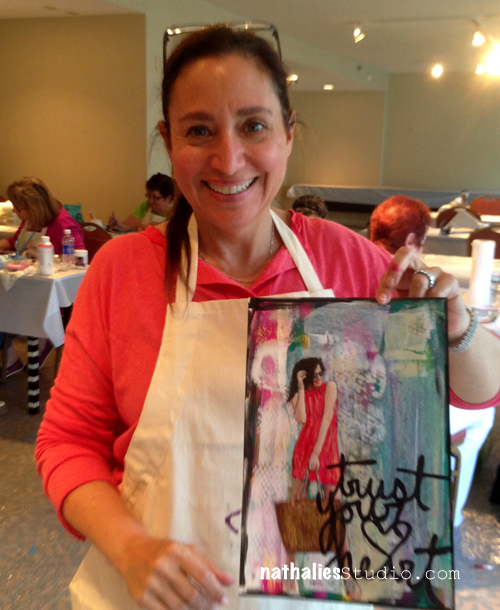 Lot's of wonderful smiles in my class – you girls were awesome!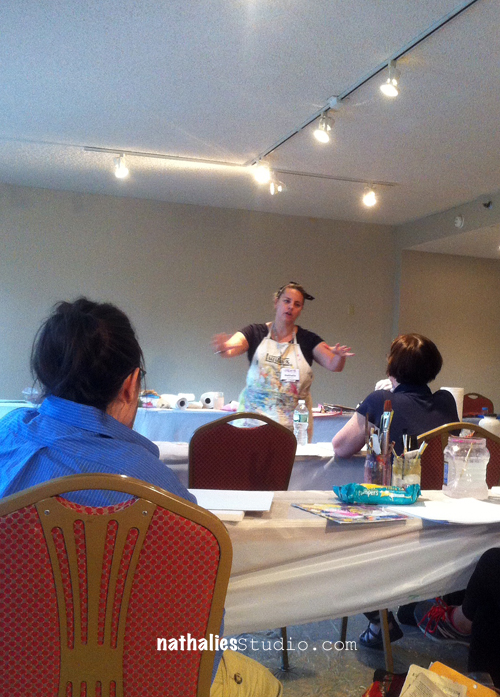 The last class I taught saturday night was not "Walk like a zombie" as this picture might indicate …rather "Texture Galore  Canvas" and loads of texture we created :)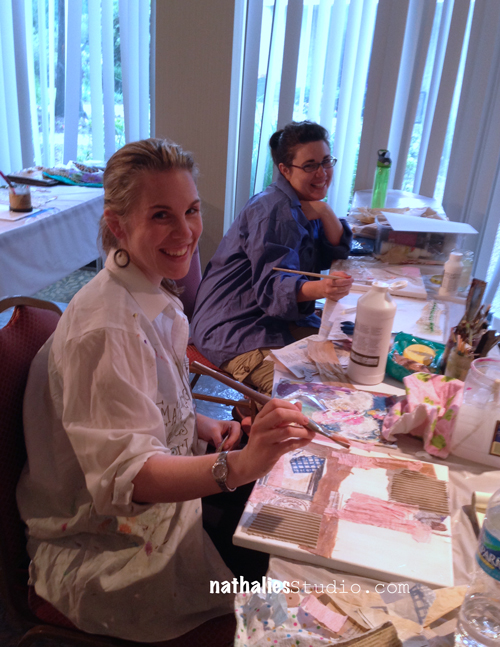 It was a small class with 12 students which was fun …it gives me more time to walk around and talk to students ;)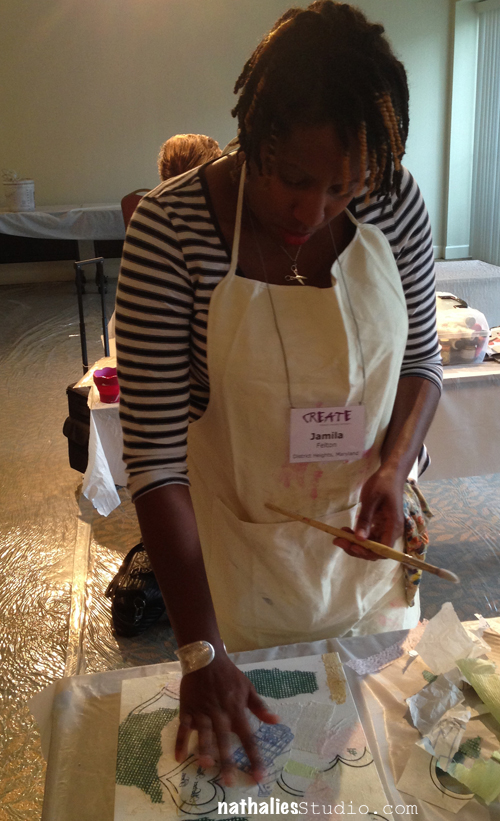 and they had quite some exercise going back and forth between demos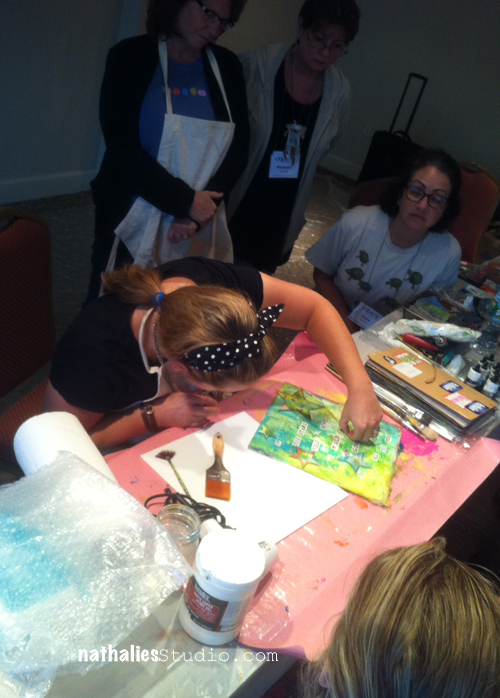 And it was also fun to have a special student in the class ;) you would think she was sick of me spending so much time with me ….and yes…she behaved and was  a great student ;)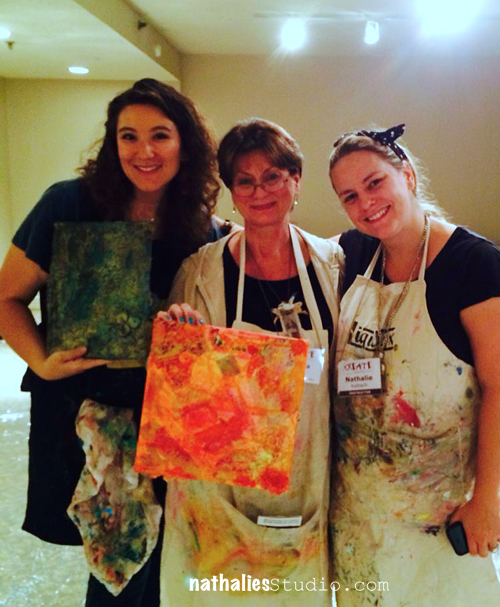 I also took some classes and had an amazing time in Natalya Aikens class, where I learned how to  manipulate photos in photoshop and then print them out on all kinds of different fabrics, like organza, silk etc. Super inspiring and totally out of my usual scheme …I mean fabric…hello!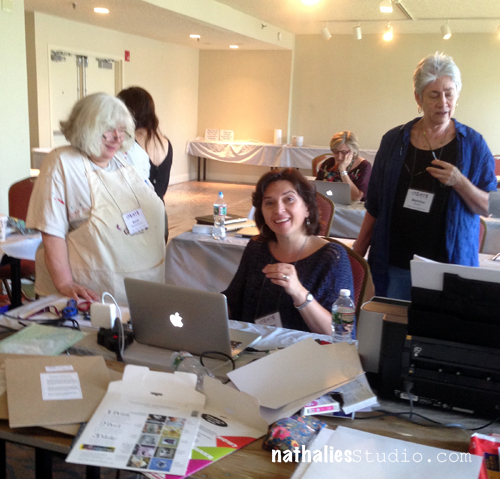 And I took a class with Diana Trout – love her -what a great personality and it was fun to be forced outside of my usual box in my art journal and collaging approach. That is btw the reason why EVERY person who teaches should once in a while take some classes …it is good to be in the student's shoes and see how this feels.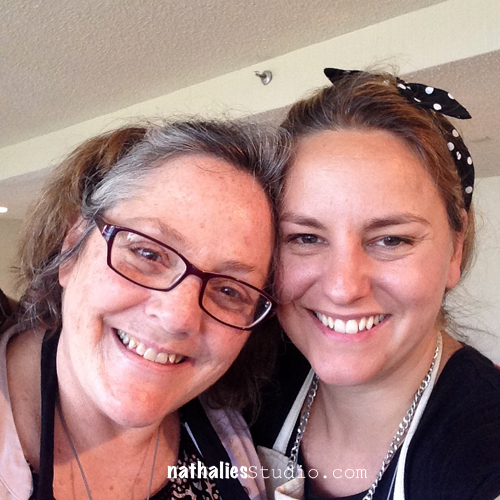 And it was fun to bump into my legendary artist friend  Suze Weinberg at the Artist Faire at the event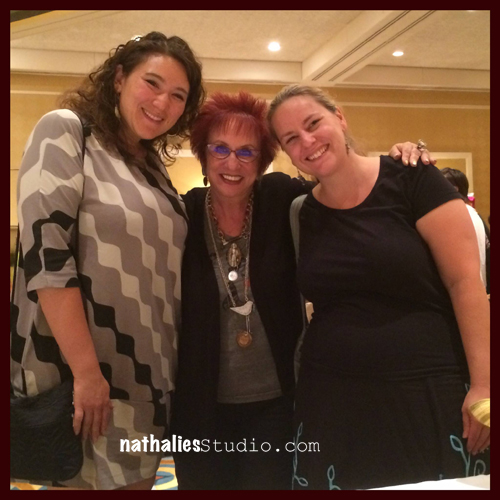 and as mentioned I enjoyed every single minute and all 500.000 meals (or so it felt) at the hotel in which we were trapped without a car with Julie Fei Fan Balzer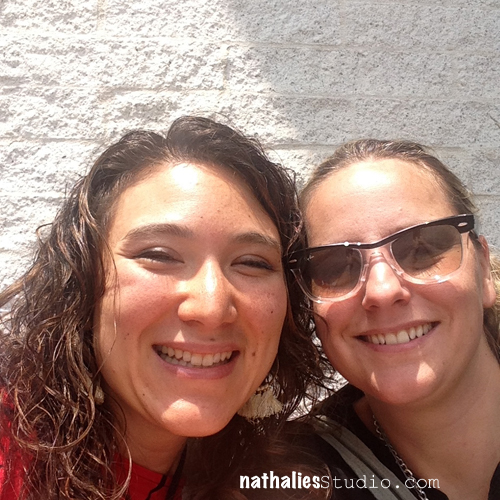 I am looking forward to my next CREATE events I teach at in Dallas – September 17-21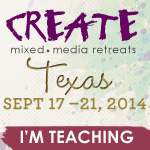 and in Seattle October 22-26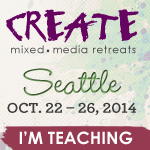 I hope to see some of you there – I promise we will have loads of fun !!!
Have a gorgeous day