As this is in Germany and the workshops will be in German (although I don't mind and will ALSO talk English during classes – done it before in two languages ;) )  – I will post this in German :)
Mal Lust ein Wochenende auszuspannen mit kreativen Workshops und Wellness ? Im Basispaket dieses Events sind zwei meiner Workshops am Samstag den 26.April enthalten. Ich freue mich schon riesig drauf!
Hier sind die Workshops, die ich dort unterrichte: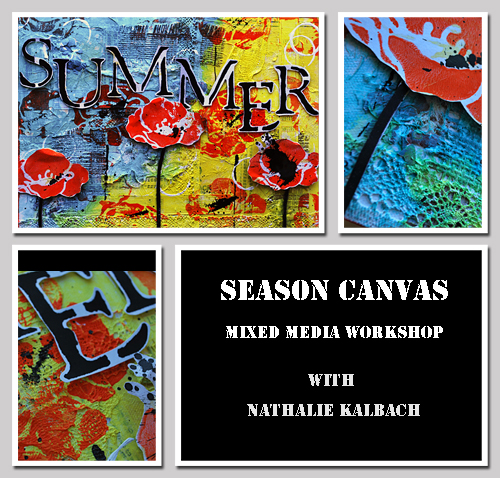 In diesem 3- stündigen Workshop mit Nathalie Kalbach, wirst Du eine schöne und einzigartige Leinwand kreieren, die sich wunderbar als Homedekor eignet.
Lerne wie man Dimension und Textur mittels Seidenpapier, Dingen des alltäglichen Lebens, Acrylfarben, Spitze, Sackleinen und Gesso bilden kann.
Lerne wie man diese interessanten Texturen mittels Farbmedien noch mehr herausarbeiten kann und mittels Stempeltechniken noch das Tüpfelchen auf dem I erzielt.
Wir werden in vielen Ebenen arbeiten, um diese Leinwand ganz wie Du magst für den Frühling, den Sommer, den Herbst oder aber auch für den Winter zu gestalten. Alle Techniken sind auch für andere Projekte geeignet.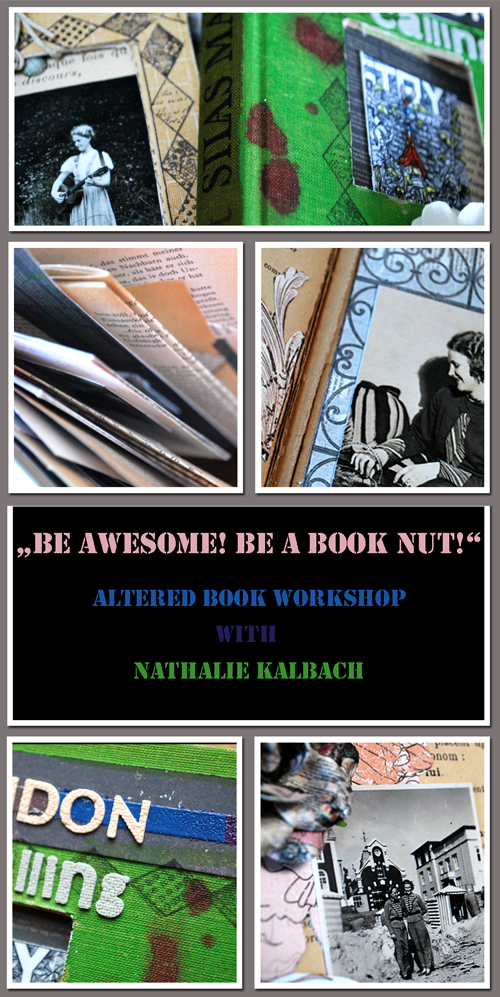 Bücher sind einfach magisch. Jedes Buch ist etwas Einzigartiges – es hält einen gefangen mit seinen Geschichten, seinem Einband und mit seinen Buchseiten. Manche Bücher landen jedoch irgendwann auf einem Flohmark oder fristen ein trauriges staubiges Dasein im Bücherregal. Warum nicht diesen Büchern wieder ein neues Leben einhauchen und sie mit unseren eigenen Geschichten füllen? Ich zeige Euch wie man mittels Falttechniken die Buchseiten zu einem Kunstwerk machen, versteckte Taschen kreiert und darin kleine Schätze oder Nachrichten verstecken kann. Wir werden Klebstoffe in etwas ungewohnter Weise verwenden und witzige neue Embossingtechniken ausprobieren. Einige schöne Papiere, Blumen und Stempel der Firma Prima Marketing* werden dafür sorgen, dass dieses Buch entweder als persönliches Erinnerungsstück oder als wunderschönes Geschenk nicht nur als ein Minialbum sondern auch als ein Dekorstück ein neues Leben erhält. Macht mit in diesem 3 1/2 Stunden langen Workshop.
*Die Papiere und Blumen können möglichweise von der Abbildung abweichen.
Alle Informationen zu dem Event- Preise- genaue Leistungen – Ort- Altötting – findet Ihr hier bei den Scrappies
Ich würde mich freuen, Euch dort im April zu sehen :) Habt einen schönen Tag
Nat