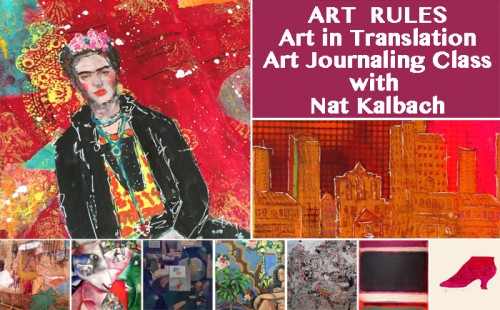 Just a short reminder that I am teaching March 4-6, 2016 – Art Rules- Art in Translation – at My Heart's Fancy in Edmond, Oklahoma – there are still a couple seats open and it is one of the few in-person workshops I am teaching this year due to the book:
"Let's explore several master artists and get inspired by their artwork and techniques to create wonderful and unique art journal pages.Whether it be Andy Warhol's cheating technique or Rothko's amazing color combinations, there are many different Master Artists whose masterful skills can serve as a starting point for your own artwork.  Find out what you like and what works for you.  Learn about opacity and layering, colors, troubleshooting, mixing materials, making your own tools, creating backgrounds and patterns.  We will work with acrylic paints, inks, markers, wax bars and other paint media to create dimension and texture.  We will make the most of stencils, stamps, mono printing plates and generic tools to make our own mark.  Get ready to Rule Your Art Journal!"
Class hours:
Friday, the 4th: 4 pm to 8 pm
Saturday, the 5th: 10 am to 6 pm (1 hour for lunch)
Sunday, the 6th: 10 am to 2 pm
More details and Sign-Up Information here
I am looking forward to come back to Maura's store and see many familiar faces again and hopefully some new ones too :) It was such a blast last time!
Have a beautiful day you all!