I am looking forward teaching 3 Workshops at My Hearts Fancy in Oklahoma City, March 27 -29, 2015.
MAKE YOUR MARK Monoprinting- Friday, MARCH 27- 4 PM to 8 PM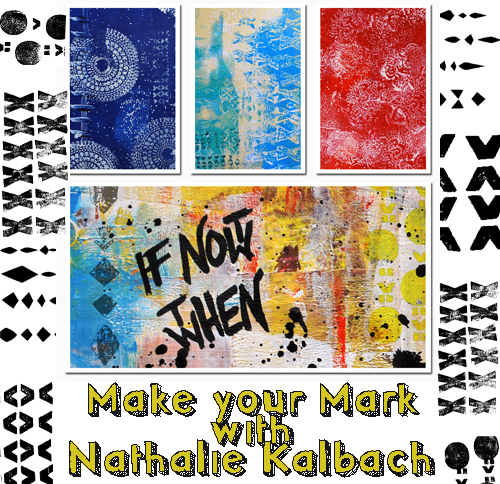 In this monoprinting class we will explore the possibilities of making your own personal mark in your artwork by creating wonderful prints with different tools, stamps, stencils and techniques. Learn how to create your own patterned paper, which can be later used in art journals, collages, mixed media canvas and all other kinds of paper art.
ARTVERGNUGEN- Art Journaling -SATURDAY, MARCH 28 – 10 AM to 5:30
(with lunch break)
It starts the moment you sit down – an experience that is distinctly art journaling. A quick exhilaration, a sense of control, the art media's surprising responsiveness as if it were simply an extension of you.
 There is a word for this creative experience: Artvergnugen!  Artvergnugen is what makes your journal a piece of art.
Join Nathalie for a one-day workshop and play with different art media and supplies.  Learn techniques, tips and tricks to take your art journaling further and turn it into Artvergnugen!
PLAY-TRANSFORM – Mixed Media Collage – SUNDAY, MARCH 29 – 10 AM to 5:30 PM
(with lunch break)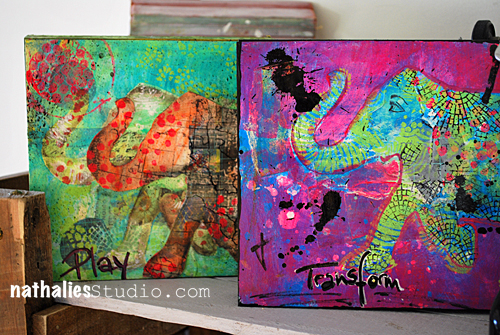 In this one-day workshop, Nathalie will share her favorite techniques to create background papers using paints, stencils and stamps.    Layered up, it will turn into a fun Mixed Media Collage.  Create a whimsical or abstract focal point, depending on your taste.
Nat will share her fun and easy peasy collage techniques, talk a bit about composition and make a sticky business turn into a creative new passion for you.
—————
I hope to see you!