Yeahh – I am coming back again to Bizzy B's in Toronto to teach three workshops from March 13 – 15, 2015.
Friday, March 13 – WALK WITH ME: ALTERED BOOK CLASS – 6:30 – 10:00 PM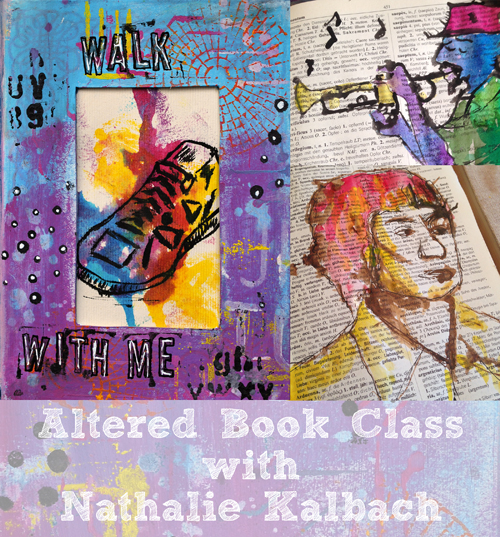 In this class, Nathalie will show you how you can turn an old, sad book in to something beautiful again! You will work with acrylic paints, acrylic inks, stamps, and stencils, and Nat will walk you through some fun sketching tricks. In the end, you will have a colourful creative keepsake filled with techniques that you can use for all kinds of Mixed Media and Art Journal projects.
NOTE: this is a different class from the altered book class that Nat taught at Bizzy B's before!
Saturday, March 14 -ACRYLICS DEMYSTIFIED: TECHNIQUE & ABSTRACT CANVAS WORKSHOP – 10:30 AM – 5:00 PM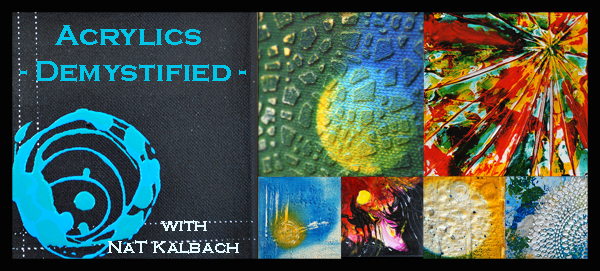 Join Nathalie for a full-day class to explore all kinds of different Acrylic Media – from Dumbledore to Merlin, from Acrylic Paints to Acrylic Inks, from String Gel to Pouring Medium, from Modeling Paste to Stucco and other fun stuff! Learn their magic – and put an end to the mystery of how to use these amazing helpers in your Mixed Media and/or Art Journaling projects. Learn not only how to use Acrylic Media and when to use them, but also put your own spell into 3 abstract canvases during the class. You will for sure have as much fun waving your new magic acrylic wand in the future as Nathalie does!
Sunday, March 15 – RAW CANVAS STAINING WORKSHOP – 10:30 AM – 5:00 PM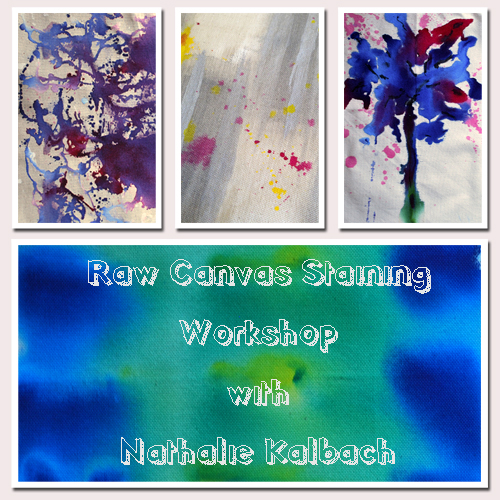 The technique of painting on unprimed, raw canvas is most often associated with artists such as Morris Louis, Kenneth Noland, and Helen Frankenthaler, just to name a few. Colour-field artists poured, dripped, or brushed thinned paints onto the canvas that soaked through the surface and stained the fabric, creating a velvet-like appearance. Join Nathalie in exploring fun techniques of staining and painting raw canvas and open a whole new creative world to apply these techniques to stretched canvases, pillow cases, bags, home decor items, and even clothes!
More information and sign up info here at Bizzy B's – I hope to see you there!