I am very proud of and happy for my friend Dina Wakley who just launched her own signature line of acrylic paints with Ranger. So when she asked me if I would participate in a blog hop and show some work using her paints, I said of course yes.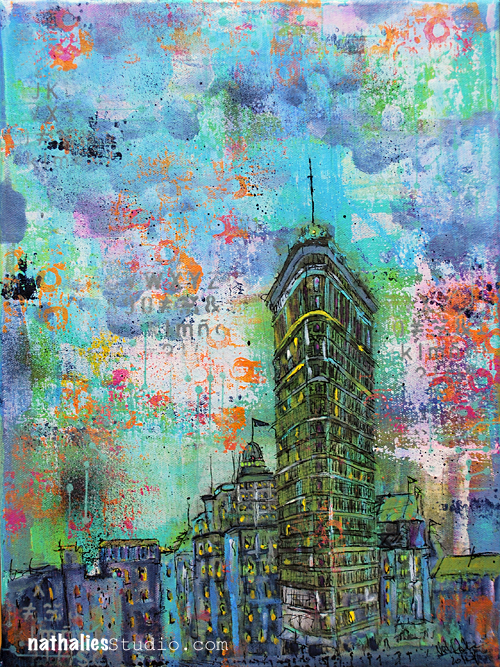 I had planned on doing a canvas on the Flatiron Building in NYC – as many others I find it highly intriguing – the more as I learned through the PBS show "Treasures of New York" about it's history.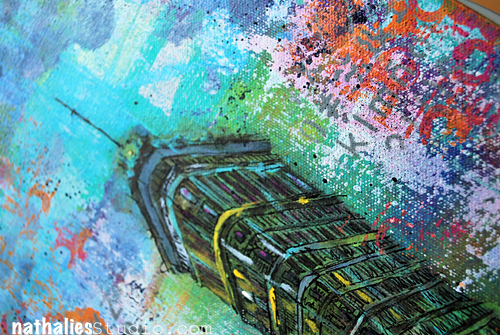 The name "Standing Strong" is the name my artist friend Tanya Watts Wedhorn gave it after I posted a sneak on my Facebook page and asked people to help me with a name. She is fighting returning cancer and what she said really touched and resonated with me"I remember seeing this building when visiting New York and it just seemed like a building that has really had to stand it's grounds in a quick growing and changing city. It reminds me of strength and not changing for anything or anyone. So my title would be Standing Strong! Xxx" Stand Strong Tanya – Lot's of Love!!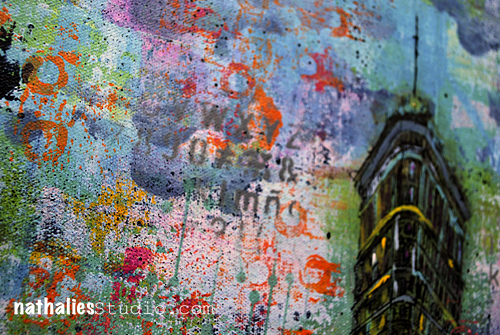 I had fun painting with Dina's paints, and using her brushes and the Gesso and Gel Medium.  Love the colors she included in her line- I used almost all colors she sent me.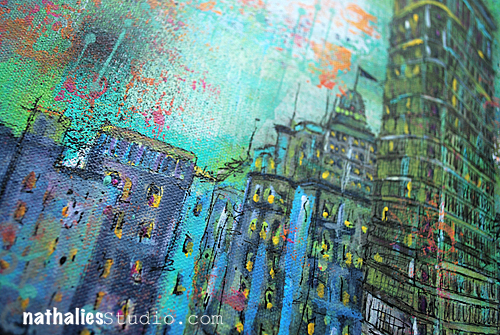 Check out the other, super amazing Mixed Media artists that are participating in this blog hop today – and be sure to not miss the giveaway of two complete sets of the paints on Dina's Blog:
Dina Wakley http://www.dinastamps.typepad.com
Dyan Reaveley http://dyan-reaveley.blogspot.com/
Roben-Marie Smith http://www.robenmarie.com/
Mystele Kirkeeng http://www.mystele.com/
Dawn Sokol http://www.dblogala.com/
Julie Fei-Fan Balzer http://balzerdesigns.com/
Nathalie Kalbach http://www.nathaliesstudio.com/  Permalink: http://wp.me/p3Cnxf-4nr
Kirsten Varga http://www.smilingeyestudio.blogspot.com/
Traci Bautista http://www.treicdesigns.com/
Hope you enjoy the artwork created with Dina's new line!
Have a gorgeous day
Nat