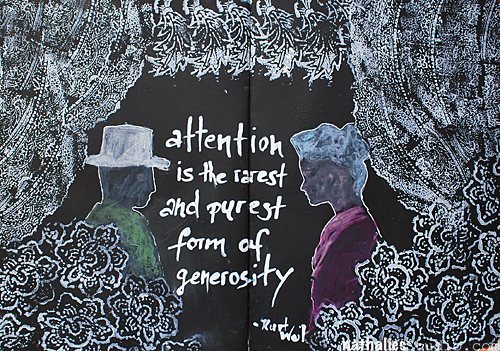 Attention is the rarest and purest form of generosity – Kurt Weil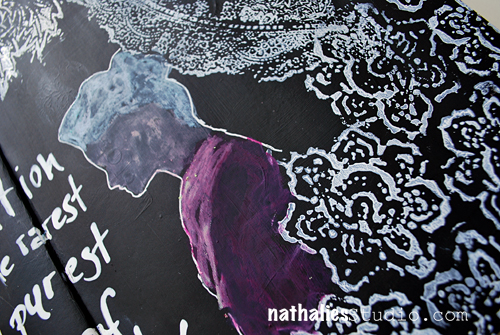 The page spread I used for this, was covered with different colors and and some collage from a class demo and I wasn't super keen on keeping it, so I covered the page up with black gesso, giving it a nice smooth black coating. Then I pulled out my Stampendous n*Studio Fiesta stamp set and a white Ink pad and created some pattern repeatedly stamping each individual stamp in clusters – kind of forming a drop curtain.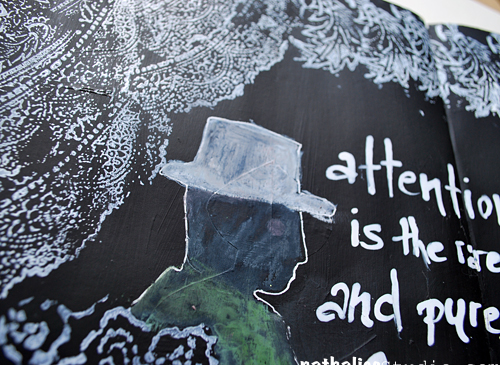 I also used the stencils and mask included in the stamp set and outlined the man and woman silhouette with a white Signo pen, then added some color with Derwent Artbars inside and blended the colors with a waterbrush. I love the effect of the Artbars (water-soluble wax bars) on top of the black gesso. For the quote I simply dipped my bamboo sketching pen into white acrylic Ink and kept writing.
It was fun – and I love how the white pops off the black and I had lot's of fun using the stamps in this way.
Here is a supply list

Are you doing lot's black and white themed art journal pages? I feel drawn to it although I am a total color gig ;)