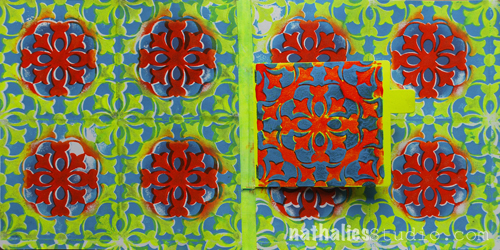 For this Art Journal Spread I played a bit with my new Versailles Positive and Negative Foam Stamp Set.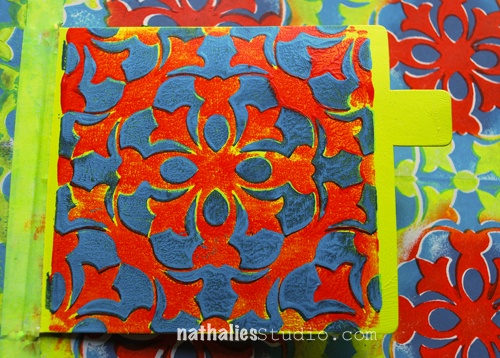 I created a flap for the journaling by using a shipping tag which I applied with artist masking tape to create a hinge.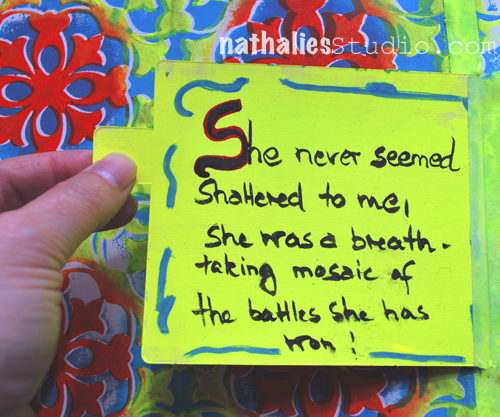 I love this quote: She never seemed shattered to me. She was a breathtaking mosaic of the battles she has won! (unknown source)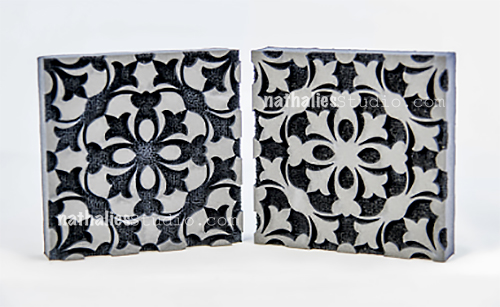 I used the Versailles Stamp Set  which comes with two Foam Stamps – positive and negative pattern- and I also used two StampBuddies, one for each stamp. Now what can you do with the StampBuddy? Wellllllll…some seriously cool stuff. Instead of applying acrylic paint with a brayer onto the Stamp -like in this Rule of Three Video – 3Ways to "ink" up foam stamps – which also shows you two more application ways, you can also use the nifty StampBuddy the following way :)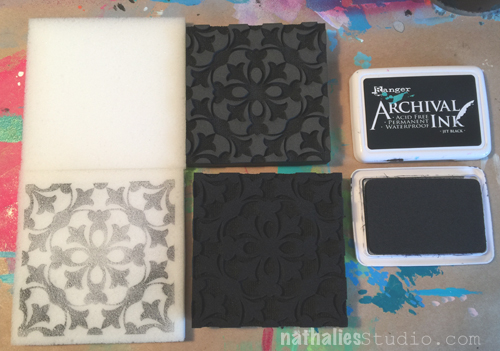 Using Archival Ink (any ink pad that is waterproof) I stamped each of the stamps on a StampBuddy.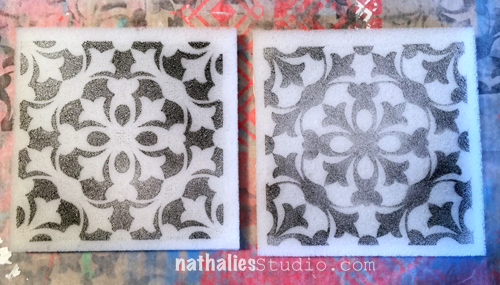 The picture above also shows you how the stamps look like when stamped with a solid color – pretty cool – huh?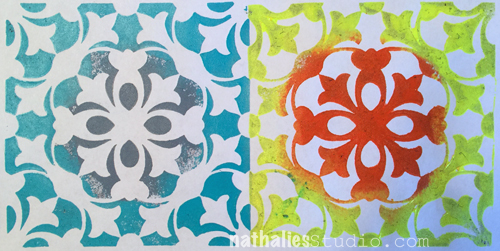 What I want to do though is coloring the stamps with different colors – like in the picture above.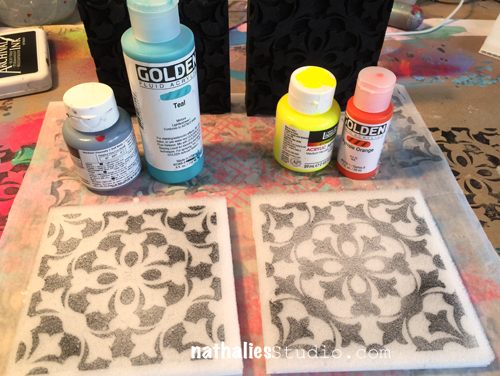 So I gathered the colors that I would want to have appear on the stamps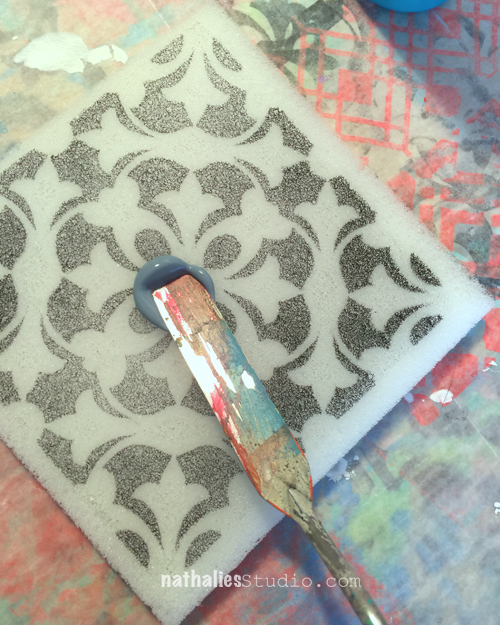 and started to apply grey  acrylic paint using a palette knife into the middle section of the StampBuddy. This is never going to be a perfect circle but that is beyond the point  in my view. Soft Body or Fluid Acrylic paint works best, and you have to work a bit fast to not use too much paint as it soaks quite quickly into the StampBuddy.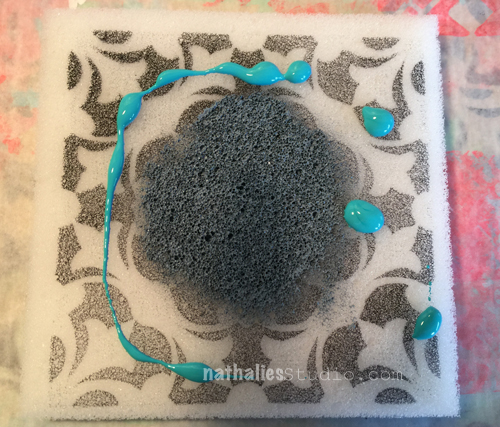 Next I massaged some teal acrylic paint into the remaining uncovered area.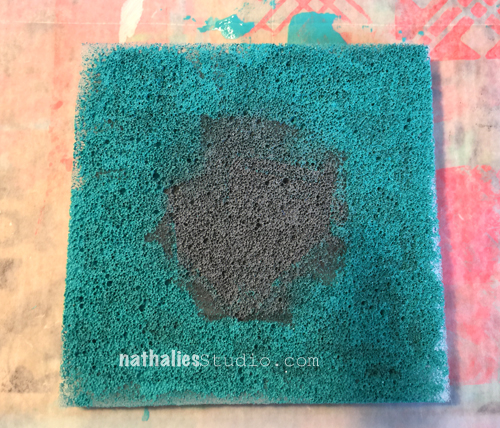 which results into this fuzzy guy – but don't worry- since your StampBuddy is always approximately the size of your stamp – you will get the different colors at the areas where you want it.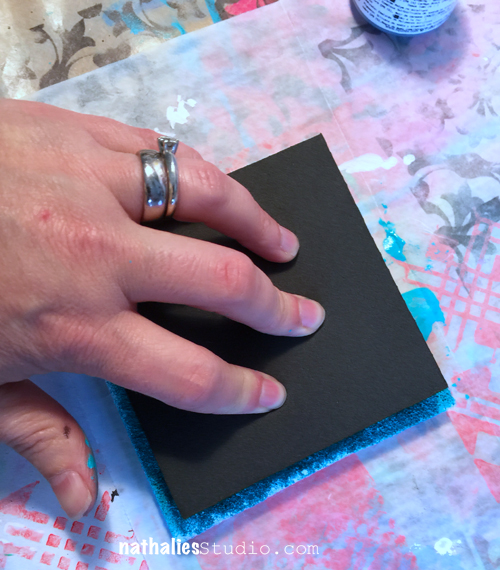 Your StampBuddy has now become your "Ink" Pad – filled with acrylic paint instead of ink.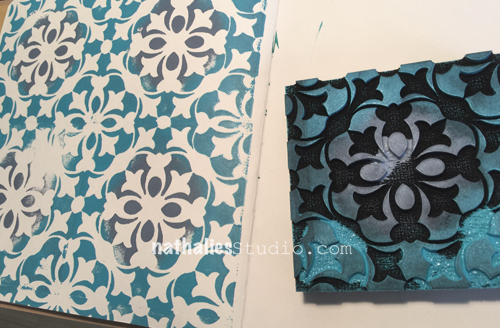 I stamped a tile background into my art journal by lining up the stamp in rows. You can easily see how to line up the stamp when you look from the side. LOOOOOVEEE!
Now I did the same thing with different colors on the second StampBuddy. Since the yellow I used is not opaque you can still see the stamped image peeking through. I could have stamped different rows but HA – here is another cool thing you can do with those stamp sets :)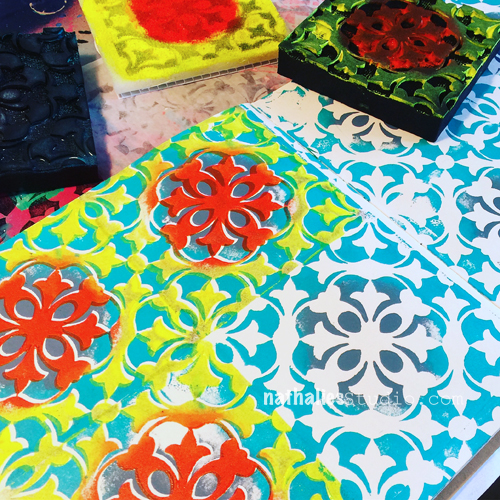 You can actually just line up the second stamp on top of the other stamped image – again you will see where it lines up from the side – and it will stamp perfectly into the white space filling it up with juicy yummie colors.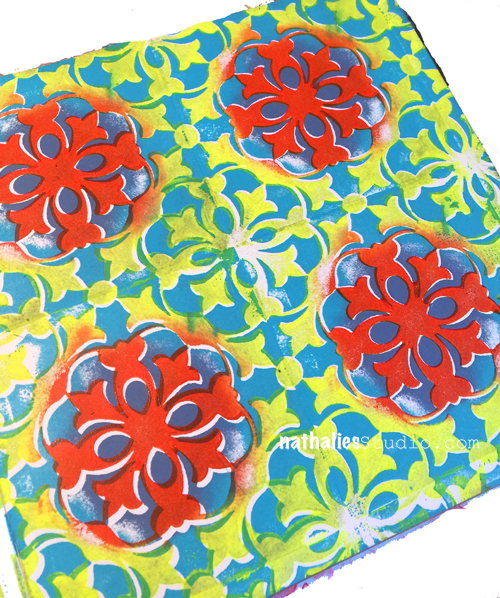 I love this – such a cool tile pattern, don't you think???? Yes- I jumped up and down like a little kid when I did this because it was exactly how I envisioned my stamps to work *Wink.
Just a couple tips:
The StampBuddy will contain a lot of paint, so use it only if you have time to actually use it up in one session or when you want to do the different color method
I used the paint up by stamping a sheet of gift wrapping paper – boom – one sheet down for the next presents.
Clean the StampBuddy when you are done with your creative time, wash it out with water until the water is clear. The stamped archival ink impression will remain on your StampBuddy.
Clean your Foam Stamp – I know there are different approaches- I do not clean it super crazy scrubby, but I want most of the acrylic paint off. For me this is a foam stamp and it should remain cushiony as this is what creates this kind of impression and it also let's me use other paint media than just acrylic paint on it – I will get back to this some time later.
Do only use a small amount of paint with your StampBuddy – you will be surprised how far it will get you and it also prevents seeping paint into the creases of your stamps- which a) wastes paint and b) makes it harder to clean up your stamp and c) gives less nice stamped images.
I cannot wait to show you more fun stuff and patterns with my new ArtFoamies Foam Stamps.
Here is what I used for the art journal – some links are affiliate links:
Hope you enjoyed this post and wishing you a wonderful day!