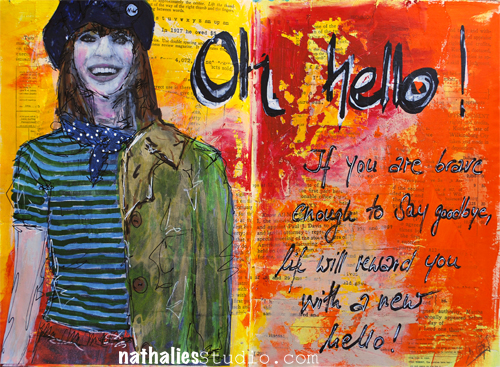 Oh Hello! "If you are brave enough to say goodbye, life will reward you with a new hello!"
I liked this quote – I said goodbye to a couple things last month and apparently what I thought to be a terrible thing, opened new doors :) You never know, right. But I do believe that everything happens for a reason and that "everything will work out" in the end. Hey – if we hadn't had that optimism what else would be left sometimes ;)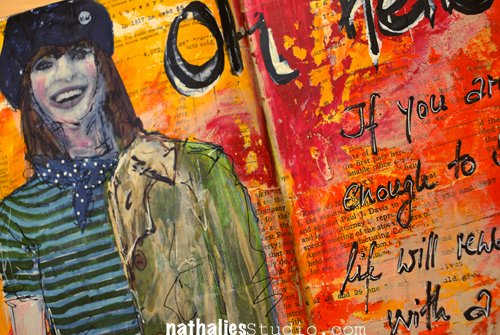 For this page I collaged some book paper onto the surface, painted it, then covered some areas with masking tape and wax, painted over again, heated the wax, removed it, removed the masking tape and painted some areas again. Love the peeled paint effect. Makes me really happy! You can see a whole list of supplies on the bottom of this post.
……
Don't forget to sign up for Creative JumpStart with a total discount of 20 Percent if you sign up with a coupon code:
You get 25 videos for just $45 (USD) for a limited time if you sign up before December 31, 2015 at 11:59 pm (EST)! After December 31st, 2015 it will be 50 USD.
But wait – it gets better: as my valued reader, you'll get $5 extra off today. Just use this coupon code during checkout:
cjs2016
*This is a limited offer valid from 10:00 am Dec 4, 2015 to 11:59 pm EST on Dec 11, 2015.
—–

Have a wonderful day!