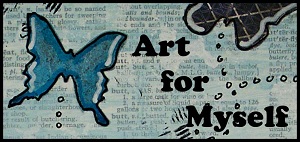 Siri Skoog, Märta Ruus, Camillha Wäfors Fahlberg and Cecilia Ekström, have started an inspiration blog with great prompts for your Art Journal called Art for Myself. They introduce a new theme each month during 2013. The topics are about yourself, such as my thoughts on 2013, my family and my home, this is me, things that make me happy and so on. I am thrilled they invited me to play along as a guest inspirer this month on the theme "What makes me happy"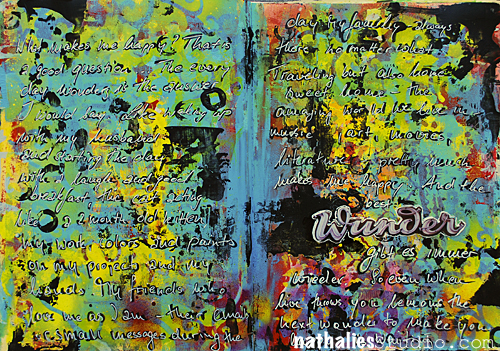 Wunder gibt es immer wieder – is a song which literally translated means: There will always be miracles
When I read the theme I thought of this song. So after creating the background- layering different colors and stencils I started the journaling which reads:
What makes me happy? That's a good question…The every day wonders is the answer I would say. Like waking up with my husband and starting the day with a laugh and good breakfast, the cat acting like a 2 month old kitten, my work, colors and paints on my projects and my hands. My friends who love me as I am – their emails or small messages during the day. My family – always there- no matter what. Traveling but also home sweet home – the amazing world we live in – music, art, movies, literature – pretty much makes me happy. And the best
Wunder gibt es immer wieder.
So even when live throws you lemons, the next wonder to make you happy is waiting.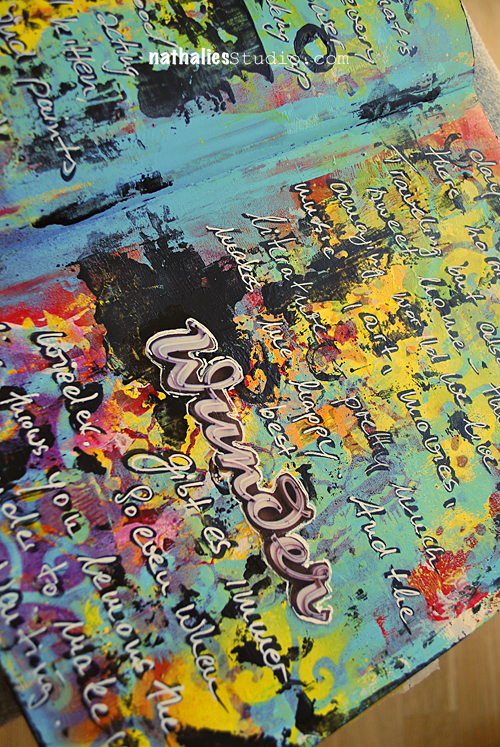 such a fun concept and if you need inspirations or prompts for art journaling- you gotta hop on over to the blog- it is wonderful!
What makes you happy?
hugs
nat