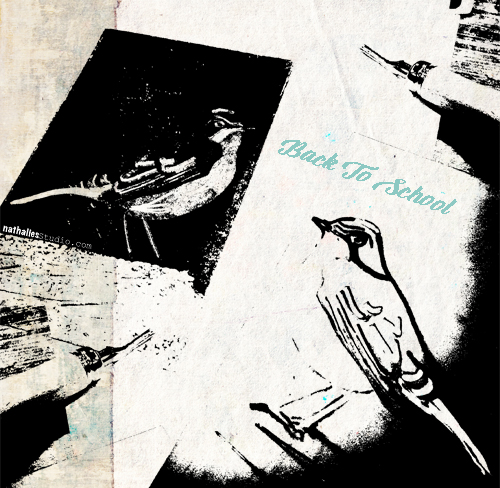 I love teaching but I also love taking classes. When I saw that Bruno Nadalin was teaching an Introduction to Printmaking class here at the Jersey City Art School and it did fit with my schedule, I signed up right away. 4 Thursday evenings – well spent :)
We did Linocuts in elementary school and I have been interested in picking this up and incorporating it into my artwork for a while again- as stamp carving is all the craze right now – but for some odd reason, I needed an outside push to do so. And so the class came at a perfect timing. We started with basic shapes and patterns in linoleum and also rubber to get used to the tools and materials.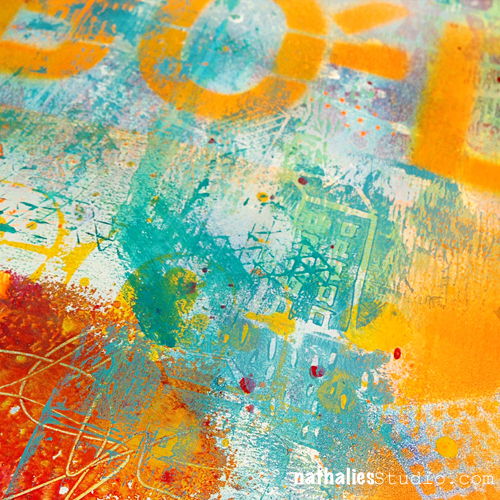 I started playing with those two very simple cuts on the top and trying them out with all kinds of Acrylic Paint Mediums in my Art Journal but also as collage elements after printing.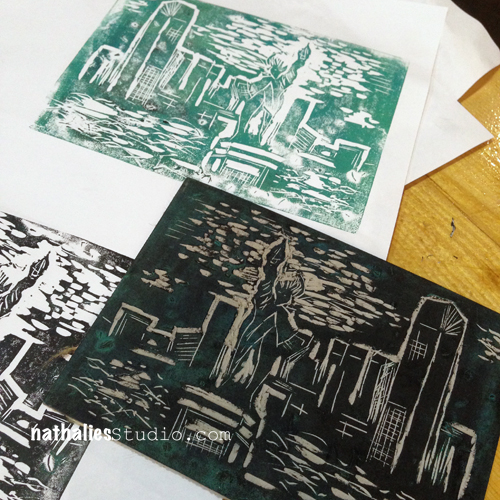 In the 2nd session we started cutting designs based on our own images. I started cutting linoleum and chose a painting of mine – On The Flip Side . I loved the result. While I was not happy with some areas and learned a lot about negative and positive space – I really loved the way how detailed the pattern can get on linoleum and how the prints come out.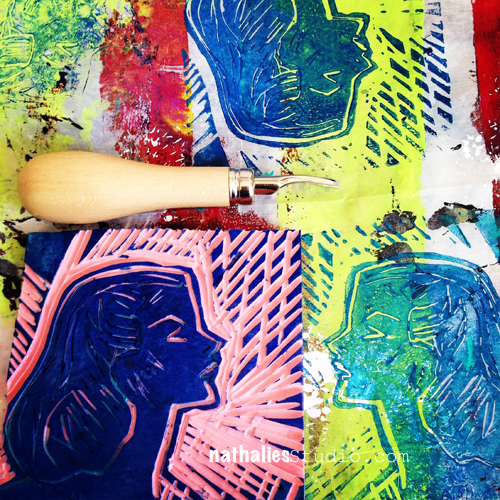 I was so inspired by the class, that I couldn't stop thinking about designs, drawing up designs and carving like a maniac. As you can see I sticked to rubber though as this can be incorporated easier with the acrylics I use and also with the kind of art work I do usually.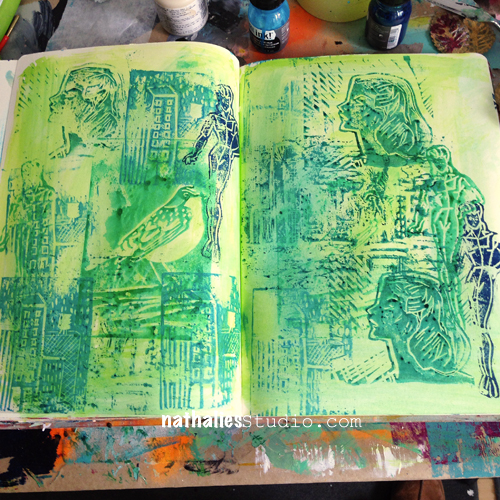 I went also through an even more insane phase of testing the carved stamps with different acrylic mediums – like printing with acrylic paints, and inks but also intermixing them – and had a blast :)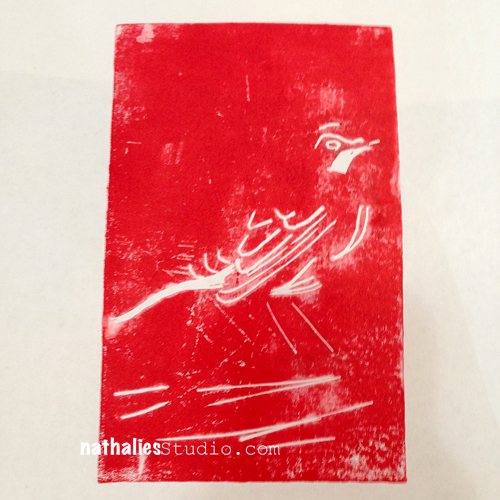 In the 3rd sesssion we did something which is called "Reduction" Print, where you basically print in different colors layered on top of each other, altering your carving in between each printing process.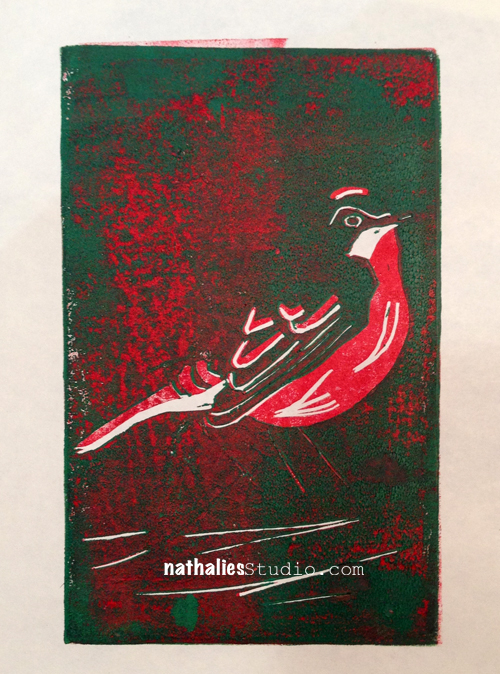 The funny thing was that I was first a bit hesitant about this technique. WHAT – you make me do all the work in carving and then I have to change my carving and the piece is gone? Yeah- to all my students reading this – stop giggling- I know I know- I make you change your beloved layers all the time! But that is exactly why every teacher should take classes too – just to remember what it is like to be back in school ;)
Anyway- I happened to LOVE this technique so much- cannot even tell you!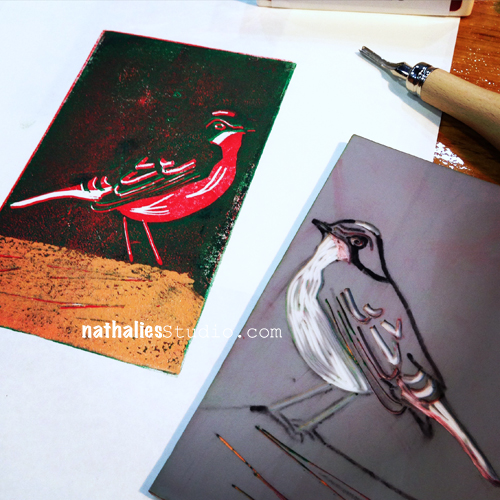 I couldn't stop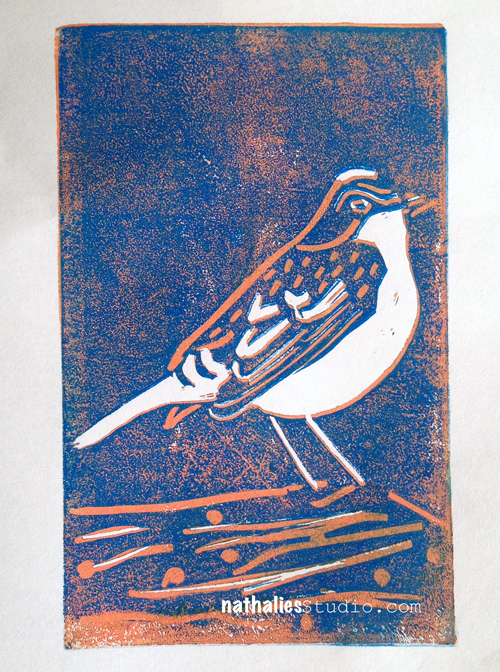 And even at home I kept on going with the bird …getting smaller and smaller, experimenting with Monoprints/-types. Fun!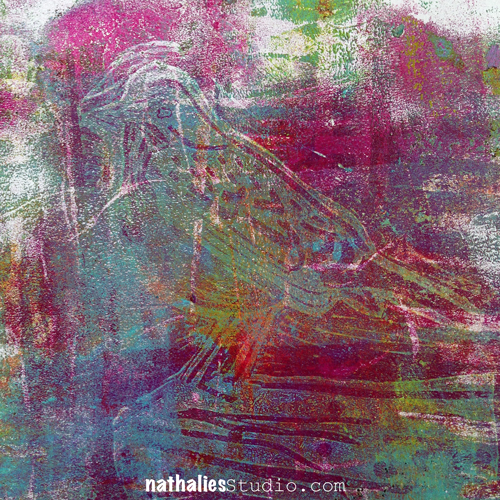 The last session was all about printing and manifesting the things we learned. I wasn't super productive and my wayyyyy to complicated design of another former painting of mine turned into a bit of an Jean-Michel Basquiat butchering attempt- LOL. Doesn't matter- still had fun ;)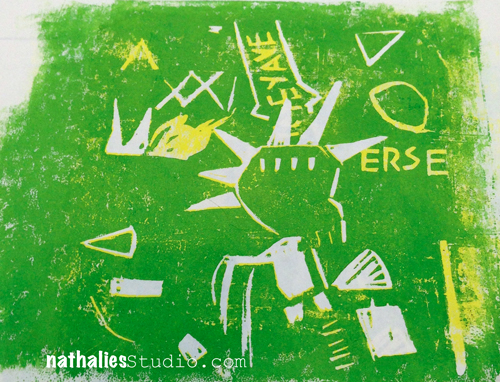 Bruno was a great teacher and his prints and carvings on his website are extremely cool – so are his ink and pen paintings. If you are in the area I can really recommend taking a class from him!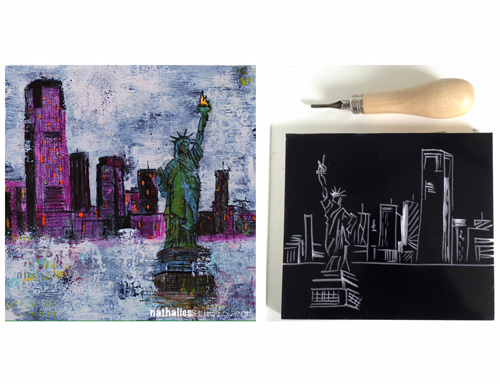 What I learned in this class:
Sometimes you really have to think through from beginning to end.
Taking a class can spark so much and give you new drive for your own artwork
It is ok to create a tool which is going to look different in about 5 minutes …change is good ;)
Although I really loved the prints with linoleum I found it extremely hard on my hands and I also had a hard time incorporating them in my own style of artwork at home
Rubber is less forgiving than Linoleum
A rubber brayer needs care when used in printing
It's just rubber … ;)
Which brayer rollers for which methods and paint mediums work best
What I take away for the future:
I love incorporating my own paintings in a different way into other pieces of my artwork- I want to do this more often.
I love the look of hand carved lines and patterns in prints that I tear up and then use as collage pieces.
Do not get too complicated too early- practicing is key – do as you tell your own students- LOL
Hope you enjoyed this little Back To School post – there will be a new one coming soon :) Guess what …I am taking another class starting this week. More later ;)
Have a great start into your week!