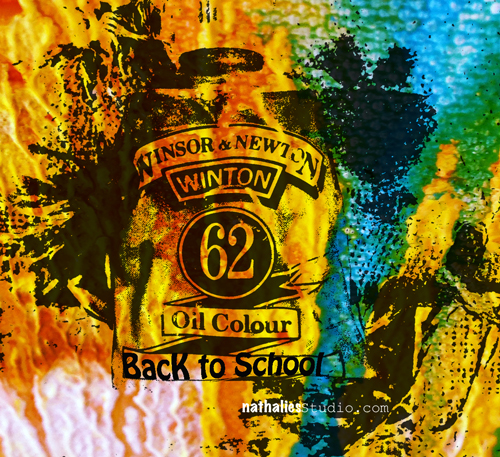 Back to School might be exaggerated but for six weeks I visited a class every monday at the Museum of Modern Art called The Modern Studio: Rauschenberg, Johns, Cage.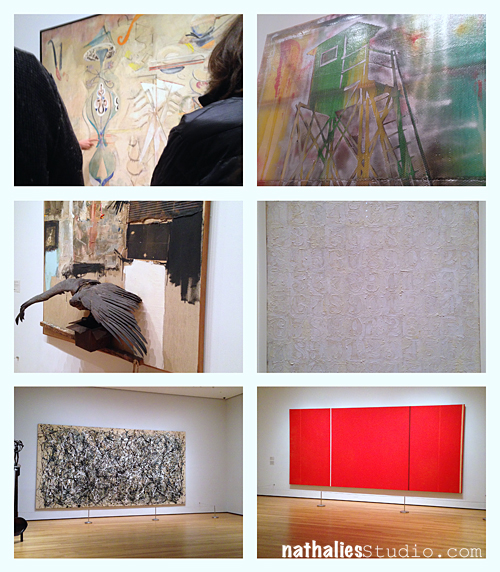 I knew the instructor Corey D'Augustine already from other classes and knew he would do a great job . Since my husband is an avid fan of John Cage and schlepped me once into a concert where the 4'33" piece was performed…I was really interested in this workshop. My husband and I discuss music and art and their connection and places in history a lot. You have to know the musician of 4'33" of whatever instrument is instructed to not play for the length of 4 minutes and 33 seconds. I can tell you this – when I watched/listened/attended/experienced the piano player in silence in concert  it made me extremely awkward. I remember thinking   "What the hay?" …"Am I missing something?" …"What are the others doing?" …"Am I stupid and just don't get it?" …"Brilliant..and I paid for this" …"I wonder why?"
If you are interested in this- read about the exhibition at MoMA  "There will never be silence".  John Cage influenced a huge variety of artists and still does and so I was really curious about the class.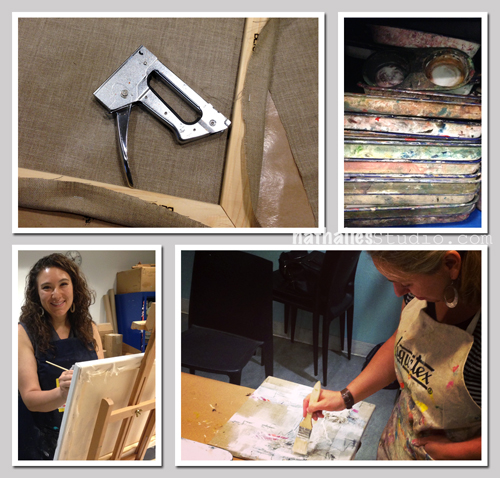 In every session we began with an art history lecture, then we wandered around the empty gallery and talked about the artwork, and then we had some studio time. We mostly had to work in oil but also used some wax  and we were free to use whatever was available in the studio. I never really worked with oil so I was curious how I would like it. We also learned how to stretch a canvas- which I didn't master until the end- my canvases are all saggy sad little buggers- but oh well- some day I will tackle it. The fun part about this class was visiting it with my friend Julie :) and it was a very cherished time together usually with a nice dinner before or after class.
Here is what I did after a Rauschenberg inspired Lesson: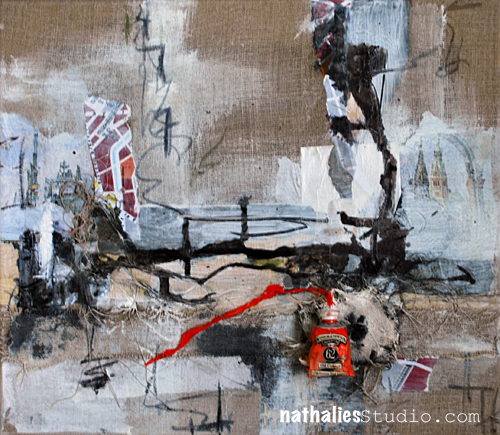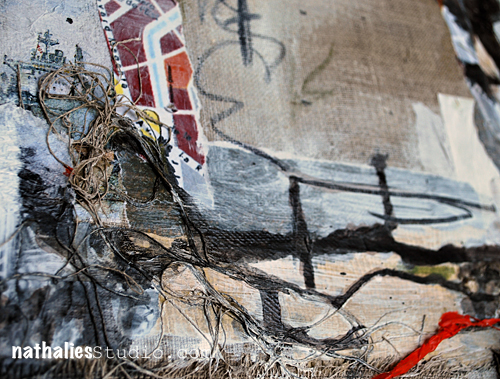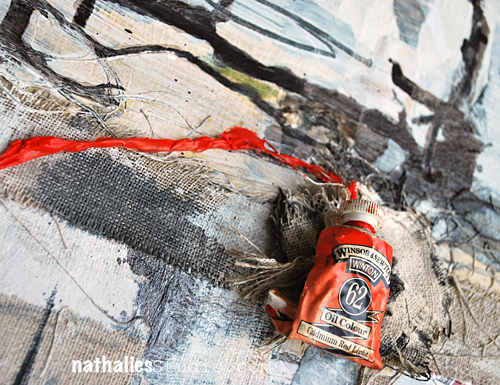 While I was not unhappy with it – I felt bored…because somehow I did all the stuff I usually do. It was still very controlled and not really out of the box for my usual approach ….yes there is more personal hidden meaning in the whole thing- but from the outside it is just the usual textured stuff.
The next lesson was Jasper Johns inspired and we visited the new exhibition at MoMA called "Regrets" -amazing- I will go there a couple more times. I really tried to do something different from my style this time and in a non typical german behavior screwed up the order …on purpose…and I guess you figured and I will be honest…I also was tired of cleaning up the oil paint brushes …yes …it might not be my medium as the cleaning is soooo hideous- LOL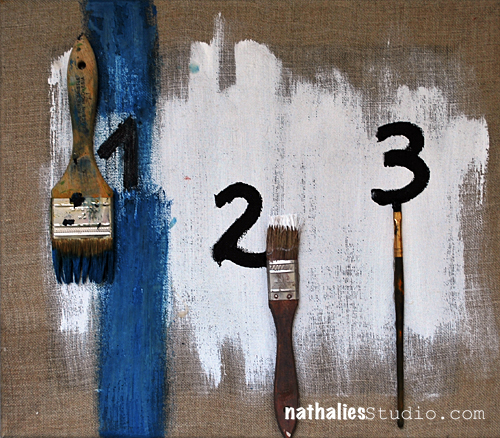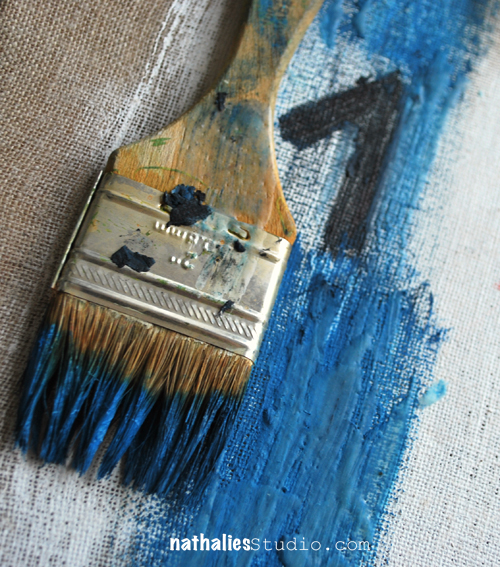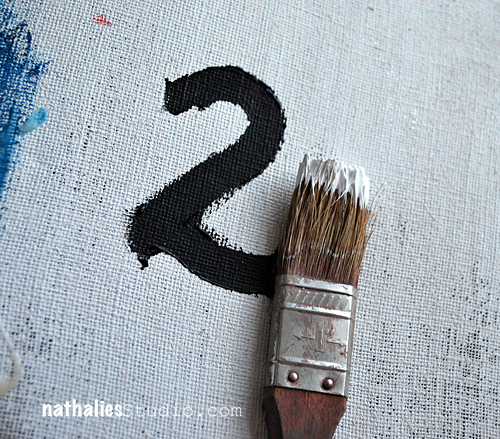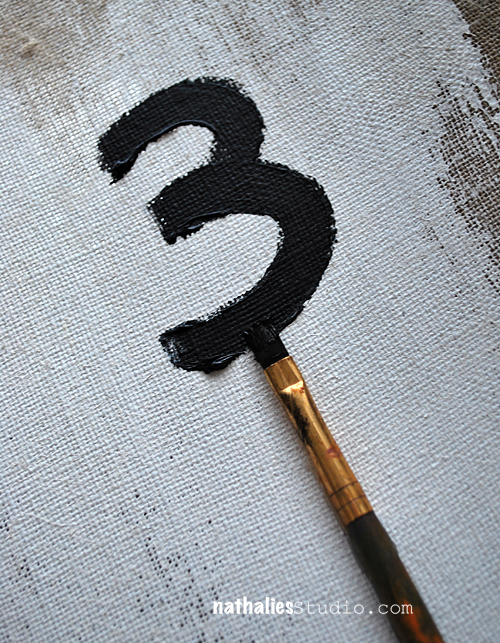 That was interesting and fun…but not quite me….
When we went to the current Sigmar Polke Exhibition: Alibis – which I already saw- I love Sigmar Polke and I love finding cultural references – It is a very "hard" exhibition for a non-German and even for a German to get some of the references- and yet still you do not understand fully. I appreciate the free-ness of his experimenting with colors, stencils and materials and  word plays. BTW- without meaning it disrespectful in regards to our wonderful and super knowledgeable teacher,  – it was the only lecture where I felt I had a slight advantage of knowing some of the references – because of the language and the icons used. Again- that doesn't mean I know the meaning behind his work. I get it that Sigmar Polke would have liked the exhibition shown as is with no explanation and yes it puts it down to just looking at the materials and making your own connections but MEH – a little bit translation/explanation of the figures used so that people can then still make their own assumptions would be ok and still  leave lot's of things open for interpretation.
We had an all evening studio lecture where we finished our works and then we had kind of an art critic circle where we showed one piece and talked about what we liked/meant or what we didn't like about the work and then it was open to the public opinion. I was amazed by some of the pieces-a lot of the students never painted, we had several musicians, graphic designers, performance artists, poets, an art dealer, and people just interested in doing something creative in our class.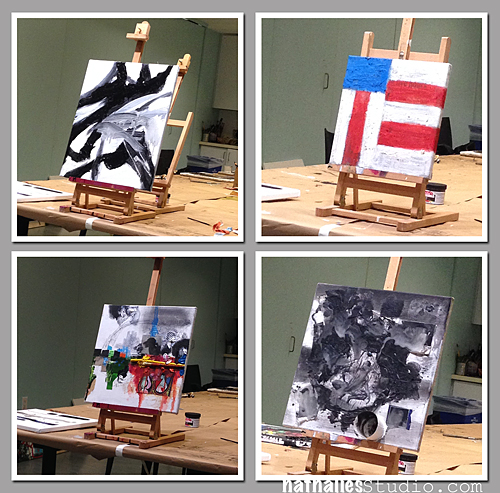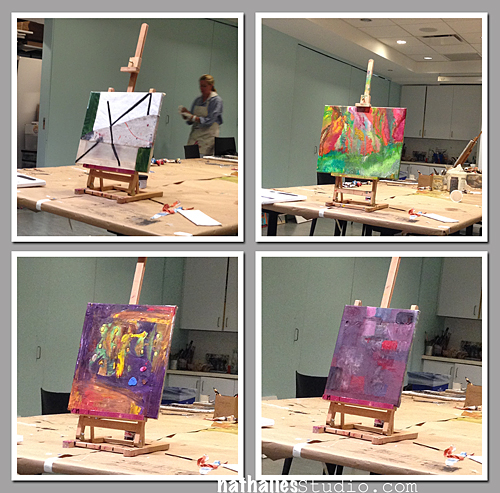 It was really interesting to see and then hear what influenced everyone from the lectures and I loved seeing how much fun everyone had. This is my piece I showed- it was my first canvas – started in the John Cage Lecture – again very usual for me : texture, colors – the only difference to what I usually do was the oil paint – and then in the end I came back to it and stretched some plastic tarp over and screen printed on top and did some marks. It is a hard to see in the photograph but you might get an idea from the detail pictures.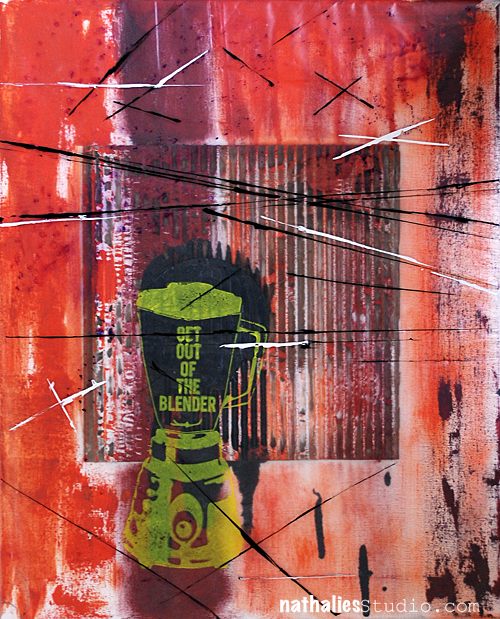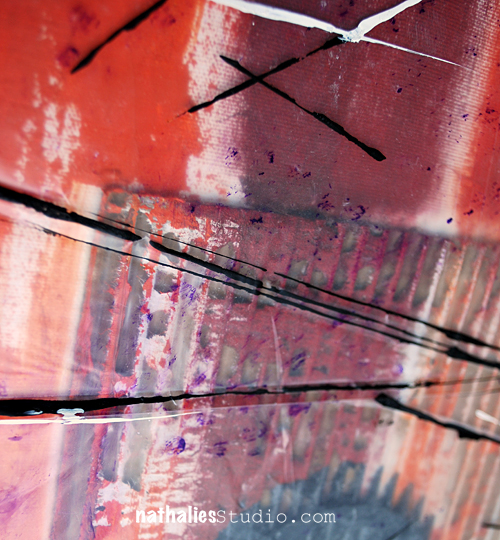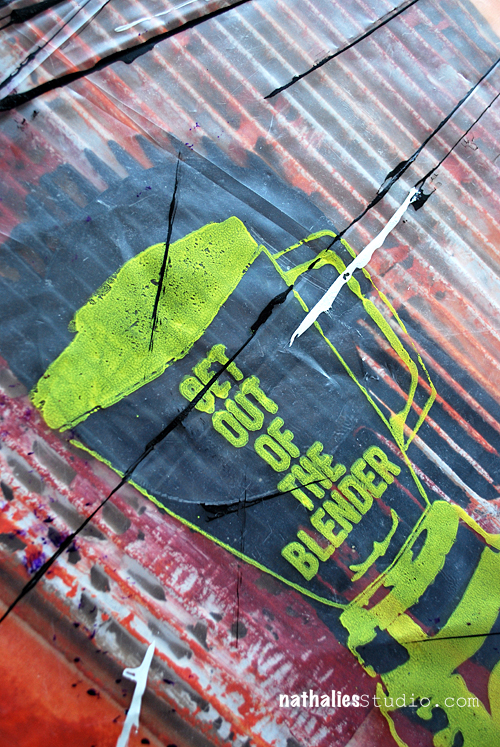 I like it because I played with different materials and with the texture – non texture appearance – I find it pretty interesting. So ..
What did I learn in this class:
I don't like not being in the know about my medium. It is not that I dislike oil- I  just hadn't had the feeling I was mastering it – it mastered me.
Art can sometimes only be understood with the same cultural background as the artist – but you do not need to understand art completely and it can still speak to you.
Many great artists never studied art – so get over the fact you didn't study art.
All artists we talked about learned craft or did craft work to  support their living and they all took something away from that right into their art.
In the 50s /60s there seemed to be way more cross inspiration between all fields of art going on – musicians, performance artists, calligraphy artists, dancers, painters, writers …they influenced each other and exchanged ideas
What I take away for the future:
I would like to reach out and meet up with other artists from different fields in my community – I think it can be only highly inspiring
I want to work more with different substrates and play more with texture – non-texture- push and pull in my art work
It is fine to stick to one concept for a while and work on it before moving away and do something different – you will see more city canvases for now ;)
Some things I do are just fine the way I do them…just because you taught them yourself doesn't mean they are not good. Stop doubting.
So that was a long post- but I hope you enjoyed it a bit – it is what influences me in my artwork- and I am sure this class will have a share of influence in the future
Is there any class/workshop you took (doesn't have to be art related) that influenced you a lot in the past?
Have a gorgeous day