About a month ago, I had a photo shoot with Andreas Muhme, a great photographer from Hamburg. I wanted to have some new photos for my website since the one that is staring at you right now at the right hand side is a bit outdated and it also feels as if I am the most serious person in the world…which I am not …;) I picked Andreas because I loved his portraits of artists and also his apparent liking in 50s style photos, which as some of you know is something that appeals to me as well. Andreas took a lot of time talking with me ahead of time to get to know me better and I also showed him my studio since we were going to shoot some photos here.
Then we had a whole day where he shot some photos first in my studio and later in his studio. We had a lot of fun! I also learned a lot about me this day.
First of all…since I never really do make up…well at least not a lot…it is actually not a good idea trying to change that on the day of a photo shoot. I am no exception with minimalistic makeup in Germany…but I might be an exception that even putting on foundation is a big task for me ;) After the shoot I actually plunged in and took a little make up course…but I wanted a natural look…which strikes me in retrospective weird..because why all this effort to look natural instead of just being natural…LOL. We women are funny creatures ;)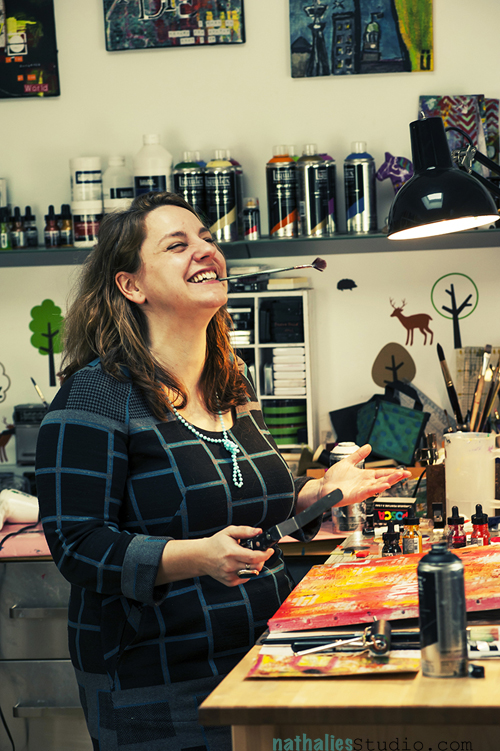 Second, kudos to Andreas who did an awesome job with that.: I had this weird thing in my head going on between what I wanted the photo show of me… but also I wanted the photo to be me. Well…you know…that is sometimes not easy to get – hahahahaha. Because I am no Germany's Next Top Model with a natural posing flow in her favorite 50s dress, looking smashing hot without make up but still looking fun and approachable and just like her ;)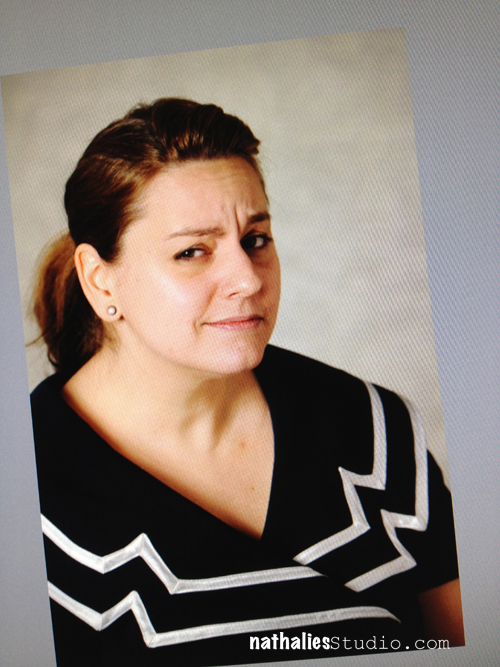 Third, what my friends and I would say is typically me…is not what you my readers and students say is me ;) I posted the above picture – which is of course an outtake  but I actually really like this picture just as a snapshot and it made Andreas and me laugh a lot. It was a look I gave him after a lot of shots and commands like : "smile  but don't squint your eyes", turn your head a bit", "can you change your expression?"… – LOL – yes I can! . I showed this picture on facebook jokingly and my friends that know me very well were saying, "This is so you !" and they were laughing with me. But some of my students and readers were saying, what a terrible picture this is and that this is so not me. Maybe because you never saw me frown…also known as Nat's Thinking-Wrinkle Face…and come one Dudes…you gotta be able to make fun of yourself and laugh a bit too!
Besides my studio shot which is on the top of this post- these are my three favorite photos from that day. I know of course already which one is going to be my new professional headshot…but let me know…which one of the three do you think portraits me the way I am the best?
Thank you again to Andreas for a wonderful day and awesome photos and all your patience – LOL- looking forward to our outside photo shoot ;)
Hugs
Nat