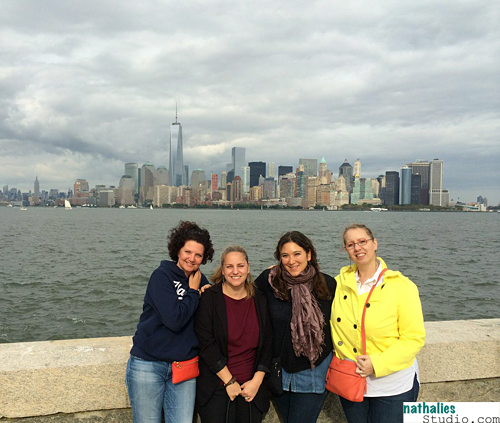 One of the greatest things is when your art making passion that you share with others, turns into friendships …over Continents and States. Two weeks ago my friend Birgit Koopsen came from The Netherlands not only to teach a workshop together with me but also for a  week long visit.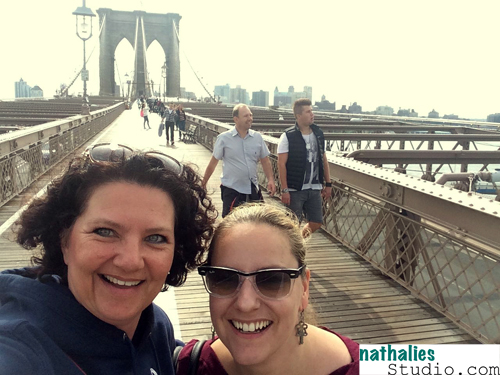 And what better reason to get the Art House crew back together- and have Jenn Mason coming from Boston and Julie Fei-Fan Balzer from NYC. The four of us had a great time touristing in New Jersey and New York City just taking a time off from everything and have some good old girly fun. So here is some picture overload …

Birgit loved playing with her panorama mode. Sometimes it worked…

and sometimes it didn't when she tried to get all four of us into the picture at the dinner table – LOL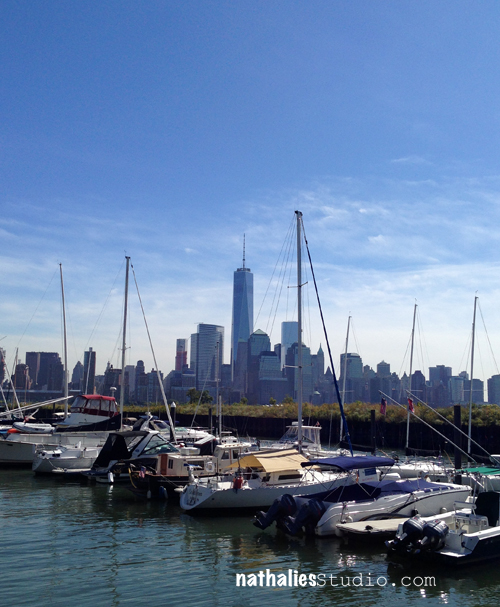 Strolling around in Jersey City…can't beat our view of the city :)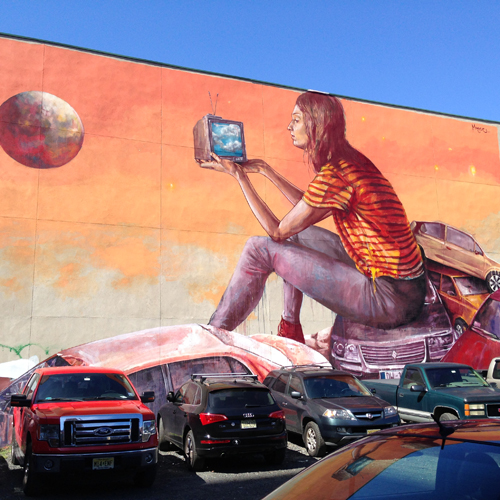 and our street art is also pretty cool. (mural by Fintan Magee)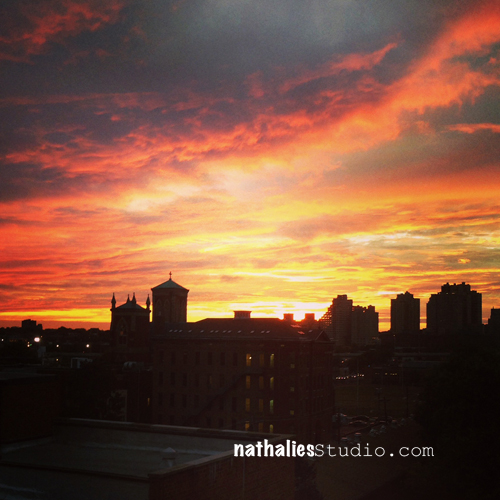 Lot's of evenings on our deck enjoying sunsets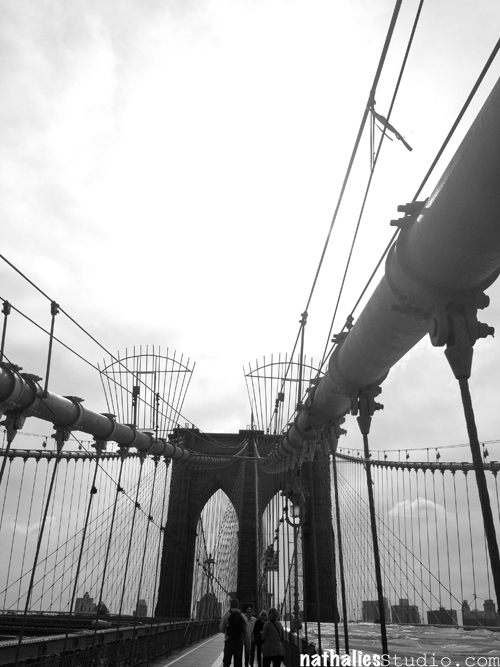 The Brooklyn Bridge had to be stepped on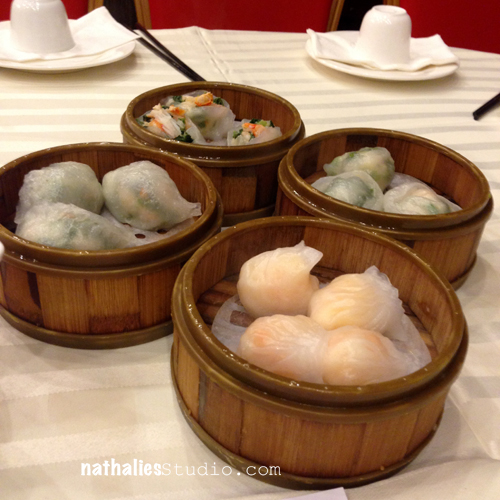 Dim Sum had to be eaten in Chinatown …lot's of it…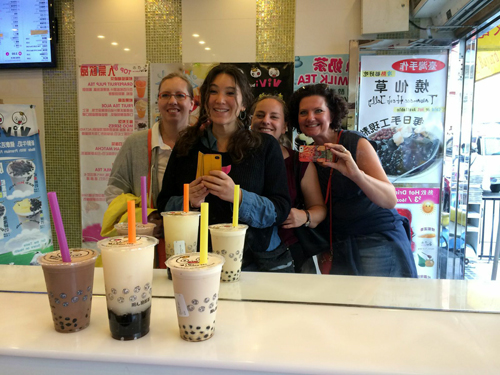 And Bubble Tea had to be drunken …once….and never ever again as Birgit and I agreed on – LOL

We took the ferry to Ellis Island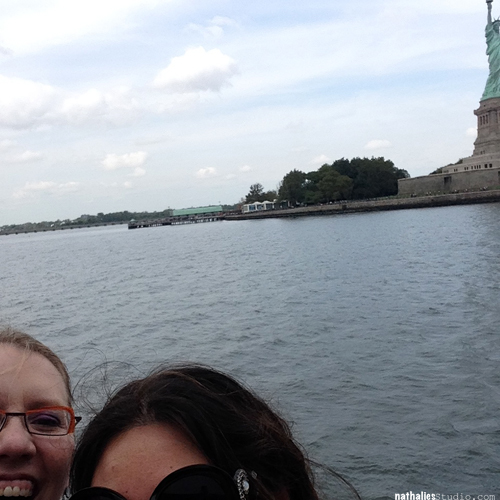 and showed AMAZING photo skills taking photos of the FOUR of us WITH the Statue of Liberty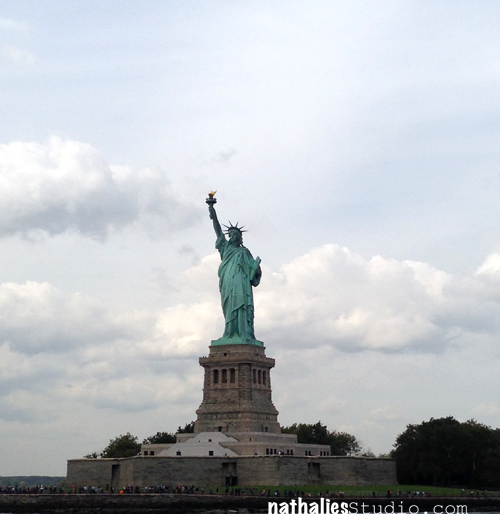 We waved at Lady Liberty and the long lines to get to her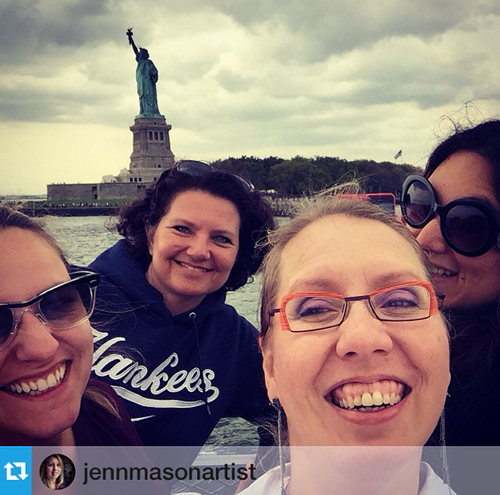 By which time one of us had finally figured out how to shoot a photo of all five of us :)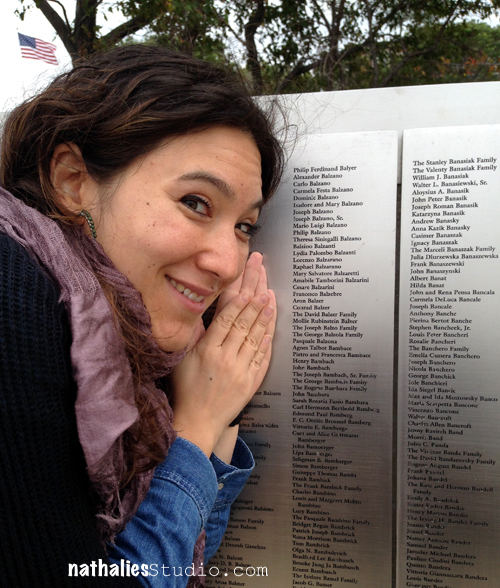 We found Julie's grandparents inscribed on Ellis Island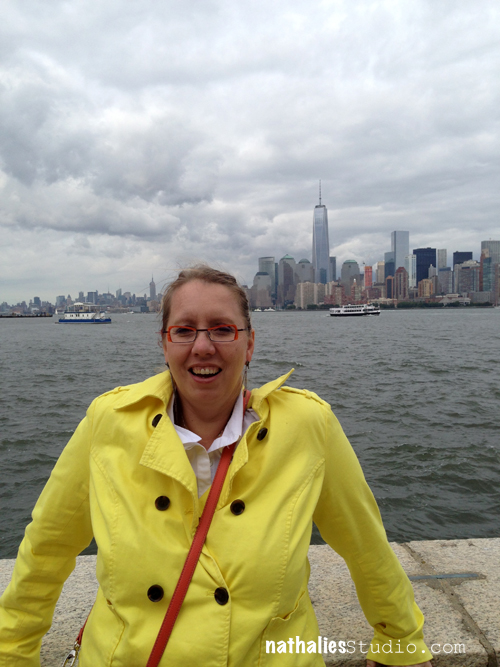 and had Jenn sing Country songs to the amusement of the two Europeans in the group.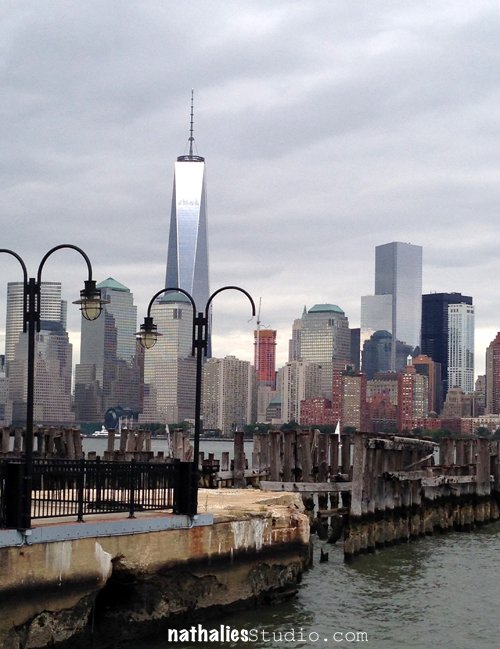 I took Birgit to a walk through Liberty State Park while the two Americans made their way back to the City.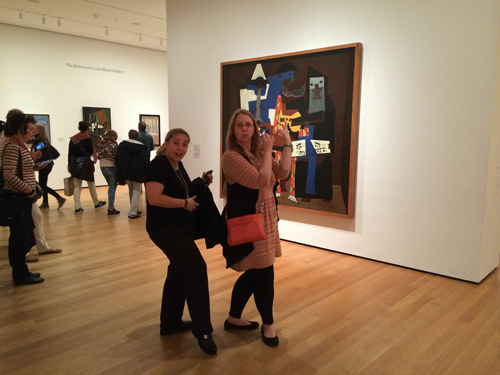 And joined the two the next day again where we decided at MoMA that art is often taken way to serious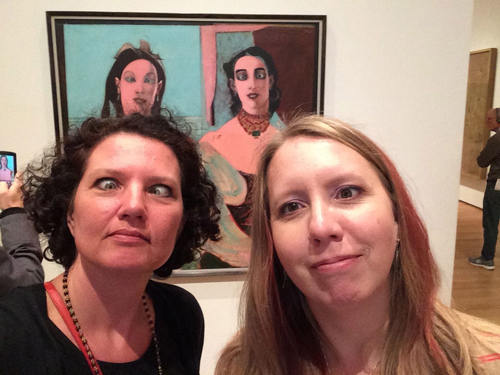 I mean… WAY TO SERIOUS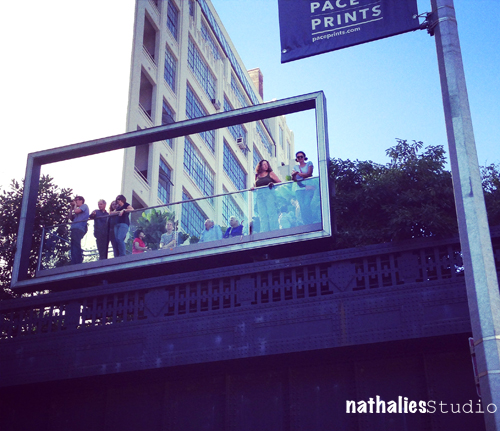 And because Birgit and I were by then used to daily 14 miles walks…we walked the Highline…where she became part of a billboard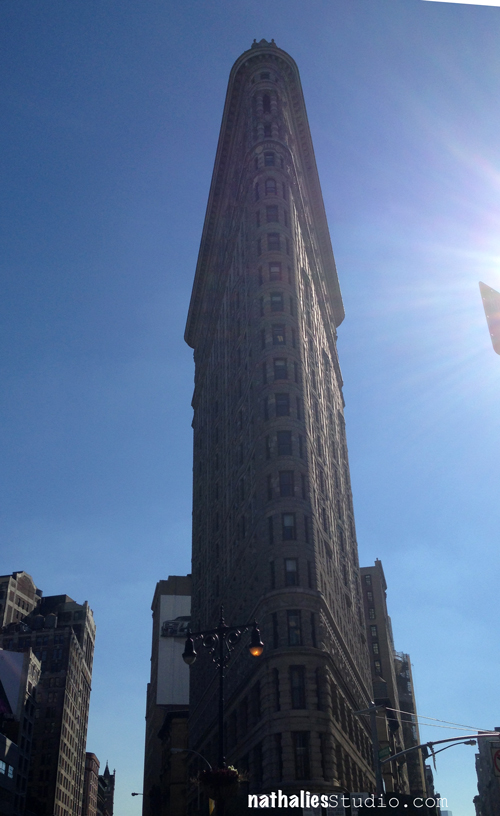 …and we walked
and had even my husband joining us walking…it was a whole Forest Gump Troop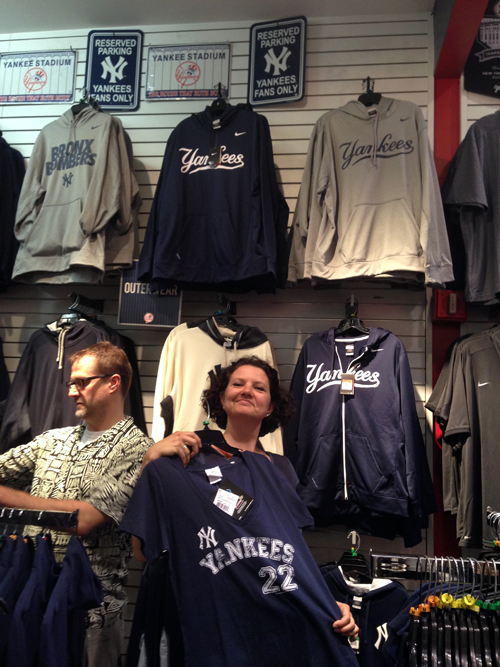 And made sure to fulfill Birgit's wish to find a Yankees Shirt. That is one triumphant face for Julie…who is a Red Sox Fan – hey Julie: Take that – we rubbed the Yankees Shirt onto your TV sofa…LOL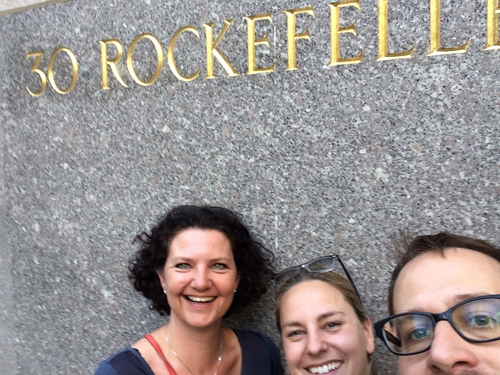 And got an amazing shot of the three of us and the Rockefeller Center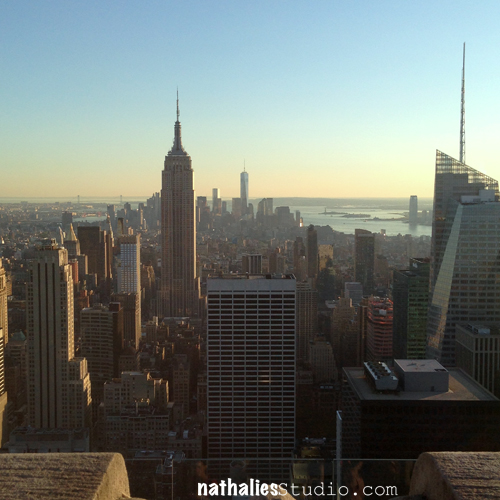 And looked from the Top of Rock over all the areas in Manhattan and Jersey City we had been walked through.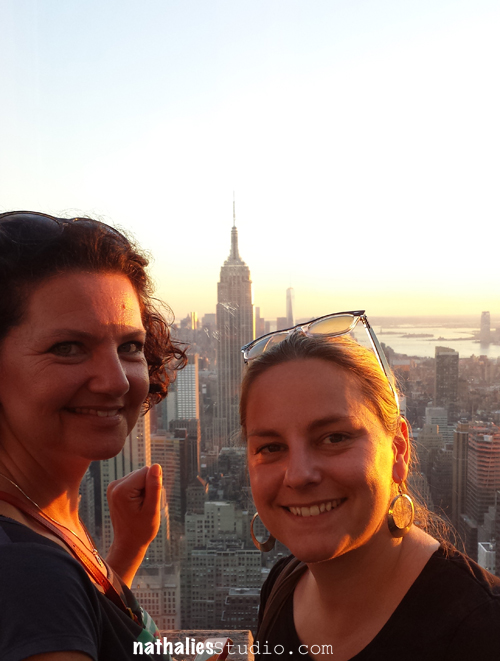 And that is the end of a fab inspiring and relaxing week with my girls …It was loads of fun and I miss Birgit a lot.
But I know we will see each other next year…for sure ;)
What did you do the last time you took some time off?
Have an amazing day!