Thank you to all who joined us for the ArtCollab Episode 3 zoomcast – Sarah and I loved having you there as we talked about our topic "I can't do it" and how to get past that mindset and move to a much more healthy and productive one. Although we try to cover some big topics of discussion, we also just love getting together, joking around, and sharing a nice time with all of you. Check it out:
Here is what we covered:
In this third episode we kick things off by sharing some of the April ArtFoamies Challenge posts from Instagram. Then we jump right into our topic for the day and talk about how our own similar life experiences have helped us move past the negative mindset of "I can't do it." We also offer additional suggestions on how to get beyond it such as just jumping in, starting small, and using accountability with a partner or friend who you share your goals with. We discuss how the TV show The Great Pottery Throwdown actually has some really useful lessons in it with regards to this topic, and we talk about the benefits of taking classes in a new discipline and how you can always get something out of the experience. Finally, we both agree that as soon as someone says, "You can't do that", that is the ultimate motivation. To close, we share what we made with the items from the boxes we exchanged last episode and we introduce the topic for Episode 4.
Join us for Episode 4: Art is Serious, Craft is Fun – Tuesday, June 1 at 12noon EDT(NYC time)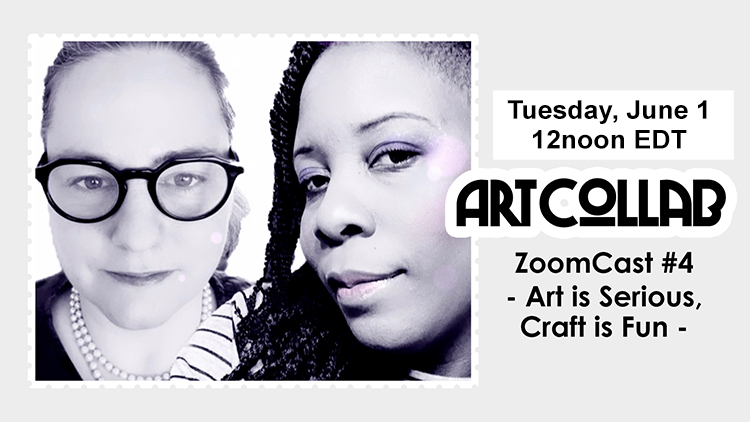 We'll be tackling that big debate: What is Art and what is Craft? Is there even a difference? What do the two terms mean to us? Everyone has different ideas about this topic and we want to discuss this live and see where it goes. We'll talk about how our definitions may influence what we create and why we create, and how we perceive and react to audience expectations. Finally we'll look at some art that may make us uncomfortable (or not) and chat about those feelings.