Thank you to all who joined us for the ArtCollab Episode 4 zoomcast – Sarah and I loved having you there as we discussed our topic Art is Serious, Craft is Fun. Wow – what an episode, right?!? We laughed AND cried and it got very personal and it felt like we were truly talking BIG IDEAS in this one. Did you miss it? Don't worry, you can watch a recording of it below.
Here is what we covered:
In this episode Sarah and I talk about that classic creative debate Art vs Craft and how it affects and influences how we work and what we make. Sarah shares her frustrations with having to make the distinction between art and craft in her own work. Nat feels that art and craft work together in what she is doing and explains, "There is no art without craft." We talk about craft and craftsmanship as a set of skills, learned from another artist/culture/source and when we make it our own we feel we are creating art, and that sometimes comes with our desire to honor the source of inspiration.
We look at artwork that has touched us and made us aware of new stories and perspectives and then we also share some of our own artwork that has made people react and feel (both positively and negatively). We discuss how art can be a mirror of our experiences, an expression of ideas and emotions, a way to facilitate thought and discourse, and fuel for curiosity. Our conversation gets intense as we share our desire and conviction to use art as a platform and tool for facilitating the discussion of important and sometimes difficult topics.
Upcoming Episode:
Join us for Episode 5: The Art of Self Care – Tuesday, July 6 at 12noon EDT(NYC time)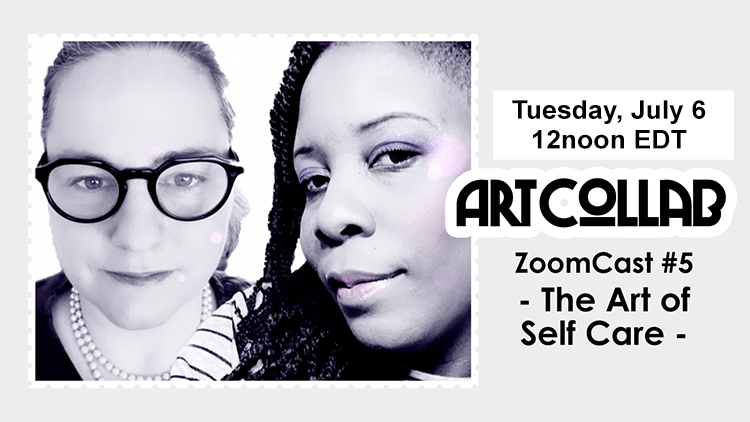 Let's not forget to take time to breathe, reset, and make sure that our artistic practice is aligning with our purpose. It is time to talk about the Art of Self Care! As artists we have a go go go mentality and frequently wear many different hats as we juggle various projects, obligations, and revenue streams. When you are this busy, it is easy to forget to take breaks, but we are here to remind you that self care is crucial to success. We'll discuss how to make sure rest is a part of the schedule and share our personal favorite ways to take a break. Most importantly, we'll talk about how rest can help refine your focus as an artist – allowing you a moment to reflect on what you are creating, why you are creating, and any adjustments that you might need to make.