Thank you to all who joined us for the ArtCollab Episode 5 zoomcast – Sarah and I loved having you for our chat about The Art of Self Care. Did you miss it? Don't worry, you can watch a recording of it below and also read about our next episode, coming up on Tuesday, August 3rd.
Here is what we covered:
In this episode, Sarah and I talk about the importance of Self Care and we offer our tips on how to rest and reset so that we can be our best selves. The past year has left many of us feeling overwhelmed, and now with everything opening back up we are again feeling the pressure to do it all. Even if you love your job, are busy pursuing your dreams, or are balancing a very full plate, making time for yourself is crucial to your health, your ability to care for others, and your ability to make art.
How you make time for yourself and what you do to relax is a personal thing and may take some time to figure out. Living in the moment, reclaiming your vacation time, making art just for yourself, trying new hobbies and types of art, chatting with friends in person, reconnecting with loved ones, and maybe just enjoying the silence are all things to try. The important thing is that you make the time – schedule it and don't give it up. Self Care is not selfish.
Upcoming Episode:
Join us for Episode 6: Pass the Brush – Tuesday, August 3rd at 12noon EDT (NYC time)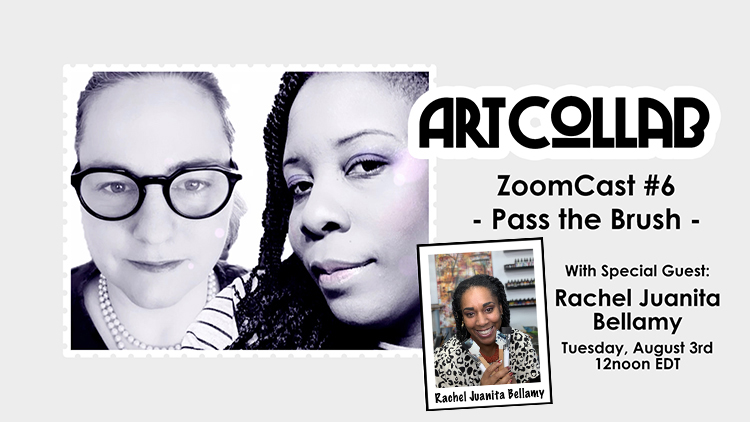 In this episode Sarah and Nat are meeting with Pass the Brush organizer Rachel Juanita Bellamy. In 2020 the Pass the Brush event paired up Sarah and Nat and it prompted them to get to know each other better. Pretty soon they had forged a lovely new friendship and jumped into several creative projects together (including these ArtCollab zoomcasts). They will chat with Rachel about the benefits of artistic collaboration, the importance of elevating others, what has changed since the Pass the Brush event last year, and what challenges remain. Tune in to join us and contribute to the conversation with Questions and in the Chat.