Did you catch the last episode of ArtCollab with Sarah and I? We were chatting with Rachel Juanita Bellamy about Pass the Brush and it was our first one with a guest! You can watch the recording below and then read on about our next one coming up on September 7th. Registration link is down below.
Here is what we covered:
Episode 6: Pass the Brush – In this episode Sarah and Nat are joined by special guest Rachel Juanita Bellamy! Rachel is the organizer behind 2020's Pass the Brush event as well as a talented artist and online educator and in this webinar she shares her background, current projects, and the story behind Pass the Brush.
Rachel talks about her time in the US military and her ongoing passion for service. She describes her beginnings as an artist and how it has balanced her interests and skills since childhood. She shares how she shifted her focus to mixed media in response to personal trauma and the desire to create more freely, and how that has evolved into a love for the process of creating, working on multiple pieces at one time, painting on a larger scale, and realizing the dream of creating online classes.
Rachel explains the Pass the Brush event and its origins in Black Lives Matter, George Floyd's murder, and her own Unmuted program on social media. Unmuted created some of the connections within the mixed media community which helped Pass the Brush – the artist version of "pass the mic" – become a reality.
Rachel talks about her strategy for the event and what some of her goals were. She describes the well-planned preparations leading up to it and those angels behind the scenes who helped make it happen. Finally she talks about the benefits and the steps forward in the industry since Pass the Brush, but stresses the need for a continuing push.
There is another Pass the Brush event planned, so stay tuned!
Upcoming Episode:
Join us for Episode 7: Back to School – Tuesday, September 7th at 12noon EDT (NYC time)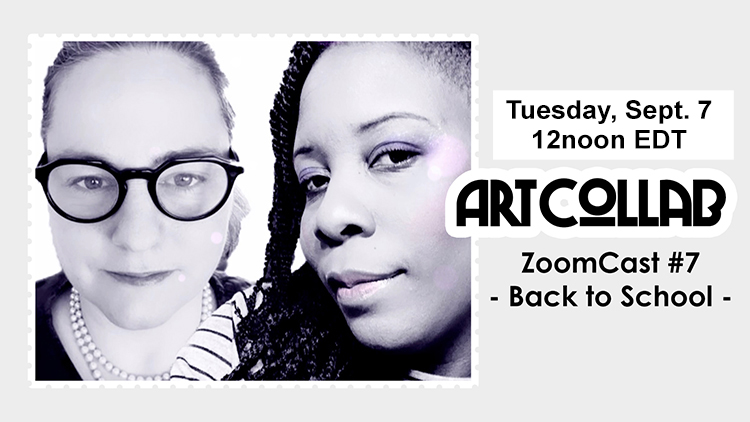 In this episode of ArtCollab, Sarah and Nat are going Back to School. As teachers, they usually find themselves at the front of the class but sometimes stepping back and taking on the role of student can be incredibly beneficial and inspiring. In fact, artists can always learn something new from other artists and engaging in these role reversals is a great way to try a different medium, sharpen skills, approach ideas from a new angle, and maybe even get the inside scoop on tips and tricks from other practicing artists. Taking classes and attending educational events such as artist retreats are also perfect opportunities to forge new friendships and partnerships in creativity. In addition to this discussion, Sarah and Nat will also teach each other a mini lesson in this episode and attendees can enjoy watching and engaging with them as they play both teacher and student.