I hope you joined us for the ArtCollab this month as Sarah Matthews and I celebrated Inktober with some printmaking fun in front of the camera. You can watch a recording here and then scroll down for info on registering to attend our next episode.
Here is an overview of what we did:
In this episode of ArtCollab Sarah and I get our ink on! It is Inktober after all so we shared some of our favorite basic printmaking techniques. Sarah showed how she uses Stampbuddies to create gradient prints, and how she loves to partially print over older prints to create a layered abstract look. I showed how to use ArtFoamies with a Gelli Plate and how to reverse images and mix colors while printing. We answered audience questions about foam stamps and Stampbuddies and talked about how to make your own foam stamps. We also announced our next topic and asked the audience for feedback regarding future topic ideas as ArtCollab will be taking a break after the November episode to come back in February.
Upcoming Episode:
Join us for Episode 9: Showing Gratitude – Tuesday, November 2nd at 12noon ET (NYC time)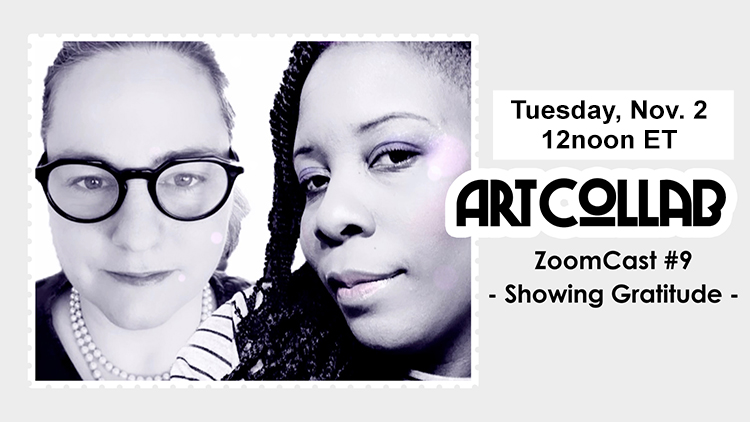 Sometimes you have people in your life who have been a big part of the journey that you are on today. Maybe they mentored you somewhere near the beginning when your sense of direction wasn't yet clear. Perhaps they were there along the way, helping you to make important choices and to see the possibilities. Maybe they got you back on track when you swerved and faltered. We want to acknowledge these people in our lives and talk about the incredible impact they have had in making us who we are today. Nobody is on this journey alone and it is time that we spend a little time Showing Gratitude.
A recording of this ZoomCast will be posted here after the event.