I'm excited to announce Creative Jumpstart 2017 (CJS17)! Yes, we're back and ready to inspire you in January and beyond! This year's theme is "Mix, Match, and Master ."
What's CJS you ask? Let me tell you! CJS is a one-of-a-kind community event to jumpstart your creativity. Throughout January 2017, you'll get 27 downloadable videos by 27 professional mixed media artists. You'll be exposed to new techniques and styles and you'll have the opportunity to interact with a worldwide community of creative-minded participants.
Right now, between Monday November 28th and Tuesday November 29th at 11:59pm EST, we are offering CJS17 for only $40 USD – 20% off the list price. Register today for this special Cyber Monday deal! Beginning November 30th, CJS17 will be $45 through December 31st, and $50 thereafter.
So what are you waiting for? Sign up for CJS17 here!
So can this Cyber Monday get any better???? YESSSS- it can ….how about a 20% Cyber Monday Coupon Code on all physical products like Stamps, Stencils and DVD's. Don't forget to stock up on everything you need for your holiday shopping and projects.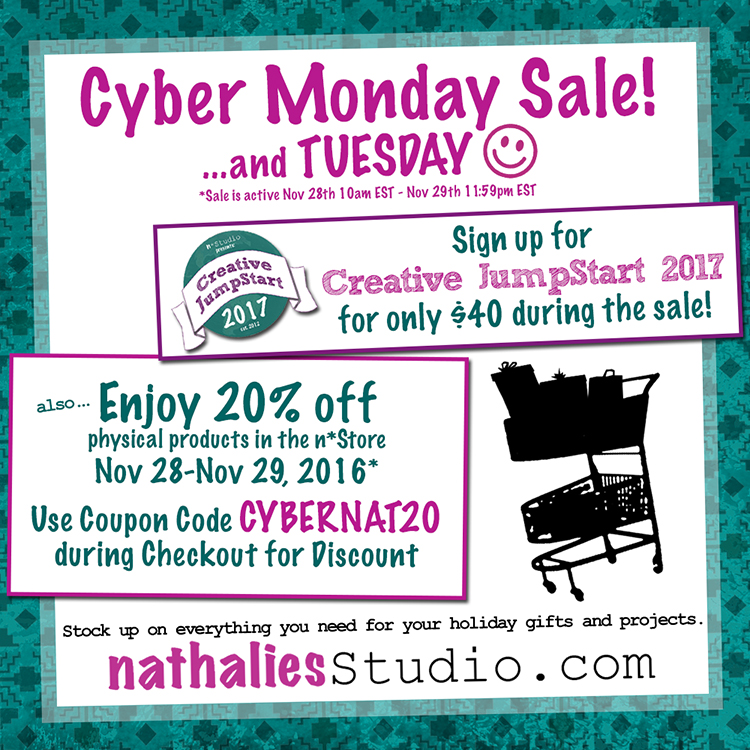 Use the coupon code CYBERNAT20 when you check out.
Hope you join us for CJS17 and have fun shopping :)