Super happy to have Sandra Evertson joining Creative Jumpstart 2018 as an instructor for the very first time. Sandra is a former model/actress turned artist, author, and collector and it was super interesting to talk with her. Check out my little interview with her:

Jumping with… Sandra Evertson – CJS Interview Series from Nathalie Kalbach on Vimeo.
As Sandra mentioned in the interview she also shares with you two of her most favorite recipes – I cannot wait to try them out myself- they sound delicious!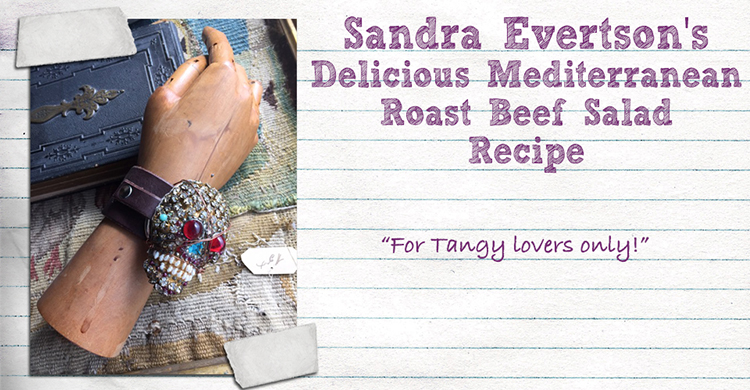 Serves 2
1/2 lb sliced roast beef (Boarshead London Port)
2 – 3 lemons
Extra Virgin Olive oil (match the amount of olive oil to the amount of lemon juice)
1 tbl crushed red pepper flakes
Sea salt (3 pinches)
Spring Mix salad greens
In a bowl add olive oil, lemon juice, crushed red pepper flakes and salt.
Whisk until thoroughly blended.
Cover and refrigerate for at least one hour.
Slice roast beef into 1" cubes.
Place salad greens in large bowls, add roast beef on top, remove dressing from refrigerator and whisk again thoroughly to mix ingredients.
Add desired amount of dressing to salad. (I divide the dressing into 2 servings equally on both salads.)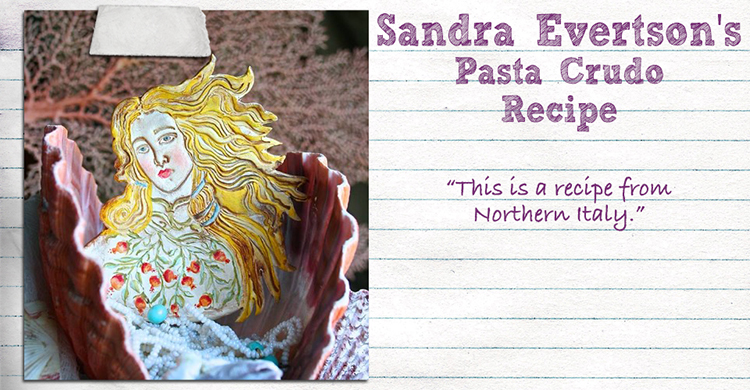 Serves 2
8 Roma tomatoes (ripe)
2 bunches fresh basil
Extra virgin olive oil
4 – 5 cloves fresh garlic
Parmesan cheese wedge
Ribbon pasta
Sea salt
Boil pasta in water with a pinch of salt.
Dice tomatoes in 1/2" pieces and place in a large mixing bowl.
Add approximately 1/2" cup olive oil (more or less to your taste) and a few pinches of salt.
Crush or mince garlic add to mixture.
Cut basil (leaves only) into strips, add to bowl. Mix together thoroughly.
Grate parmesan.
Drain pasta and place on large pasta plate, top pasta with tomato crudo mixture, garnish with lots of grated parmesan.
Enjoy!
*Note: If anyone makes these recipes, I'd love to hear how you liked them!!
– Sandra
You can download the Delicious Mediterranean Roast Beef Salad here CJS18 Recipes Sandra Evertson 1
You can download the Pasta Crudo Recipe here CJS18 Recipes Sandra Evertson 2
I hope you enjoyed getting to know Sandra a little bit better .
Come and join us for Creative Jumpstart 2018 !