This year I am super excited to have Tina Walker join Creative JumpStart 2018 as one of the 31 instructors. Her work is just stunning and if you are a follower of this blog you have seen her amazing work throughout her tenure as a Creative Squad Member for the n*Studio. Check out the little interview I did with her
Jumping with…Tina Walker a CJS Interview Series from Nathalie Kalbach on Vimeo.
Since the theme of Creative JumpStart 2018 is "Now We Are Cooking" , Tina also provided a recipe for you all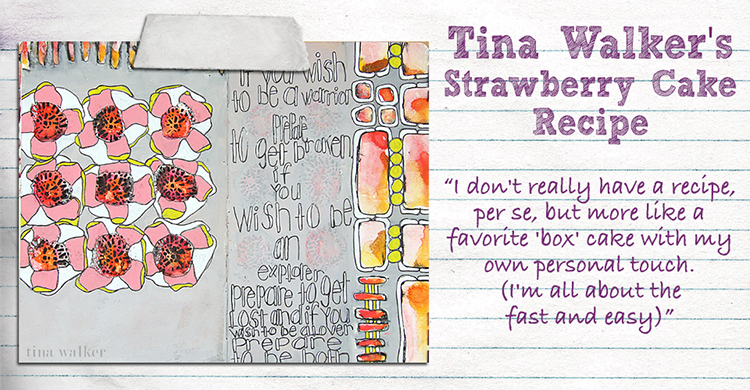 Strawberry Cake
Boxed Strawberry Cake Mix
Cream Cheese Frosting
Fresh Strawberries
Mix cake mix per instructions for a double layer cake.
Bake.
Frost when cool
Garnish with fresh strawberries.
Enjoy!
My art journal page was inspired by the strawberries, layers of cake and 'frosting' look. :)
-Tina
You can download Tina's Strawberry Cake recipe as an pdf here: CJS18 Recipes Tina Walker
Hope you enjoyed getting to know Tina a little bit better .
Come and join us for  Creative JumpStart 2018!