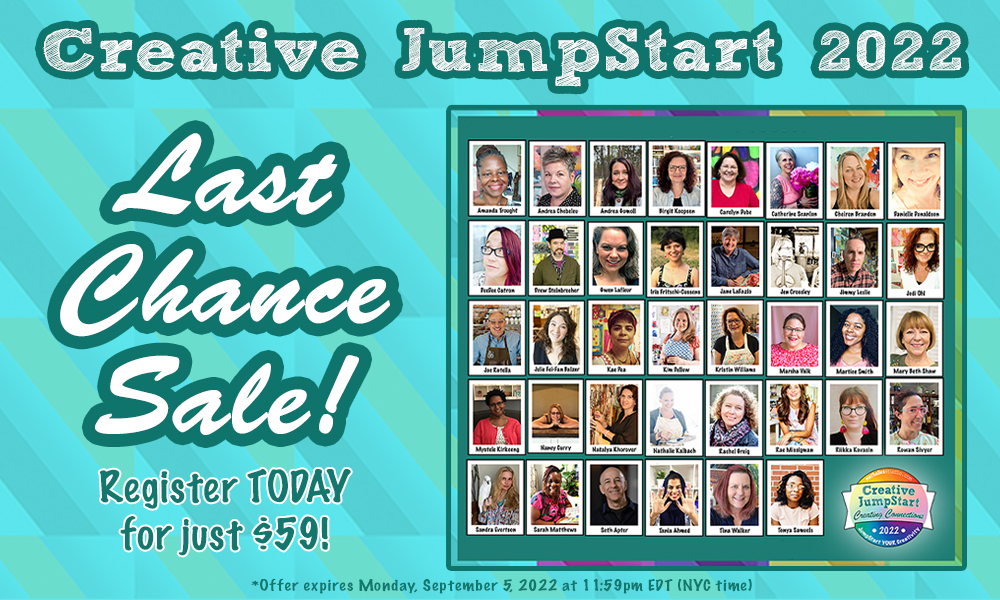 Jump with us! Creative Jumpstart 2022 is on sale now until Monday, September 5th*!
Have you ever felt that tapping into your creative side is hard to do? Even if you love art making or crafting and/or do it for a living, getting in your creative zone can sometimes be a struggle. Mix in being a bit of a perfectionist, overthinking, time constraints, feeling unmotivated, and judging your work and/or comparing yourself to others, and artmaking can be such a trying thing! If you feel like I'm preaching to the choir, I have just the thing – Creative JumpStart.
Creative JumpStart was created for hobbyists and artists alike to learn from the best of the best and take action to build a creative habit.
By joining CJS, you'll get to learn techniques from yours truly, as well as 37 other uber talented mixed media artists.
The workshop can be completed in about five weeks (if you are doing the lessons daily, as recommended) via 38 pre-recorded lessons. There's technique and project based lessons, tons of tips and tricks from our artist teachers, and all the lessons are around 10 minutes in length and designed to help you make creating a doable, daily habit.
Are you in?
Register for CJS22 between now and Monday, September 5th, for $59 (previously $79). This is your Last Chance to sign up for Creative JumpStart 2022 and also the last chance to enjoy the CJS extravaganza while we take a break from the programming for a year or so.

*Sale ends Monday, September 5th, 2022 at 11:59pm EDT (NYC time)