Ready for some Recipe fun? Our Creative JumpStarters thought they would share with you some of their favorite soup recipes and since this is the season for home made food. I hope you will also join us for their Mixed Media Recipes at Creative JumpStart 2018 !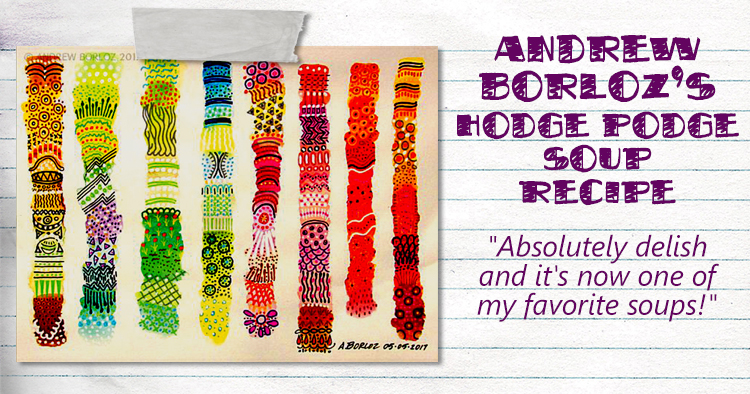 Hodge Podge Soup (Serves10 to 12)
1 cup chopped raw carrots
1 celery rib, chopped
2 medium onions, chopped
2 garlic cloves, minced
2 medium white potatoes, diced (about 1/4 inches)
2 cups cold water
4 cups or 48 oz box of beef broth (or vegetable broth), divided
1 28 oz can of crushed tomatoes
2 cups frozen chopped broccoli
1 cup frozen green beans (cut to one inch pieces if necessary)
1 cup frozen chopped spinach
1 cup frozen peas
1 cup frozen corn
1/2 teaspoon dried basil or 1 tablespoon fresh basil, finely chopped
1 teaspoon sea salt
1 teaspoon red wine vinegar
1 tablespoon Worchester sauce (optional)
black pepper (optional)
grated Parmesan cheese (optional)
In a large pot (more than 6 cups), cook the first three ingredients in olive oil (about 1 to 2 Tbs.)until the onions are translucent. Add minced garlic and cook for one minute or until fragrant. Add potatoes, cold water, and 2 cups of broth to the pot. Bring the mixture to a boil and cook them for 15 minutes or until the potatoes are fork tender. Add remaining 2 cups of broth and crushed tomatoes to the pot, and stir. Add all of the frozen vegetables, basil, sea salt, red wine vinegar, Worchester sauce and black pepper. Stir until well blended, and bring it to a boil. Immediately reduce heat to low or med-low and let it simmer for 20 minutes, partially covered. Add more sea salt if necessary. Serve in bowls or cups with grated Parmesan cheese on top if desired.
You can download Andrews Recipe here: CJS18 Recipes Andrew Borloz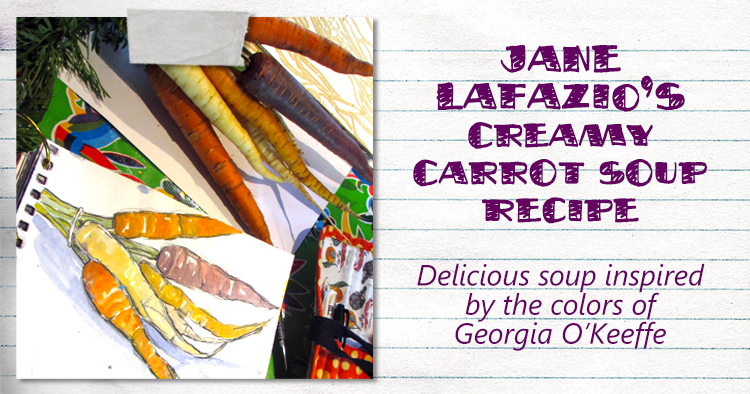 Creamy Carrot Soup Recipe
(Serves 4-6)
4 T unsalted butter
1/2 large onion, roughly chopped
4 cups thinly sliced carrots
1 clove garlic, crushed
1 cup milk
2 t salt
1/4 t white pepper
1/2 cup half and half (cream)
parsley for garnish
ground nutmeg for garnish
In a large saucepan, melt the butter, then saute the onion, carrots and garlic, cooking gently over medium heat for about 10 minutes, or until slight softened. Add the milk, salt, and white pepper and stir to combine. Cover the pan and continue cooking for about 20 minutes. Cool slightly, then puree in a blender. Place cream in a bowl and whisk in a little of the pureed soup. Add this mixture back into the pan with the remaining soup. Gently heat through, on very low heat, without boiling, then divide soup among bowls. Garnish with herbs, and nutmeg.
Download Jane's Recipe here: CJS18 Recipes Jane LaFazio 1
And Jane even has a second recipe for you :) check it out: CJS18 Recipes Jane LaFazio 2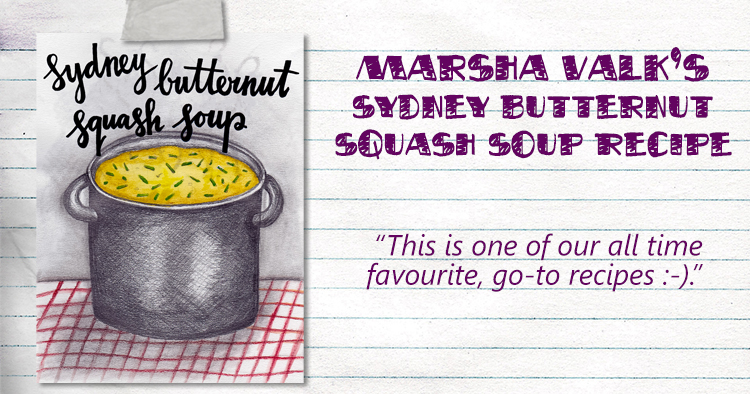 Sydney Butternut Squash Soup
(Serves 4 people)
Ingredients:
• 1 onion
• 300g potato (10.6 oz)
• 1 butternut squash
• 1 dash of olive oil
• 1 chi lli pepper
• 1 teaspoon turmeric
• 1 dash of white wine
• 700ml chicken stock
• 150ml cream
• 2 tablespoons Japanese soy sauce
• 100g smoked chicken breast (3.5 oz)
• 80g macadamia nuts (2.8 oz)
• chives
Peel and chop the onion. Peel and dice the potatoes. Cut the squash into parts. Deseed and remove the skin if you prefer (I usually don't – I just give the squash a good scrub beforehand) and then dice it. Heat the oil in a pan. Add the onions and fry a couple of minutes. Add the potato and squash. Cut the chilli pepper into rings (remove the seeds for a milder version). Add the pepper and turmeric and let it fry for a bit. Deglaze with wine and stock. Let the soup cook for about 30 minutes on a lower heat. Add cream and soy sauce and puree the soup. Chop the smoked chicken breast and add it to the soup. Scatter the nuts in a dry frying pan and toast them until lightly golden. Roughly chop them. Cut the chives into small rings. Serve the soup in bowls and sprinkle with nuts and chives.
You can download Marsha's Recipe here: CJS18 Recipes Marsha Valk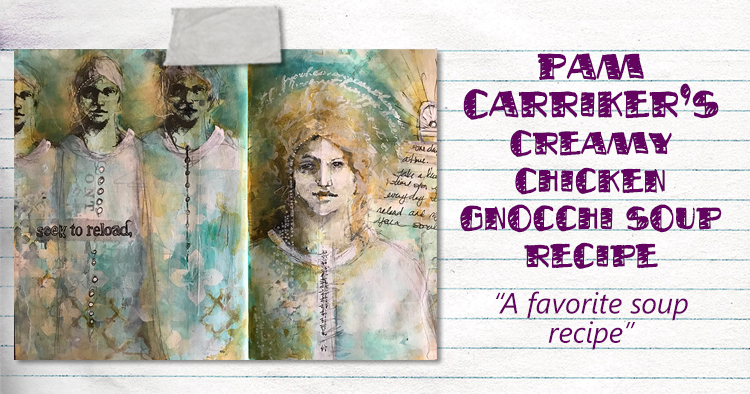 Creamy Chicken Gnocchi Soup
From Pam's Kitchen
1/2 stick of butter
1 TBS olive oil
3/4 cup chopped onion
1/2 cup chopped celery
1/2 cup shredded carrots
1 cup chopped mushrooms (optional)
2 cloves minced garlic
1/4 cup flour
2-3 cups 1/2 half and half
2 cans chicken broth
1 TBS fresh thyme
1 cup fresh spinach leaves, chopped
1-2 cups shredded rotisserie chicken
1 16oz package gnocchi
1-2 cups parmesiano regianno micro planed
Salt and pepper
Cook gnocchi according to package directions. Sauté onion, celery, carrots and mushrooms in butter and olive oil. Add the flour to create a roux and cook for a minute. Add chicken broth and cook stirring until thickened. Add half and half, cheese, and spinach. Salt and pepper to taste. Serve with salad and garlic bread
Download Pam's recipe here: CJS18 Recipes Pam Carriker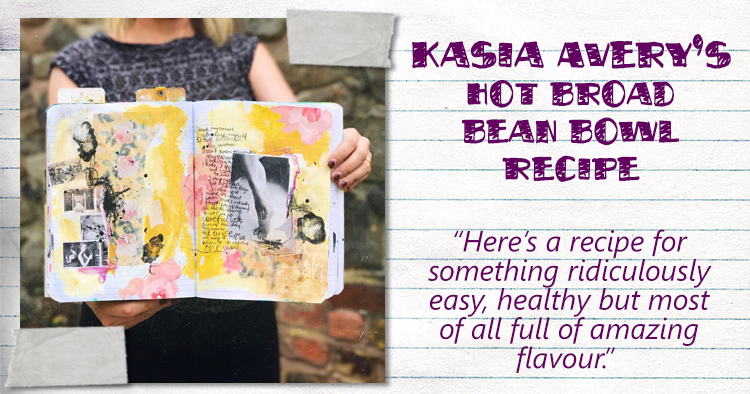 Kasia's Hot Broad Bean Bowl
" Here's a recipe for something ridiculously easy, healthy but most of all full of amazing flavour. This is a dish perfect for Sunday brunch, an easy lunch or a little supper and also as a nutritious snack for those days that we spend in the studio. Put it in a bowl, grab a fork and munch on while you cover your great canvases with layers of paint! With these recipes you'll make enough for two hungry artists!"
Baby broad beans – 2 cups
Cooked chickpeas – 1 cup
Garlic – two gloves
Harissa paste – 3 tsp or more if you like it hot
Eggs – one per person
Cooked white and wild rice – 1 1/2 cups
A mix of veggies – a bit of everything you like (very finely chopped pepper, mushrooms and broccoli, garden peas etc)
Olive oil for frying
Heat a bit of oil in a big frying pan.
Finely chop the garlic and put it on the frying pan along with harissa paste. Fry them for a moment on a medium heat – don't let the garlic turn brown! Turn the heat up and throw in the broad beans, chickpeas and your favourite veggies and cook for about 10 minutes stirring from time to time. Add the rice and cook together for further 5 minutes. Season to taste with salt. Try the broad beans, if they are soft enough for you, spread the mixture evenly on the pan and crack the eggs. Don't stir anymore…Turn the heat back to medium, cover with a lid and let them cook until they are done enough for you. You can have your yolk runny or cooked – your call! Simply turn off the heat and divide the beans and eggs into two bowls. Drizzle with extra virgin olive oil, grab a fork and enjoy!
You can download Kasia's recipe here: CJS18 Recipes Kasia Avery
—Are you hungry yet? Which recipe are you tempted to try? I am so excited about these delicious recipes, I cannot wait to cook them and I hope you will let us all know if you tried them too! See you in the Classroom of Creative JumpStart 2018!