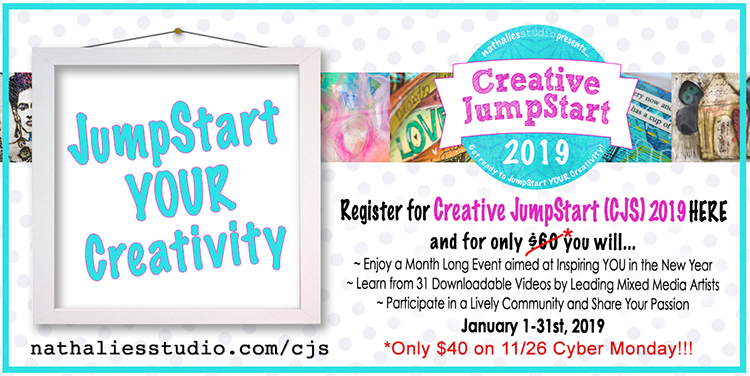 I'm excited today to announce Creative JumpStart (CJS) 2019! Do you know CJS? It's a one-of-a-kind online mixed media workshop, now in it's 8th year, designed to kick your creativity into high gear throughout January 2019. And it goes on sale TODAY!!!
Learn techniques, discover new materials, and connect with other artists and crafters. Learn more HERE.
Throughout January participants get access to 31 downloadable videos from 31 featured artists. Over 5 hours of video content will be available to you. You can also participate in our online classroom with the other "Jumpers" and even share your creations in our classroom gallery. There will be product giveaways from our sponsors too. So much fun!
And today only, you can get CJS19 for just $40USD. You better hurry though, this Cyber Monday Sale ends November 26, 2018 at 11:59pmEST.
The Theme this year is "My Home is My Castle". We're taking Creative JumpStart into the home this year and creating mixed media projects that celebrate what Home means to us. Do you feel at home wherever there is something cozy and homemade? Does your home decor and home style tell your story? Is it where you are from or where you spent your childhood? Are you a part of a unique local community that is special to you? Whether it is the objects, a place, or the people that surround you, there is no wrong answer or approach here. These projects are a little celebration of our own personal definition of Home. Enjoy step-by-step instruction from our artists as they share with you their notion of Home through their signature art making style. There will be lots of projects that are art journal pages, and also some really cool home decor ideas and other unique projects that our artists have dreamed up. It's time to make Your Home YOUR Castle :)
I'm proud to be the founder of Creative JumpStart and one of those artists, called "JumpStarters." See for yourself what it's all about:
Find out all the details and sign up TODAY:
n*Studio CJS2019 – Let's Jump!
You get 31 videos – over 5 hours worth of video content –  for just $40 (USD) if you sign up by November 26 11:59 pm EST, 2018. Afterwards it will be $45USD until November 30 11:59pmEST, and $50USD until December 31 11:59pmEST, before it goes to its normal sale price of $60USD.
So what are you waiting for? SIGN UP HERE
So can this Cyber Monday get any better????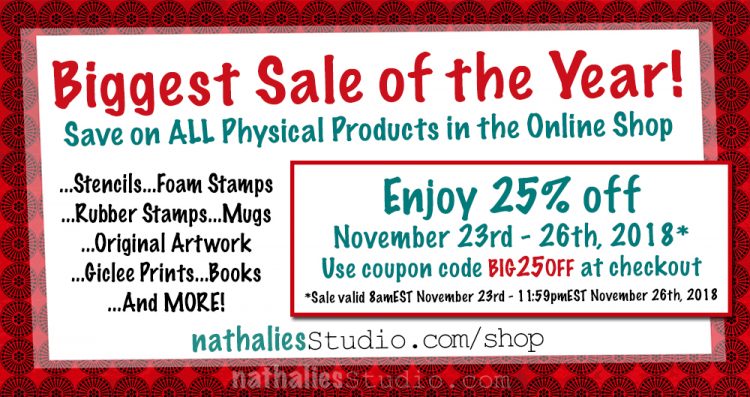 Yes! Of course :) I'm having a Cyber Monday SALE in my Online Shop and there is definitely still time to shop the BIGGEST sale of the season. Just use the coupon code BIG25OFF when you check out for a 25% discount on all physical products: stamps, stencils, books, mugs, original paintings, prints, cards, DVDs and more. This is your last chance to get 25% off and buy for everyone on your list – maybe even yourself ;) – the sale ends at 11:59pm EST TONIGHT November 26th, 2018.
And I hope to see you soon in the Creative JumpStart 2019 Classroom!
SaveSave
SaveSave